Felicia Chin and Jeffrey Xu are engaged: He proposed with the ring he's kept for 5 years
After dating for seven years and talking about marriage, Xu planned a surprise proposal for Chin at the Night Safari, a place that's special to them both.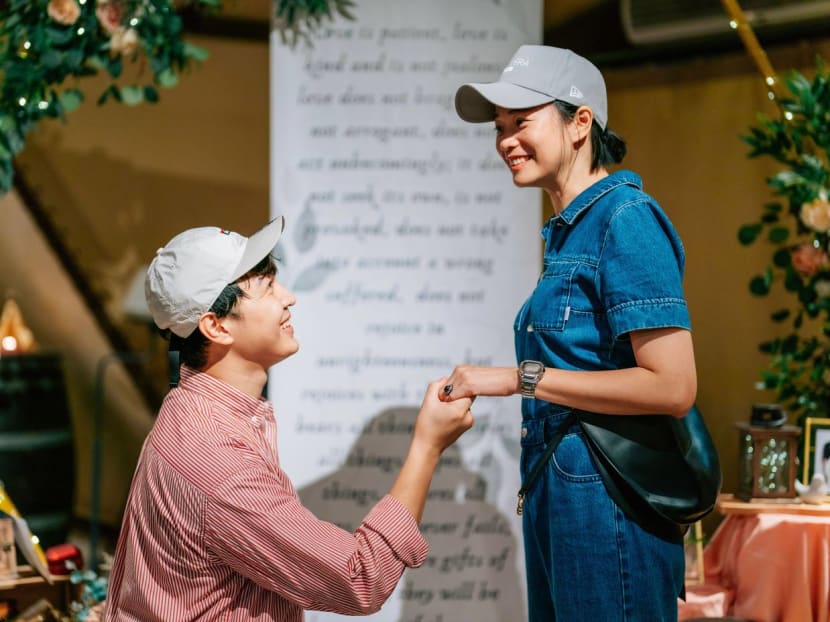 After seven years of dating, Singapore actors Felicia Chin and Jeffrey Xu are finally ready to tie the knot.
Xu surprised Chin on Jul 29 with a carefully planned proposal at the Night Safari, attended by family and friends including fellow actors Zhu Hou Ren and Chew Chor Meng.
The location was chosen because Chin's first job was at the Night Safari, Xu shared – her ambition as a child had been to be a zookeeper. On top of that, "We love animals and we often go to the zoo on dates", he told CNA Lifestyle.
Xu said he'd been planning the event for two months, and Chin's recent holiday in Vancouver gave him enough time and space to focus on it without arousing any of her suspicions.
China-born Star Search 2010 winner Xu, 33, and Star Search 2003 female champion Chin, 37, have been dating since 2015, and were frequently deflecting questions from the media on when they were going to get hitched.
But in fact, Xu had been ready to propose for the last four or five years.
"The ring was ready many years ago," he said. "At one Star Awards ceremony – I can't remember which year – I told the media that I had already bought a ring."
"I told him not to show it to me," Chin said with a laugh.
Xu had asked David Gan, hairstylist to the celebs, to help him design and custom-make an engagement ring featuring a sapphire, because he'd had a vision of the gemstone and "she is like a precious gem in my life". The stone is ringed with smaller diamonds, because "to propose without diamonds feels kind of insincere", he chuckled.
The proposal was very meticulously planned. A month before, Chin shared, she received an invitation to a friend's child's birthday party at the Night Safari. On that evening, "I was feeling jet lagged and tired. I said I might not be able to go, which probably freaked Jeffrey out." During the drive there, "it rained heavily. He seemed really worried and tense. I was wondering why he was so angsty. I kept telling him, 'It's okay! Drive slowly!'"
There was supposed to have been an outdoor setup with flowers, decorations and a cake, but because of the rain, Night Safari staff rushed to move everything inside a tent.
"He handed me an iPad so I could watch a video made about the different places that were really dear to us," Chin said, like a cafe in Bukit Timah that "looks like a little Paris".
The couple got together seven years ago after they both had matching visions of themselves happily taking pictures in front of the Eiffel Tower.
"Then, he took out a three-page letter, to share everything he wanted to say on that day," Chin said. "There were tears. He probably cried more than me!"
Besides the romance factor, Chin said: "We were happy to spend the night with people who really helped us in our relationship – people in our lives who never gave up on us and helped us at the lowest points in our relationship, and spoke life into us."
The end of 2019 had seen challenging moments in the relationship, she shared, and "we really struggled". But they had a mentor who supported them through those tough times. "I was very moved when I saw her coming to congratulate us, because without her in our lives, we might not have this moment," Chin said.
On why he felt the time was right to propose, Xu said: "I feel this year has been really special. We both won Star Awards this year. Felicia is transitioning to a new stage of her career. I had two months to prepare for the proposal. I think things fell into place."
Chin left Mediacorp at the end of June to take up a full-time job with a faith-based platform called Hai Hao Ma, which delivers content in Chinese.
"We are also at a very special stage of life where I think communication, growing as a couple together, the understanding, is much better. I think the foundations of our relationship are more stable and it feels right to be going to the next season of our lives," Chin said.
They don't have any concrete wedding plans to share yet, but "I don't think we'll elope, because we'll definitely want that special day to be witnessed by family around us", Chin chuckled.
"I think every couple has their own journey and I really feel we don't have to rush. We are always very thankful that everyone shows us so much care and concern, and even though it's a private matter, we also want to share this part of our lives with all of you."