'No, I'm not pregnant': Felicia Chin clarifies that's not the reason for quick wedding date
The former Mediacorp actress said she had to address that because some people were asking, "Wah, so fast ah."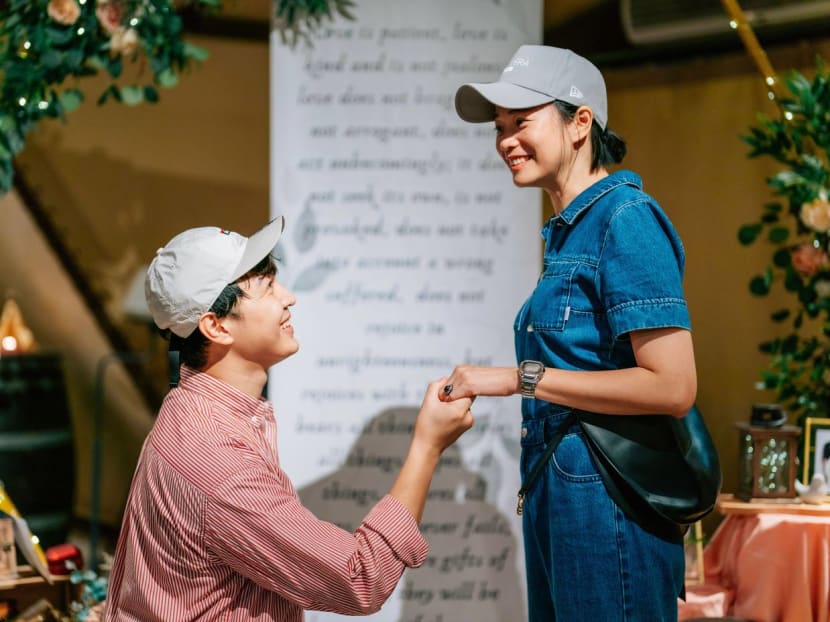 Over the weekend, it was announced that longtime celebrity couple Felicia Chin and Jeffrey Xu have confirmed a wedding date – Oct 22.
That's just three months from the time they got engaged; he proposed to her on Jul 29 at the Night Safari, a meaningful location to her as she worked her first job there and her ambition as a child had been to be a zookeeper.
Apparently, the short time frame is enough to get some people wondering out loud – so much so that Chin clarified in her Instagram post on Monday (Sep 26) that she's not pregnant.
"Thank you all for your best wishes!" she wrote. "Yes it's super fast we know (our wedding date). And no I'm not pregnant." She added three laughing emojis to the sentence.
When asked by entertainment portal 8days.sg why she felt the need to clarify that, she responded with a laugh: "Cos people asked us, 'Wah, so fast ah' and we saw a past similar comment as well. So might as well address what may be going through people's minds, right?"
Chin further explained in her Instagram post that October is a special month for them as it's both their birthdays and that they found the chosen date – 221022 – "a little cute" as they both feel that "two is always better than one".
China-born Star Search 2010 winner Xu, 33, and Star Search 2003 female champion Chin, 37, have been dating since 2015.
2022 has been a year of change for Chin, who left Mediacorp in June, ending a 19-year full-time acting career to focus on creating content for a faith-based platform. 
Chin shared in her post that the couple will be having "a simple church wedding".