What is actress Felicity Huffman's life like in prison?
The Desperate Housewives star will have to wake up at 5am every day. She will also have access to a gym, a library and a TV room.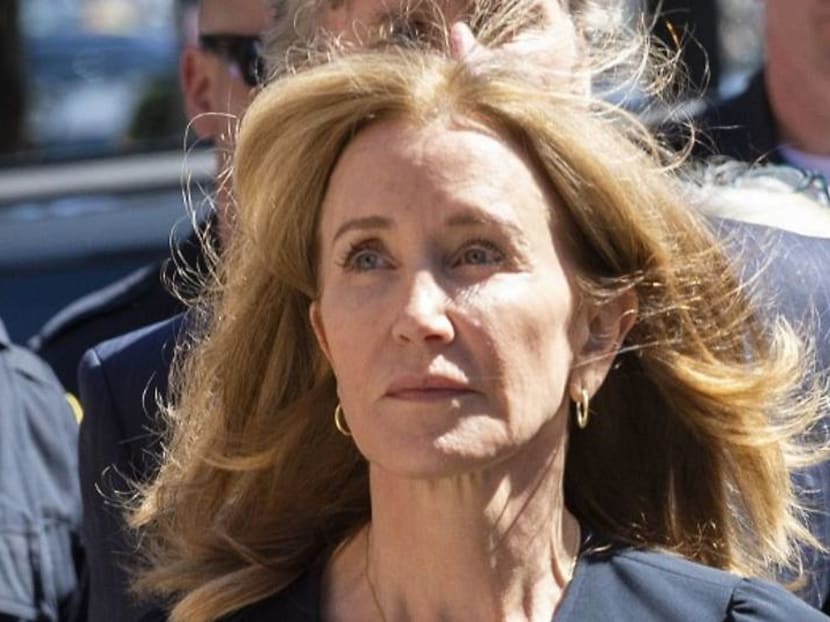 Felicity Huffman has started serving her two-week sentence in prison for her role in the college admissions scandal.
Her husband, actor William H Macy, dropped her off at the low security Federal Correctional Institute, Dublin, located about five and a half hours from the Los Angeles area, where Hoffman lives with her family.
Representatives for the 56-year-old actress, Tasc Group, confirmed on Tuesday (Oct 15) that Huffman had reported for her sentence.
A Tasc spokesman said: "Felicity Huffman reported today for sentencing to the Federal Correctional Institution in Dublin, CA. Ms Huffman is prepared to serve the term of imprisonment Judge Talwani ordered as one part of the punishment she imposed for Ms Huffman's actions."
According to People, Huffman will have to adhere to a strict schedule while in the facility. The entertainment site referred to a handbook given to inmates at the start of their sentence, which said that inmates have to wake up at 5am and are expected back at their housing unit by 9pm.
Breakfast is from 5.30am to 6.15 am; lunch from 10.45am to 12pm and dinner after 4pm. And in between, inmates are allowed to listen to music on pre-approved devices, work on a craft project such as cross-stitch, origami or scrapbooking, or engage in outdoor sports such as basketball and tennis.
The Tasc spokesman said Huffman will have access to a gym, a library and a TV room, and she will share a room and open toilet with three other inmates.
She will also be allowed family visits on Saturdays and Sundays from 8am to 2pm.
Huffman, and fellow actress Lori Loughlin, are the most high-profile figures in this case, which also involves coaches, parents and admissions counsellors. Loughlin has yet to receive a ruling, but maintains her innocence.
Huffman's sentence includes a year of supervised release, 250 hours of community service and a fine of US$30,000 (S$41,000).
She pleaded guilty to paying US$15,000 to have someone correct her daughter's SAT scores.