Quick look at Huawei's new MateBook 13: A worthy ultra-thin laptop option?
CNA Lifestyle tries out the tech giant's lightweight laptop, which is now available in Singapore.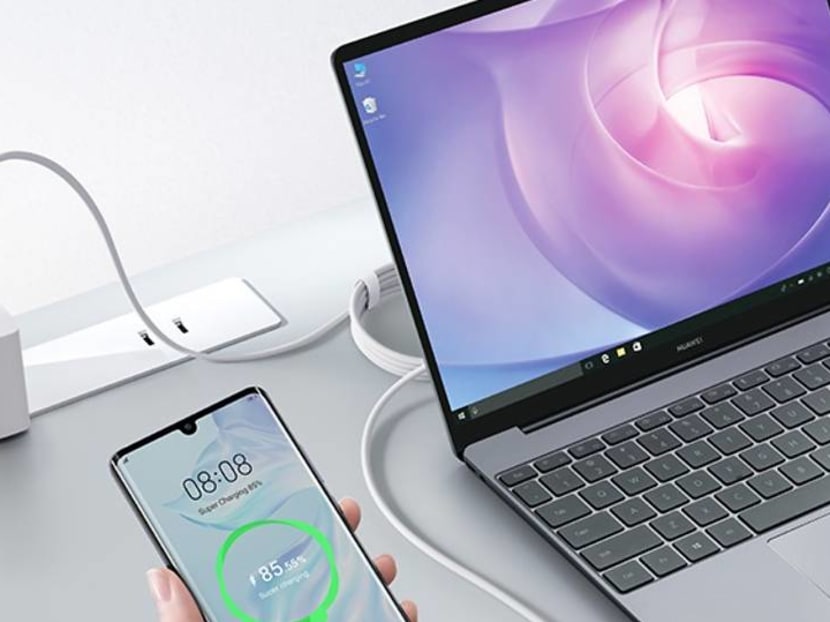 As Huawei makes its notebooks (the MateBook 13 and MateBook D15) and flagship tablet (the MatePad Pro) officially available for retail in Singapore, tech noobs like me now have more options to choose from.
After the initial surprise that the tech company I knew more for making phones with nice cameras actually makes gadgets too big for my pocket, I was curious to find out if the new MateBook 13, in particular, was really the easy-to-handle, ultra-portable lightweight machine it billed itself to be.
For the uninitiated in all things tech, a quick internet search informed me that the MateBook is presented as a competitor to the Dell XPS 13 and MacBook Air. Aesthetically, I can see why.​​​​​​
At first glance, the screen is sharp and the frame is very sleek. The MateBook comes equipped with a 13-inch 2K resolution full view display in a body that measures only 12 inches which is essentially smaller than a sheet of A4 paper.
Whether it was typing out a document or watching a show on a streaming platform, the laptop does gratifyingly deliver as promised, with its 88 per cent screen-to-body ratio. The 3:2 aspect ratio it adopts, along with its barely there 4.4mm bezel, really gives the user that extra visual room needed when working on graphics, content creation, playing games or just general surfing.
The one distinctive feature the MateBook 13 boasts is its multi-screen collaboration – a function of Huawei Share – which promises a seamless collaboration between Android and Windows systems.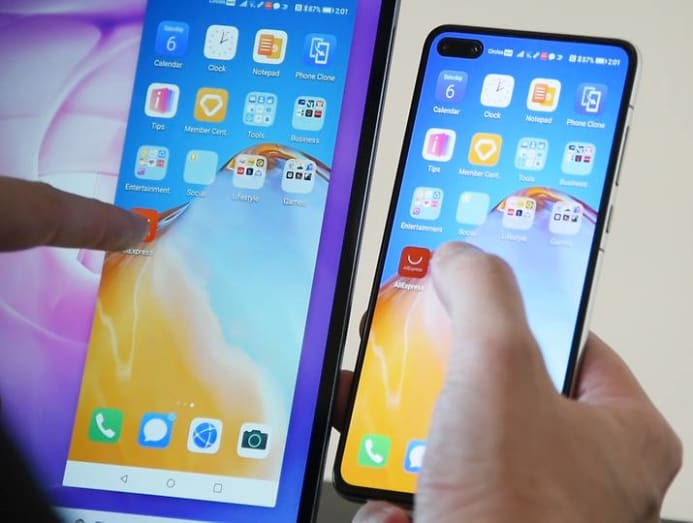 This means users can control both their Huawei mobile phone and laptop using just one screen. For example, you can open the apps via your phone but use them as if they were natively run on the PC. Media files saved on the smartphone can also be played on the laptop's speakers.
For those looking for one-stop simplicity, you can drag and drop files (images, documents, and text) from your phone to your laptop (or vice versa) for rapid file transfers; share via a copy-and-paste clipboard; and drag local images from one device to a productivity app opened on the other device to insert images quickly.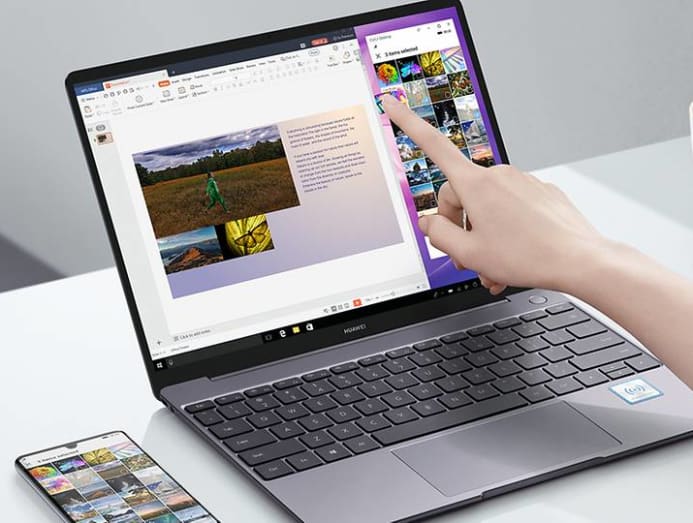 The Matebook 13 also supports multi-touch functionality, which has been rather helpful for a novice like me looking for an easy user experience. This means I can work my laptop screen exactly I would the smartphone. The Fingers Gesture Screenshot, which lets you quickly take a screenshot by performing a three-finger downwards swipe gesture, is one of these functions that really makes productivity easier and smoother.

There is also optical character recognition, which converts the text on the screenshot into machine-encoded text for easy editing. And for those worried about the effects of blue light on the eyes, the laptop actually has an "eye comfort" mode that filters excessive blue light and alleviates eye fatigue.
As for the laziest of users, the fingerprint power button, which authenticates your identity the moment you press the power button, is definitely a user-friendly bonus.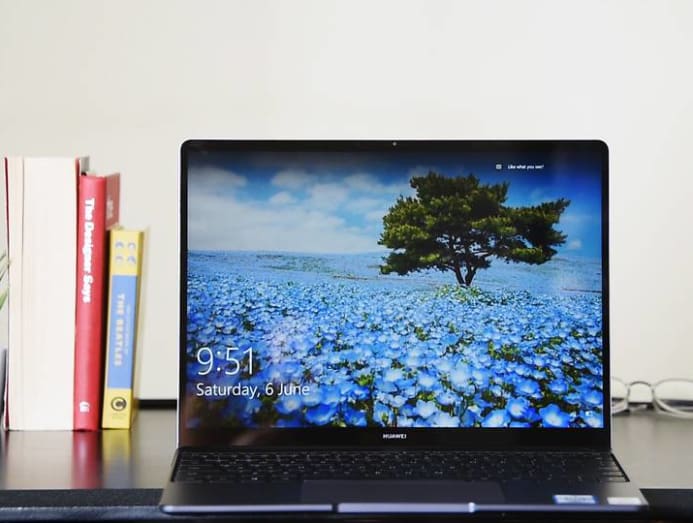 The Matebook 13 promises 11.6 hours of full HD video play, eight hours of continuous Internet browsing and nine hours using productivity software like Microsoft Word or Powerpoint.
But when tested, the laptop's battery life ended up lasting roughly about seven hours, similar to its rivals' levels of performances, but not quite matching some of its other counterparts (the MacBook Air can go up to nine hours).
I also wished the trackpad was made of glass instead of plastic – it just feels better.
All that said, the high performance specs – a 10th generation Intel Core processor with a NVIDIA GeForce MX250 that features 2GB GDDR5 memory; 16GB dual-channel RAM – all sound (and I'm assured by my techie friends that it is legitimately so) incredibly impressive and powerful.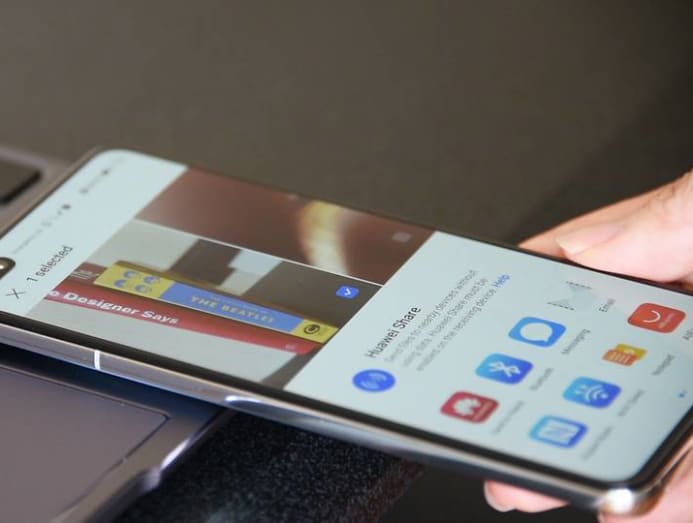 Which is why I'm surprised that for all its quirky functions and the internal power it's packing, the MateBook 13 remarkably remains so light and portable. And because it weighs in at only just 1.3kg, it's a welcome option for those who are always on the go.
As a perennial tech greenhorn, I'm always looking out for new hardware that is easy to use. Honestly speaking, the more difficult to navigate or more complicated something is to handle, the more turned off (no pun intended) I get. Practicality and ease-of-use are key for the busy bees amongst us – making the MateBook 13 a real contender when shopping for laptops.
And with the machine's overall touch and feel – slimmer and crispier than after dinner chocolate mints – this is one lightweight machine that is prepared to run with the big brand big boys. I just wished the battery life would last longer. 
The Huawei MateBook 13 is now available in Singapore and priced at S$1,598.​​​​​​​