Remember former TV host Benedict Goh? He just got engaged
The 51-year-old proposed to his girlfriend and pulled off a surprise engagement party that took more than a year to plan.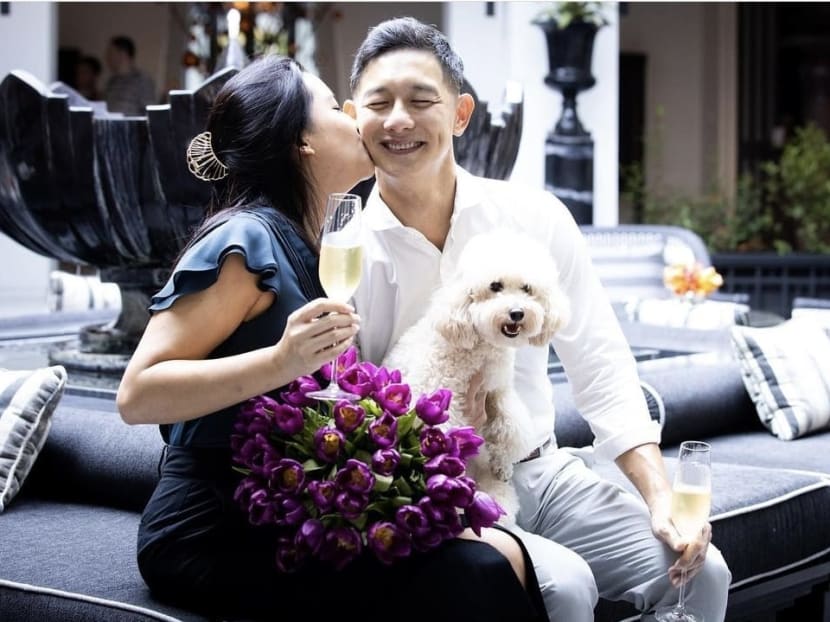 Former Mediacorp TV host Benedict Goh is engaged. The 51-year-old proposed to his Thai girlfriend, Bib Sirisambhand, on Saturday (Dec 4) and posted the good news on Instagram.
In the post, Goh shared that he started planning the surprise proposal before Easter last year but the pandemic interrupted his plans. "Then Covid persisted relentlessly and waylaid all the plans, but that cannot get in Our way!" he wrote.
With the help of Bib's friends and the team at The Siam hotel who opened their venue to Goh ahead of the hotel's official reopening, he pulled off the surprise proposal.
Bib revealed that she was "fooled" into going to the hotel.
"And I thought I was coming in to work… @benedict_goh, with the help of the @thesiamhotel team, had me fooled!" she said on Instagram.
She went on to thank her friends and the crew involved for "creating such wonderful memories" and for not letting the cat out of the bag.
The couple's pet poodle Muffin was also present for the occasion.
Celebrity friends Apple Hong and Priscelia Chan left comments on Goh's post, congratulating the couple.
Goh is best known for hosting The Pyramid Game from 1995 to 1997, before leaving his television career when his contract with Mediacorp ended a year later.