Joey's stuffed penguin, Central Perk couch up for Friends charity auction
More than 100 props, costumes and replicas will be up for bidding, including Ross' Holiday Armadillo outfit. It's a fan's ultimate Christmas wish list.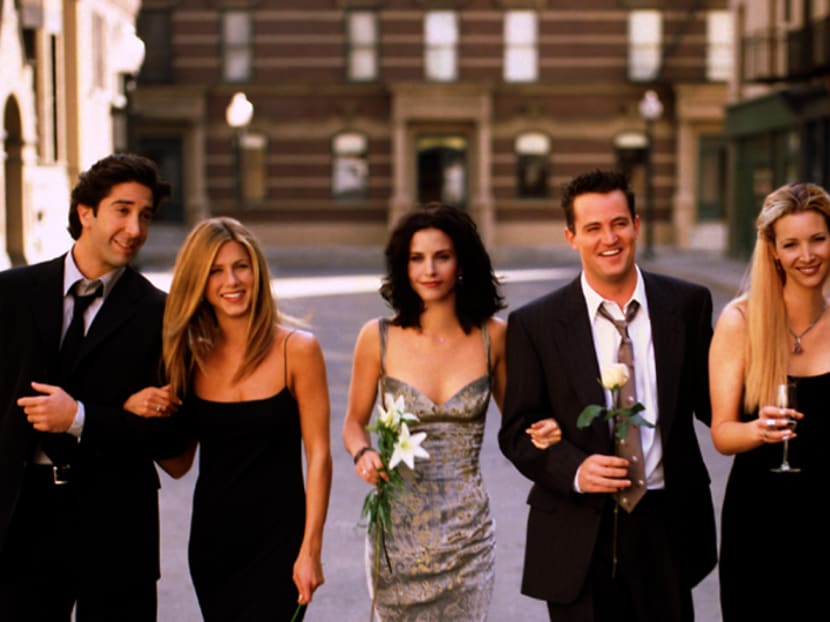 Friends fans, you may want to update your Christmas wish list now. More than 100 props, costumes and replicas from all 10 seasons of the hit sitcom will be going up for auction for the first time ever in December.
The iconic TV show is partnering with Prop Story for a special Friends 25th anniversary auction, for Giving Tuesday.
The auction will launch on Dec 3 and stay open until Dec 17 with proceeds going towards the Trevor Project, a suicide prevention and crisis intervention organisation for young LGBTQ people.
What this means is that Friends fans now have a chance to own a piece of TV history and do some good at the same time.
Prepare to shell out for these goodies, though.
Have space in your living room to fit Chandler and Joey's canoe and two paddles? You can bid for that from US$4,000.
Maybe you're looking for something a little smaller? There's Joey's Hugsy doll (around US$1,000), Monica and Chandler's wedding invites (around US$1,000) and Ursula's VHS tape of Buffay The Vampire Layer (around US$1,500), among other items.
You can also bid for studio-edition reproductions of the famous Central Perk orange couch (around US$6,000) and Ross' Holiday Armadillo costume (around US$10,000), made from the original designs by the Warner Bros props department.
Those who sign up for the auction will also be eligible to win a production script from the show.
Friends is celebrating its 25th anniversary this year. Fans are excited at the prospect of a reunion as the six stars (Jennifer Aniston, Courteney Cox, Lisa Kudrow, Matthew Perry, Matt LeBlanc and David Schwimmer), as well as creators David Crane and Marta Kaufman are in talks to appear on an unscripted special on new streaming service HBO Max.