Girl power: Frozen 2 smashes US box office record, makes S$1b worldwide
The sequel to the 2013 hit tops the box office again, beating the previous Thanksgiving record held by The Hunger Games: Catching Fire.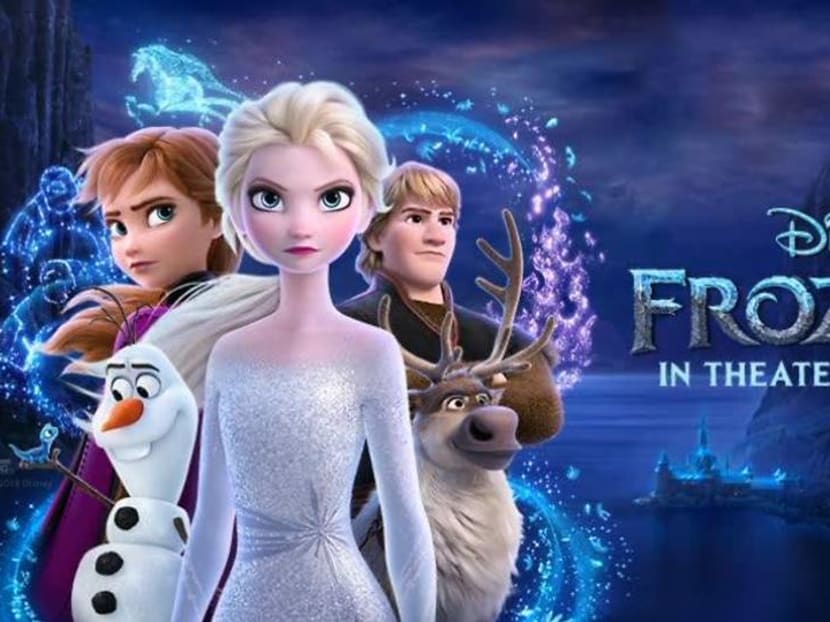 Anna and Elsa – together with Olaf, Kristoff and Sven – have done it again. Frozen 2 remains at the top of the US box office in its second weekend and it has even managed to smash the Thanksgiving record.
The sequel to the 2013 hit made US$85.2 million over the weekend and a record-setting US$123.7 million over the five-day Thanksgiving break in the US.
The tally soared past the previous Thanksgiving record holder, 2013's The Hunger Games: Catching Fire, which made US$109 million during the same time period.
After two weekends in theatres, Frozen 2 is nearing the US$300 million (S$410 million) mark in North America; it's currently at US$287 million. The movie made US$130 million in its first weekend, a new high for Disney Animation.
Globally, the film made another US$164 million this weekend for a total of US$739 million (S$1.01 billion) in just 12 days. It will likely cross the US$1 billion (S$1.37 billion) mark by the end of its theatrical run.

Moviegoers did also leave their homes for other films, including new additions, the murder mystery Knives Out and romantic drama Queen And Slim.
Knives Out is directed by Rian Johnson and stars Daniel Craig, Jamie Lee Curtis and Chris Evans. It landed at No 2 this week.
The whodunit is doing well in the international market, making US$28.3 million to boost the global tally to US$70 million.
Queen And Slim is at No 5 and collected US$15.8 in the US over the five-day weekend.
Holdovers from previous weeks include the racing drama Ford V Ferrari, which earned US$19 million over the five days and A Beautiful Day In The Neighborhood, starring Tom Hanks, which earned US$17.6 million. They are in the No 3 and No 4 spots, respectively.
The box office takings during the long holiday weekend helped offset an otherwise bleak November at the movies. Ticket sales are down 5.6 per cent now, compared to 7 per cent before the holidays.