Creative Capital: This designer-maker is carving a niche for bespoke furniture
Singaporean Liew Yu Hua is on a mission to showcase handcrafted products that celebrate the perfect imperfections of wood.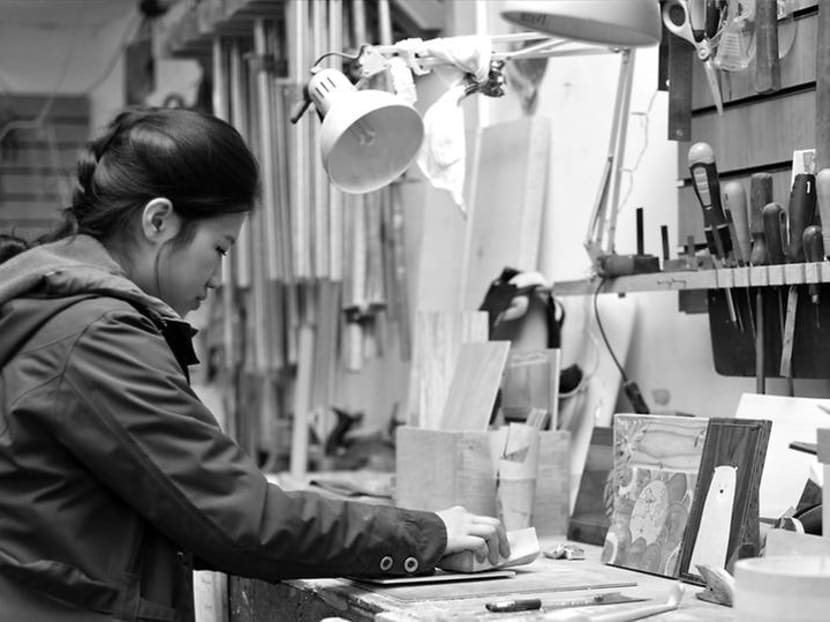 Liew Yu Hua makes beautiful, thoughtful wooden furniture under the brand, Secret Life of Trees, which was launched "in the middle of 2019".

But this former civil servant didn't jump head-first into the trade. After feeling "miserable working in an office behind a computer" – despite having "wonderful bosses and colleagues" in the international relations field – she went to work at a local furniture restoration shop for a year.

After that, Yu Hua spent "a good part of my savings" on a furniture-making, design and restoration course in Scotland. "Even after that, I wasn't sure if it was possible for me to pursue furniture design and making as a profession. It was only after my time in Canada that I decided to pursue it professionally," she said.

WHAT'S THE MEANING BEHIND YOUR BRAND NAME?

It is a homage to the material I work with. I hope my brand is associated with pieces that emphasise a tree's second, secret life – each with its own story to tell and a patina to match.

The idea of furniture as a vehicle for creative expression as well as the intertwined stories of the tree and the user is very important to me. I would like to bring out the essence of wood as a material, and explore its visual and structural qualities in as many ways as possible.

HOW HAS IT BEEN ESTABLISHING YOUR BRAND?

It has been difficult. When I first started, I didn't have a role model or mentor. I still do not think I have established my brand yet.

First, there is a huge cost involved in setting up a workshop here. It is a trade that requires a physical workspace – and space is scarce. It may be possible to work from home if you use hand tools and small machines, but the process would be inefficient for the pieces I would like to build.

Many consumers in Singapore have a hard time appreciating the craftsmanship behind a piece of furniture. Each handcrafted product involves hours of brainstorming, followed by intense labour and concentration to make it. Also, people like to see the products before buying them, and renting a retail space with a high footfall is out of my reach. So customers either find me on Instagram or are introduced through word of mouth.

Lastly, quality wood is expensive and I try my best to use wood from sustainable sources. When buying from timber yards in Singapore, it is hard to find out how the forests, where the wood comes from, are managed – and even harder to find beautifully figured woods with history.

But that's not the case with the overseas furniture makers I worked with. They have the luxury of space to air-dry stacks of wood before they're used. Clients would bring fallen trees from their backyards and have them made into furniture that can be passed on to their children.
WHAT WAS THE WOODWORKING PROGRAMME LIKE IN SCOTLAND?

It was a time of discovery. I made the very conscious choice to select a vocational woodworking programme that encouraged the experimentation of different designs, and pushing the boundaries of traditional techniques.

I was introduced to the basic hand-tool techniques and methods of joinery, the types of European timber most suited for furniture, how wood as a material is harvested and stored, and the traditional techniques of carving, marquetry, chair-making, steam-bending, glass work, inlays, gilding and chair-making. Then, you build at least three projects of your own design.

I also had the opportunity to visit historical houses, local sawmills and woodlands. I saw how trees were managed in the forests, and processed into planks and dried, before it was used for carpentry and furniture-making.

I stayed at the edge of the woods and took daily walks in the surrounding forests. Knowing that a healthy forest takes hundreds, even thousands, of years to develop makes you really cherish the material at hand.

YOU ALSO SPENT TIME IN CANADA. WHAT DID YOU DO THERE?

My time in Canada was formative in so many ways. My designs became more restrained and I developed a better sense of form. Most importantly, the stint in Canada gave me confidence in my skills and ability as a craftsperson.

My mentor, John Thompson, is a seasoned craftsman and designer who trained and worked as a carpenter in Japan in the 1970s. Upon his return to Canada, he designed and built home interiors, and ran a landscape-design business. He built his own house, workshop and cabin from scratch and most of the furniture in his home was of his own design and making.

He had me crawl under and behind pieces of furniture to better understand how they were put together, and took the time to explain to me why the proportions worked in specific cases. His design philosophy was shaped by his experiences in Japan, and influenced by Scandinavian, Japanese, Korean and Chinese architecture and design.

John taught me to draw to scale and identify design elements in furniture. He encouraged me to carve and shape pieces by hand and eye. I find great joy in shaping pieces this way, each with its little aberrations and nuances that cannot be expressed in a computer-aided drawing.

HOW PHYSICALLY TOUGH IS THE WORK?

You have to be reasonably fit to do this work. You do not have to be particularly strong though. In fact, many men and women wreck their bodies at a young age because they depend purely on brute strength. It is more about understanding the wood and the best way to cut it so you aren't fighting it, but using your body to facilitate the flow of the cut.

When buying from timber yards in Singapore, it is hard to find out how the forests, where the wood comes from, are managed – and even harder to find beautifully figured woods with history.

Another great thing about my size is that I can climb and get into small spaces – a plus when you're fitting cabinets or working in tight spaces!

You also have to have the stamina to work in the heat and humidity here. I work at a factory with a tin roof and no walls. Some days, the heat builds up and gets rather unbearable. I cannot switch the fan on when working because it would blow wood dust and shavings everywhere.

WHAT IS YOUR DESIGN PROCESS LIKE?

I try to weave the client's personal story into the pieces I make. I develop a styleboard to determine the design and details such as the measurements, materials and labour needed.

Each new piece usually originates from my sketches and scale models. The piece is developed through various phases: Material selection, milling stock and machining it to rough sizes. I try to document every step of the process to evaluate how the process and design can be improved in the future.

One of the joys of being a designer-maker is being able to make adjustments to the piece as I go along. Machines have no sensitivity to form and material, and result in great wastage as prototypes are sent back and forth between the designer and manufacturer.
WHAT'S YOUR FAVOURITE PIECE TO MAKE?

The Songjun Cabinet that was done as a personal project. The cabinet is constructed entirely using traditional interlocking joinery and assembled without glue. This means that it can be disassembled with a few taps of a hammer and easily transported.

Knowing that a healthy forest takes hundreds, even thousands, of years to develop makes you really cherish the material at hand.

The cabinet features three sliding panels inspired by traditional Japanese shoji doors. The raw edge of the top – wire-brushed so it is smooth to the touch – was retained to complement the wild grain running through the front panels as a contrast to the cabinet's otherwise minimalistic structure.

The front panels are made from a beautiful Garry oak slab that was deemed unsuitable for construction and was rescued from the local wood-chipper. There is even a silver bullet lodged within the wood in one of the panels, which I kept as an Easter egg for sharp eyes.

ARE YOUR PIECES BUILT FROM SCRATCH OR UPCYCLED FROM OLD FURNITURE?

Most of my pieces are built completely from scratch, usually with commercially-rejected timber because they have too many faults to be processed efficiently in a factory. I love the process of stabilising and using the wood in unique ways. But such wood is hard to find in Singapore as it is costly to store and dry. So the pieces I have made are from imported timber.

Every commissioned piece I have built so far is unique. That said, I am hoping to launch a collection of sculptural furniture sometime this year. It would be a series of set pieces exploring a more fluid, organic style. It would incorporate more bending and carving techniques for me to explore free-form sculptural expression.

I would also love to take in old pieces of furniture that have sentimental value, and build them into new pieces that have a more modern aesthetic, so that they fit better into our contemporary lives.
THERE SEEMS TO BE A GROWING COMMUNITY OF FURNITURE MAKERS HERE. BUT THE ONES I'VE MET ARE MEN. ARE YOU THE SOLE FEMALE MAKER IN SINGAPORE?

At the start, I really wished I had a female mentor I could connect with and learn from – but I don't know of any here. Unfortunately, the building and construction industry is a male-dominated one in Singapore. In some of the cabinetry jobs I've done, if the apartment is undergoing renovation, I might not even have access to a toilet because the doors have not been put in yet. I have also had references of female genitalia made during an "interview". That was straight-up awful.

On the other hand, my mentors and many others who have helped me in my journey are men, and I have received amazing support and love from them. With them, I have never felt like my gender was an issue. I'm grateful for people like them.
WHAT DREAMS DO YOU HAVE FOR THE BRAND?

I would like Secret Life of Trees to be known for thoughtfully created objects made for a specific place and purpose. It is about furniture that will draw people into the space as they reach out to touch and examine the pieces more closely. I would like my work to ignite curiosity and imagination, and give meaning to a space.

I also hope the objects I create allow people reflect on nature's gifts. They are a reminder of the fragility of our environment and the diminishing resources on earth. I hope they encourage us to be more mindful of the things we use and throw – and ultimately, do less of the latter by choosing to purchase and use furniture and objects that are thoughtfully and lovingly made, and made to last.

I would also like to eventually teach, so that learning woodworking may be accessible in a way that was not available to me when I first started. It is really important to work with your hands once in a while.