Singapore's 'Sticker Lady' designs Casio G-Shock watch for National Day
The limited edition timepiece done in collaboration with street artist Sam Lo, also known as SKL0, will be available from July 27.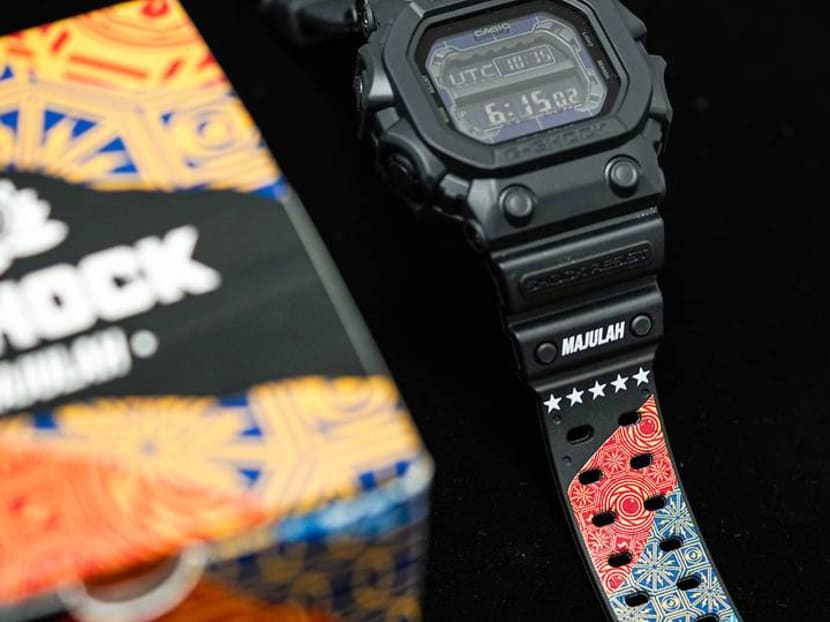 Casio has launched a limited-edition G-Shock watch done in collaboration with local street artist Sam Lo, also known as SKL0, to commemorate Singapore's 54th National Day.
Priced at S$299, it will be available at all G-Shock boutiques except IMM from Saturday (Jul 27).
The G-Shock x SKL0 timepiece, which is based on the brand's iconic GX-56BB model, is limited to 300 pieces and will be sold exclusively in Singapore.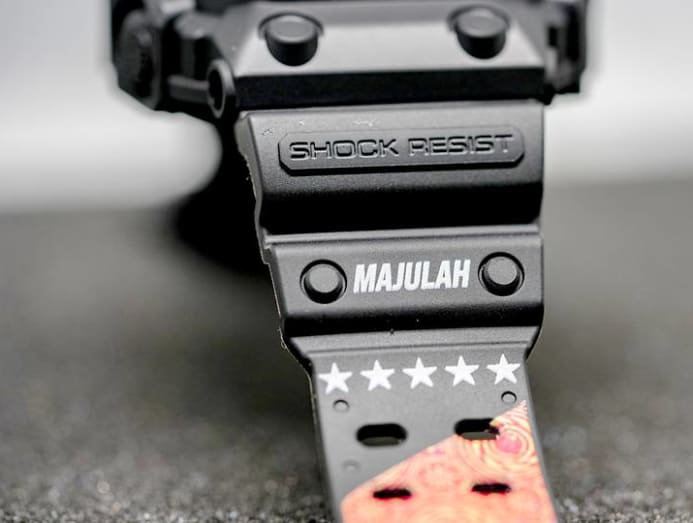 The watch features a custom-designed band in a spectrum of vivid colours inspired by Singapore's cultural melting pot, with patterns like lightning bolts, camera lenses, dollar coins and lucky coins. According to Lo, these images serve as symbols of the country's ongoing pursuit of excellence
"This commemorative design examines current values we possess, highlighting modern day cultural elements, marrying the familiar with the traditional on a watch designed to be as resilient as the people who march onward and continue to make this city what it is," she told CNA Lifestyle.
In line with this year's National Day theme "Our Singapore", the special edition timepiece will come in an exclusive packaging that features a line from the classic National Day theme song, We Are Singapore.
Lo, who is also known as your friendly neighbourhood Sticker Lady, shared that the G-Shock was the first watch she ever wanted and eventually owned one because of "its design and its toughness."
"My appreciation for the brand grew when I learned more about their involvement in the arts and culture we are surrounded by today," she said.
She added: "So when the opportunity for this collaboration came up, I jumped at the chance. I am incredibly honoured to share my work for and in support of this brand that many others I admire and respect have been on for ages."
Since its inception in 1983, G-Shock has always partnered with various personalities from different industries notably in the music, fashion, sports and arts pillars. 
This isn't the first time the brand has worked with a Singapore artist. Recently, the Japanese watchmaker unveiled another limited edition collaboration with local street artist Clogtwo on the DW-5600 model. That version, too, was limited to 300 pieces, and was packaged together with a mechanical hand-shaped sculpture. 
Another local artist who has worked on a watch collaboration is Messymsxi, who partnered with Swatch to produce The Singapore Tale, celebrating the island's most iconic landmarks and culture.