Singapore's first giant panda cub has been born to Jia Jia and Kai Kai
It's finally here! River Safari's panda couple are parents to a cub whose gender isn't known yet.
The very first born-in-Singapore panda cub has arrived. River Safari's beloved panda pair, Kai Kai and Jia Jia, are finally parents, Wildlife Reserves Singapore (WRS) announced on Sunday (Aug 15).
The cub was born on Aug 14 and weighs in at an estimated 200g.
Its gender is yet to be determined, but you can bet there'll be a gender reveal party happening soon.
The nation has been cheering Jia Jia and Kai Kai on in their seasonal mating attempts since they first arrived in Singapore in 2012, but giant pandas are notoriously uninterested in non-bamboo-related pursuits.
This April, when 13-year-old Kai Kai and 12-year-old Jia Jia displayed signs of being in heat, they officially entered their seventh breeding season, said Dr Cheng Wen-Haur, WRS' Deputy CEO and Chief Life Sciences Officer.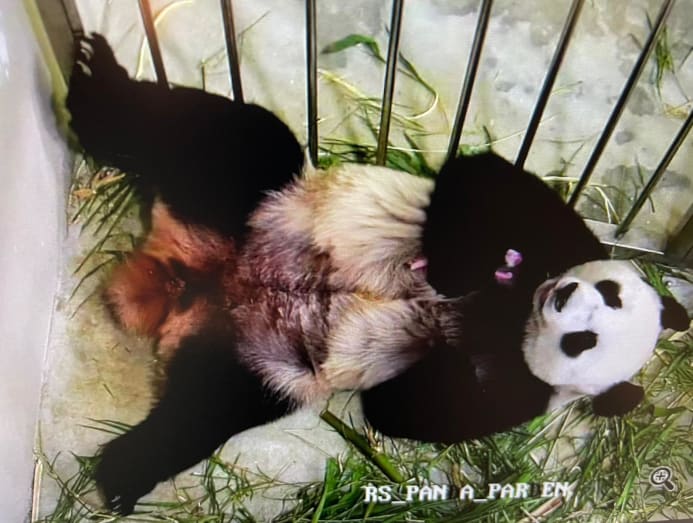 WRS worked with the China Conservation and Research Centre for Giant Panda (CCRCGP) to carry out the breeding plan for 2021, emphasising natural mating with assisted reproductive technology as back up if required, he explained.
The pandas had shown improvements in their mating techniques the year before, but as the window of opportunity was drawing to a close, CCRCGP experts advised Singapore vets to perform artificial insemination.
The procedure was carried out by the in-house veterinary team at WRS' Wildlife Healthcare and Research Centre, using frozen semen collected from Kai Kai before the mating season.
Then, in July, ultrasound scans revealed signs of pregnancy in Jia Jia, Dr Cheng shared. The gestation period in giant pandas is between 95 to 160 days.
"Female giant pandas display pseudopregnancy, exhibiting all the hormonal and behavioural signs of pregnancy even when they are not expecting. The only sure way of confirming a pregnancy is visualisation of a foetus near to term," he said. 
"This happened for us (on Aug 10) when our vet picked up, on ultrasound, not only a clear outline of a foetus but one with a strong heartbeat."
Naturally, the back-of-house team at River Safari's Giant Panda Forest has been full of excitement – not to mention probably itching to spill the secret of Jia Jia's "breakthrough pregnancy". 
"Jia Jia's first pregnancy and birth of a cub is a significant milestone for us in the care of this threatened species in Singapore," Dr Cheng said.
"This is the result of good animal care, assisted reproductive science and sheer perseverance on the part of our staff coupled with valuable advice from the China panda experts. The work continues now with supporting the first-time mother to raise her newborn cub."
Congratulations, Jia Jia and Kai Kai! Do they get a baby bonus?