Miss your friends? 11 unique care packs for loved ones you can't meet right now
With Phase 2 (Heightened Alert), we can't have a meal or hang out with them. Why not send a little something instead, from DIY terrariums to cold brew kits to even a virtual message from a cute animal?
As we enter our second week of Phase 2 (Heightened Alert), many of us can admit we're missing our friends badly. And some of us have resorted to doing something that was pretty popular back during those "circuit breaker" days – sending them little gift packs.
Whether it's a box of brownies for a missed birthday or just some bubble tea for a midday boost, they're all gestures to say we've been thinking about them and can't wait until all of this is over.
If you've run out of ideas on what to send, no problem – we've handpicked a selection of gifts that #supportlocal and wouldn't empty your wallet. Ranging from DIY sets to yummy desserts, these gifts will guarantee a smile on your friend's face.
COLD BREW KIT
We all have that one friend who really needs coffee to get going. Now they can make their very own Singapore-style kopi with this kit from Homeground Coffee Roasters. Using their in-house coffee brand, Vanta (Espresso roast), and local equipment provided, your friend will have a great time brewing his or her own. There is also an instruction video for them to follow to max out the experience.
What's in the box: 500g to 1kg Vanta coffee and a kopi sock
Price: $36
Delivery: Free working day delivery for retail orders above S$37
Website: https://homegroundcoffeeroasters.com/collections/brew-kits
DIY TEA & BOTANICAL BLENDING BOX
Not a fan of coffee? Brew by a.muse projects now has a hands-on home gift experience. Their DIY Tea & Botanical Blending Box includes 10 ingredients for you to mix around with equipment they provide. The gift box also comes with a free personalised handwritten message for your receiver.
What's in the box: Three bases (green, black, rooibos), three florals (hibiscus, lavender, elderflower), two herbs (lemon myrtle, mint), two spices (fennel, ginger), an empty tea tin to fill your DIY blend and a stainless steel scoop
Price: S$52
Delivery: Free standard courier shipping with a minimum spend of S$40
Website: https://amuseprojects.com/collections/gift-ideas/products/diy-tea-botanical-blending-box
CARE PACK (INCLUDES COCKTAIL)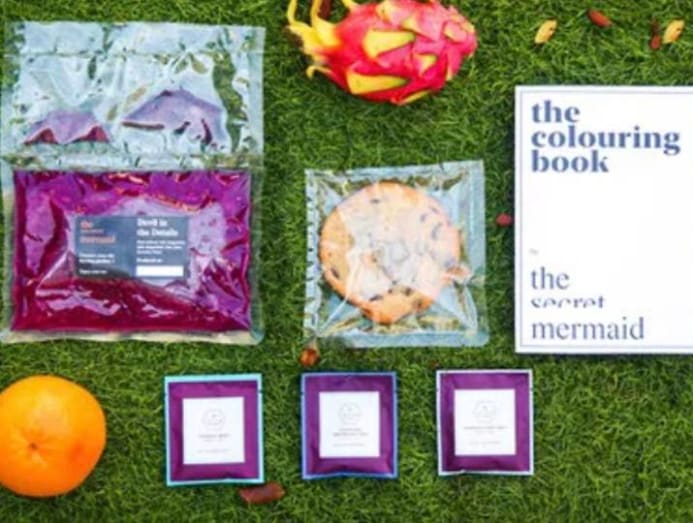 Want something to give that home party a bit of buzz? This gift box includes a mixture of items, from cocktails to a colouring book. Yes, a colouring book for adults. It's therapeutic. The Secret Mermaid has a range of care packs and bundles that you can send your friends and the most affordable one comes with six items that will make sure Friday stay-home nights won't be boring.
What's in the box: A cocktail packet for two, a house-baked cookie, a pack of dried/fresh fruits, three assorted artisanal teas from Ette Tea, and a colouring book.
Price: S$45
Delivery: S$15. Free for orders over S$100
Website: https://www.thesecretmermaid.com/shop/care-packages
HONEY COLLECTION LIMITED EDITION
During this period, health is truly wealth. The Rare Honey Company produces honey that not only has been certified 100 per cent pure and raw, but is also sourced from some of the wilderness of Australia. This mini-collection gift box is great for your friend who is all about consuming natural and healthy food. It comes with four different types of honey packaged in a beautiful book case, and even comes with a twirler, giving us the Winnie The Pooh feels.
What's in the box: Four full TA+ range 65g honey, a honey twirler, a book case
Price: S$48
Delivery: S$5 for all orders up to 4kg
Website: https://www.therarehoneycompany.com/pages/shop
CANDLE AND SANITISER GIFT BUNDLE
Working from home can be stressful, so how about a small gift for your colleagues to show a little concern and care. Hush is a local, women-led boutique home fragrance studio that is all about self-care. With their hand-poured and handcrafted products, your colleagues can enjoy an evening to wind down after a long day of work. Personalised messages are provided too!
What's in the box: A 4oz candle and a sanitiser (your choice of scent)
Price: S$22
Delivery: Free courier delivery for orders over S$60
Website: https://hushcandle.com/collections/gift-new
BUILD YOUR OWN SNACK BOX
By now we know that snacking comes hand-in-hand with working from home. At the same time, we are concerned about gaining the extra pounds. But what if snacks are healthy? Boxgreen allows you to build our own gift box for your health-conscious friends who love snacking. You can choose up to 12 different types of wholesome snacks such as shiitake mushroom chips and mocha almonds, and they will deliver it to your doorstep. This also includes personalised messages.
What's in the box: 12 types of customisable snacks
Price: S$32.90
Delivery: Free shipping
Website: https://www.boxgreen.co/a/bundles/customize-your-own-gift-box-103d
DIY TERRARIUMS
The days do feel longer when we're just stuck at home with Netflix. With this, your friends can get their hands dirty – and it could be helpful to spruce up their rooms, too. The Teardrop succulent/cacti DIY kit by Craftsforgreen allows your friends to get creative and make their own terrarium in the comfort of their own home. An instruction pack will be given to ensure minimal mess-ups. You can even get one for yourself and do it with your friends over Zoom.
What's in the box: A geometric teardrop vase, two cacti/succulents, packets of cacti soil, perlite/white crystals mix and pebbles, a plastic spoon, watering syringe, a paper bag and greeting card, as well as instruction and care tips sheet.
Price: S$45
Delivery: S$5. Free delivery for orders of around S$100
Website: https://craftsforgreen.com/product-category/diy-kits/
CUSTOMISED CHOCOLATE GIFT
Yes, what is a gift list without chocolates and desserts? However, this isn't just a regular chocolate box you get from a random shop. Hello Chocolate allows you to customise your own chocolate gift box for your friends with their interesting flavours such as Scotch Whisky and Espresso. You can also pick your own gift tags so this is for any occasion. They even have vegan-friendly options as well.
What's in the box: Your choice of chocolates
Price: S$10 and up
Delivery: S$8. Free delivery for orders above S$65
Website: https://hellochocolate.com/collections/customised-chocolate-gift-creators
CUPCAKE BOX
Cupcakes are always a safe gifting option and Sarah's Loft bakes rustic decorated cupcakes that are almost too pretty to eat. Their uniquely designed sweet treats are definitely Insta-worthy and delicious. With six different flavours and a personalised note, this gift will brighten someone's day.
What's in the box: Six cupcakes and a personalised note
Price: S$27
Delivery: S$12 islandwide, and self-collection is also available
Website: https://www.sarahsloft.net/cupcake-box
MANTOU ICE CREAM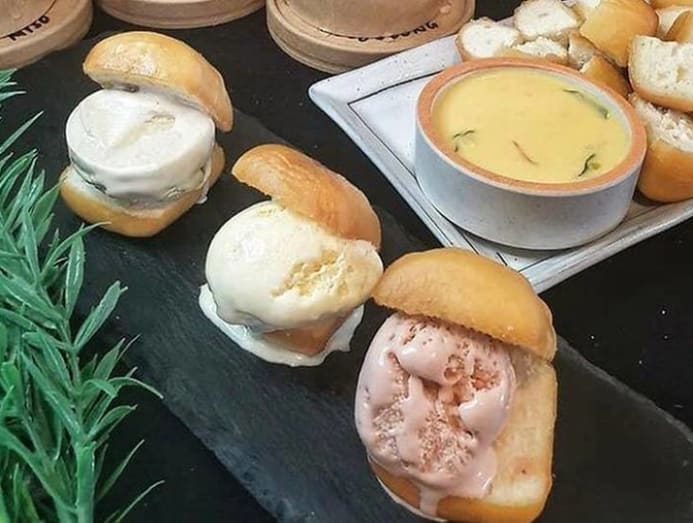 Sometimes we need some good ol' ice-cream to cool the heat down. Mantou Dahan allows you to level up by "kiaping" ice cream between fluffy handmade mantous, giving it the savoury sweetness everyone needs on a sleepy afternoon. Surprise your friends with this Kiap You Home pack where they can try different locally inspired ice-cream flavours with freshly fried mantous and some savoury dips.
What's in the box: Four tubs of 235ml ice cream (Rose Oolong, Specunt Cocoloos, Kick Ball Lim Kopi, Gila Gula Avo), two boxes of 10 crispy golden mantou, and condensed milk and salted egg dips
Price: S$35
Delivery: S$5 for Pasir Ris, Tampines and Punggol areas, S$7.90 for the rest. Self-collection also available.
Website: https://www.instagram.com/mantou_dahan/
PERSONALISED MESSAGE FROM ANIMAL FRIENDS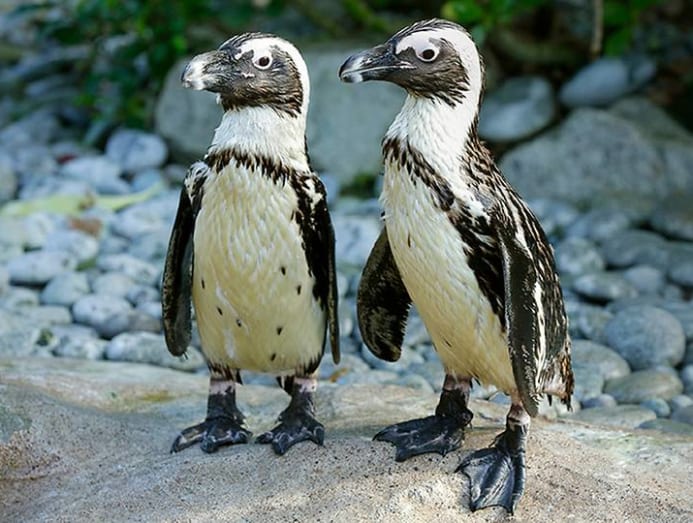 Lastly, something a bit more unique – you can send someone a personalised one-minute video message featuring an adorable animal friend from the Singapore Zoo. Select one of the following residents: Capybaras, yellow-naped Amazon parrot, African penguins, and Oriental pied hornbills. It really doesn't get any cuter than this.
What's in the (virtual) box: A personalised message
Price: S$50 to S$80