Pack your bags: You can now enjoy a glamping holiday at Jewel Changi Airport
There are two glamping sites to choose from: The Cloud9 Piazza and Shiseido Forest Valley. And if you don't want to spend the night, you can opt for a "glampicnic" instead.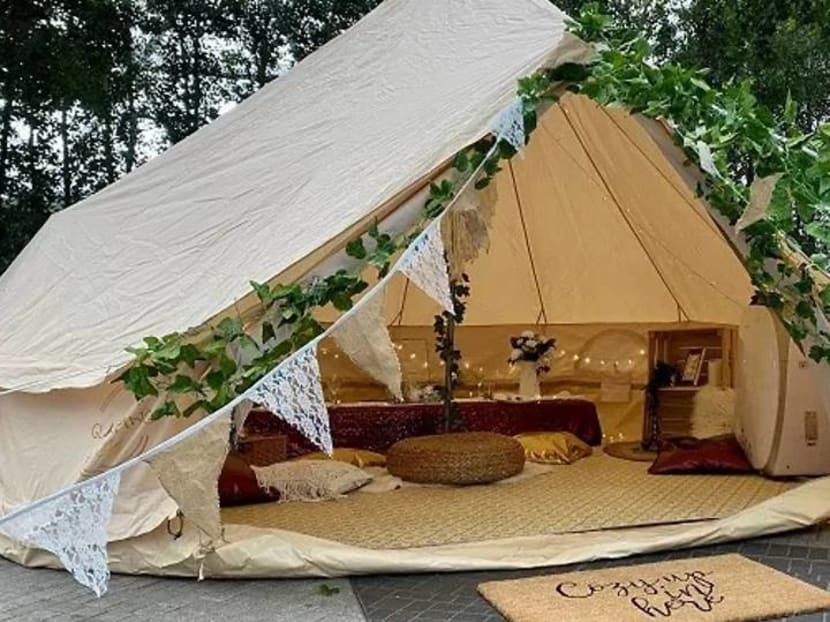 If staying in a hotel room for a staycation is starting to feel a little conventional, you can change things up by spending a night in a tent. And not a run-of-the-mill tent, mind you, but one all decked out for a glamping experience. Plus, you don't even have to pitch it yourself.
Changi Airport announced on its Facebook page on Tuesday (Nov 17) a slew of new experiences and activities that are taking place this year-end, including the chance to have a "glampcation" at Jewel Changi Airport.
You can choose between two locations for this unique stay-cay: At the Cloud9 Piazza or Shiseido Forest Valley.
Depending on where you choose to spend the night, you'll get different bed set-ups, check-in and check-out timings, as well as shower access locations.
For example, the Glamping in the Clouds experience, where you'll get to wake up to views of the Rain Vortex, comes with one queen-sized bed and one single bed, with the option to add another bed if there are more than two people in the tent. And you'll get to use the shower facilities at Changi Lounge. Check-in is at 7pm and you have to check-out at 10am the next day.
Both options offer other perks such as tickets to attractions like the Canopy Park and Changi Experience Studios, as well as free parking.
The glamping experience is priced at S$320 per night from Mondays to Thursdays, and S$360 a night for Fridays to Sundays, public holidays and the eve of public holidays. There's a special soft-launch price of S$288 for stays between Nov 23 and Nov 26.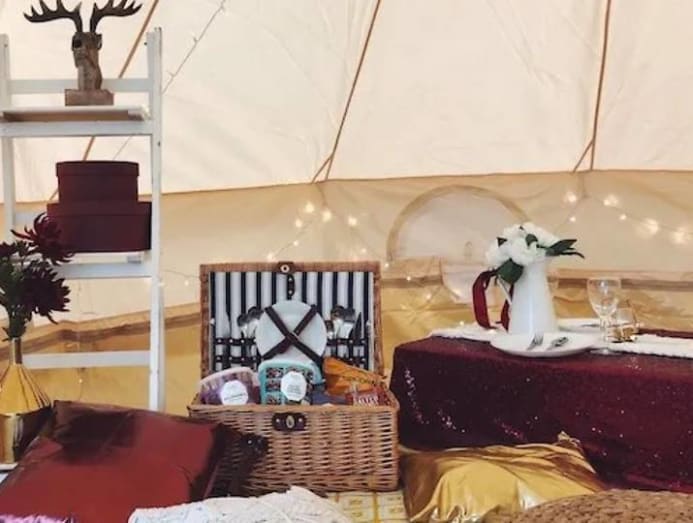 If you don't want to make a night of it, you can opt to have a Glampicnic in the Clouds instead where you can bring your own picnic spread to be enjoyed in the comfort of the air-conditioned glamp tent.
There are two three-hour slots per day – 11.15am to 2.15pm and 3pm to 6pm – and your booking comes with all the extras you'll need to make your picnic an enjoyable one, including a table setting; table cloth; disposable plates, cutlery and wine glasses; cushion seats and a cooler box with ice.
The glampicnic costs S$160 from Mondays to Thursdays and S$180 for Fridays to Sundays, public holidays and eve of public holidays.
Booking periods for all three activities are from Nov 20 to Jan 3 and you can book your stay or get more information here.