Glamping with manatees: What it's like to sleep over with the aquatic giants
CNA Lifestyle's May Seah shared a bedroom, so to speak, with the placidly charming animals at the River Safari's Glamping with the Manatees experience, which is back from Mar 13 to 20.
I can't say I'd always wanted to spend the night with a manatee, but when I was invited to pack my bag and go glamping with them, it immediately became clear that this was the one thing that had been missing from my life.
After all, who doesn't love these adorable sea cows? They look like giant bean bags with solemn, puppy-dog faces. They're so mystical that ancient sailors legendarily mistook them for mermaids. And they're one of the biggest stars at the River Safari, where their Amazon Flooded Forest exhibit is perennially popular.
Sleeping in a tent inside the exhibit, pitched right up next to the huge aquarium wall, turned out to be as magical an experience as it sounded.
We shared a bedroom, so to speak, with the placidly charming animals at the River Safari's Glamping with the Manatees experience, which is back from Mar 13 to 20. And yes, there's aircon.
Manatees wake early – about 6am – which meant I opened my tent flaps after a night of sleep to a transfixing scene of playful creatures diving, floating and rolling, enjoying their morning calisthenics.
They are fascinating animals, not just because of their size, shape and movements, but also because they have beady, almost human-like eyes and whiskery snouts. It's the easiest thing in the world to sit down in front of the massive glass panel and later find that you have spent hours getting lost in their underwater world.
These precious few hours of early-morning quiet, when it's just you and a herd of floating manatees in total privacy, make for an experience not soon forgotten.
GLAMPING: YES, THERE'S AIRCON
The best part of the River Safari's two-day-one-night Glamping with the Manatees programme, if you ask me, is that you get to go "camping" without actually having to experience the honest-to-goodness wilderness.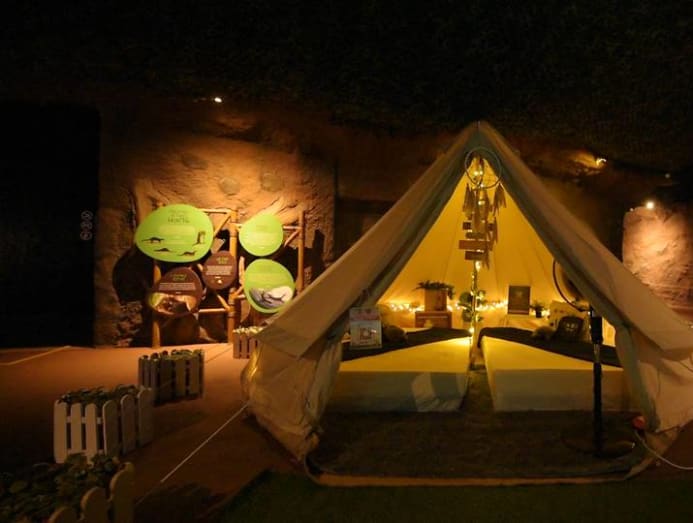 Is there air-conditioning? Yes! Are there proper mattresses in the tent? Yes, two queen-sized ones! How are the shower facilities? You have to walk a little bit to get to them, but yes, they are very clean and no, I did not spot any lizards or creepy-crawlies. And the security situation? There is a sentry on duty who stays awake all night, guarding the door.
Yup, I like nature, but I like it entry-level, thank you.
Manatees go to sleep at night just like we do, and they snooze near the surface of the water because they need to come up for air every 15 minutes or so. So, you can retire peacefully into your tent without fearing that you'll miss too much action.
Make sure to wake early, though, so you can sit in the doorway of the fairy-lit tent and watch the animals at their most active.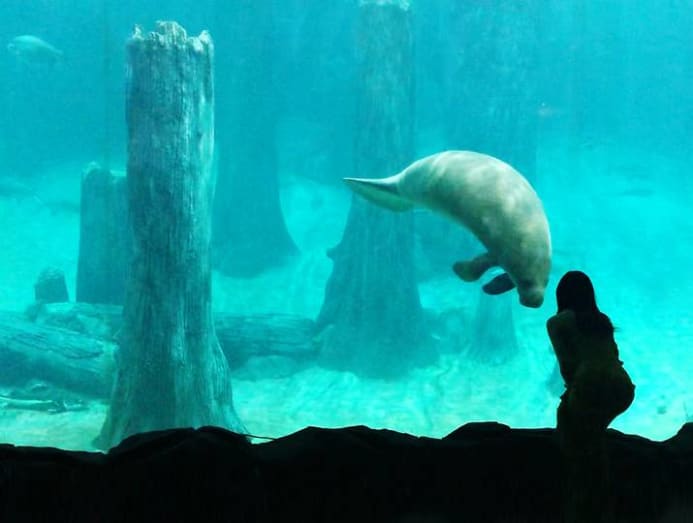 One curious little guy even stopped to stare at me, staying very still behind the glass exactly at eye level for a good few minutes. It felt like a once-in-a-lifetime moment of connection with a creature that will always be majestic and mysterious – and really, really cute at the same time, like a majestic, mysterious finned potato.
The photo-worthy tents will of course be the highlight of the trip, and there'll be no sense of deprivation there, to say the least.
But there's an action-packed programme that takes you through the River Safari too, which families with children in particular will appreciate.
MANATEES AND FRIENDS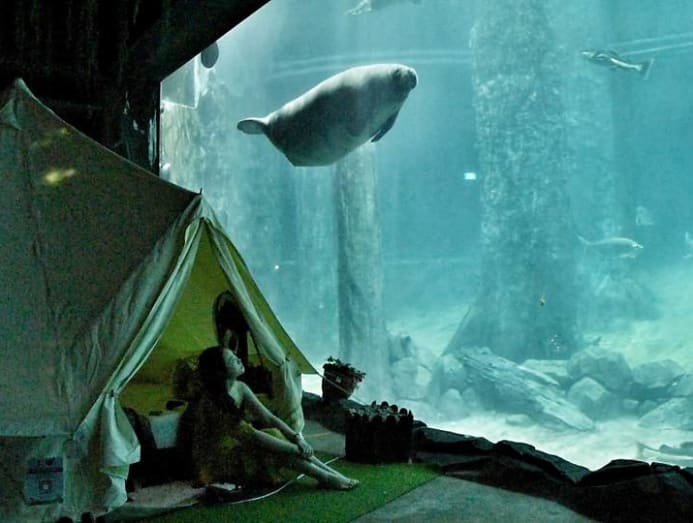 In the company of friendly and knowledgeable guides, we learned all sorts of things about manatees. For example, these speed bump-shaped mammals may be round and rotund, but they actually have very little blubber.
What makes up their girth, then? The herbivores' bodies house long lengths of gut to help them process tough fibres. They're not fat, they're just digesting, okay? Oh, yeah, their intestines also contain pouches of gas that help them float – and they fart a lot in the morning.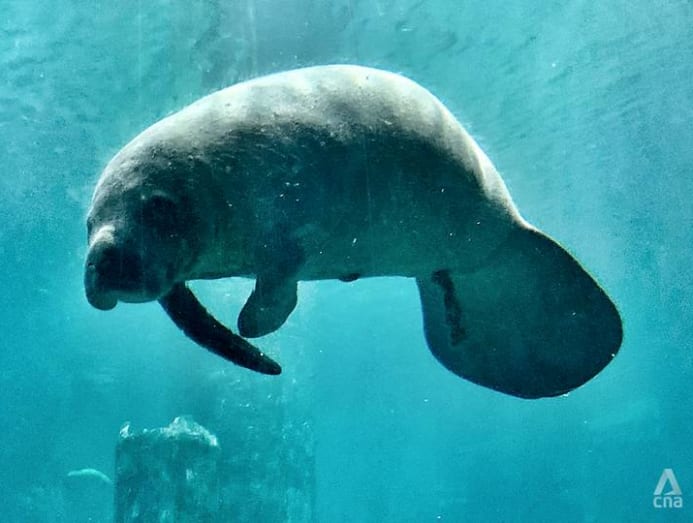 The Amazon Flooded Forest now has 18 West Indian manatees, many of which were born here. If you see a massive one eclipsing all the others, that'll be Eva. At nearly 30 years old and weighing in at about 1,200kg, she's a mother of eight and grandmother of seven.
And at the moment, there are three manatee babies, all born last August. If you're lucky, you might see them suckling at their mothers' teats, located under their flippers.
We got to prepare a snack of sweet potato leaves for them, as well as make fish food balls to toss to the massive arapaima fish that share the aquarium.
It's not all about the manatees, though. The glamping experience also packs in an animal show, for which seats were reserved so we could skip the queue; and an exclusive session with a keeper in the squirrel monkeys' and saki monkeys' enclosure.
I was extremely chuffed when I got to pet a pelican.
The "mystery animal meet-and-greet" segment kept us in suspense but didn't disappoint: When the giant white-plumed, web-footed bird sauntered in through the door, everyone lost it.
This special guest star was Luke, one of the zoo's two pelicans. He's a bit of a diva who likes to hog the limelight, pose for wefies, show off his impressive wingspan and display his ball-catching skills. But that's to be expected when you're so handsome.
I mean, he did angle his beak towards me and open it in a manner that gave the impression that he was trying to eat my head. But I gave him the benefit of the doubt.
I don't think there are very many people in the world who can say they've played catch with a pelican – or spent the night sleeping with manatees, for that matter.
River Safari's Glamping with the Manatees, which was first offered last December, will be returning from Mar 13 to 20. A tent that sleeps up to four people is S$999 for the upper deck and S$1,299 for the lower deck. Bookings commence on Feb 19 at 9am at wrs.com.sg.