Google and YouTube treat BTS fans with birthday features and tribute video
"I purple you" seems to be the K-pop band's and Google's ways of saying "Happy Birthday" to the ARMY fandom.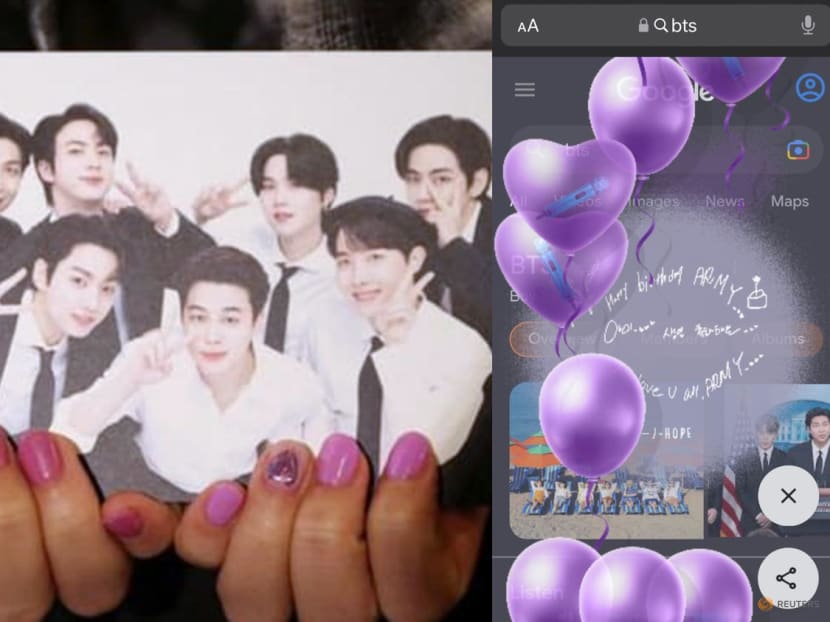 If you're a BTS fan, here's something you can do on Google for a bit of fun. Type "BTS" on Google mobile or desktop, click on the purple heart and your screen will be filled with animated balloons. Some of the virtual balloons contain a microphone and if you click on them, you'll get a "I purple you" message from one of the seven band members.
The band has tweeted the Google search feature to its fandom, which it officially named "ARMY" – an acronym that stands for "Adorable Representative MC for Youth" – in 2013.
That's not all that the search engine has rolled out on Jul 9 to mark the ninth anniversary of the ARMY. Google Arts & Culture has also launched BTS x Street Galleries, which will take fans on a Street View tour of the cities and buildings that the band has curated.
In addition, in each of the 14 locations, fans can create their own Street Gallery with artworks curated by the band as well as exclusive photographs and creations by RM, Jin, SUGA, J-Hope, V, Jimin and Jung Kook.
For instance, J-Hope decorated the UN General Assembly, where BTS gave an address and shot a music video last year, while RM will guide fans through Seoul's Namdaemun, where BTS performed for 2021's Global Citizen Live festival.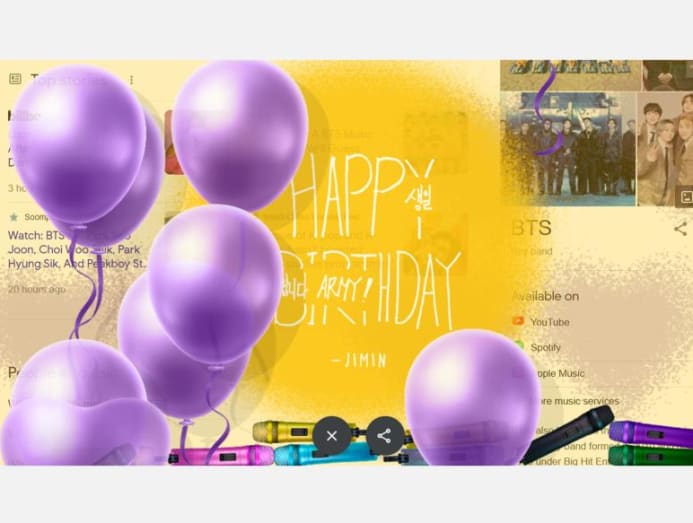 "BTS has such a positive energy, and we wanted to bring a bit of that to Search," said Elissa Wolf, Google's lead delight features software engineer in a statement to Variety. "I'm a fan myself, so I was thrilled to be able to work on this project!"
BTS also teamed up with YouTube Shorts for the month-long #MyBTStory challenge that ended on Jul 8. The online event invited ARMY and music fans to share their BTS memories, which will be made into an ARMY tribute video. The band has already unveiled a teaser video announcing the release of the tribute video on Jul 13.