Singapore's Space Invaders and 10 other weird things to spot on Google Earth
From a random Batman symbol, a Coke ad in the desert and a guitar-shaped forest, here are some things that will make you say, "What on earth?!" from the comfort of your bedroom.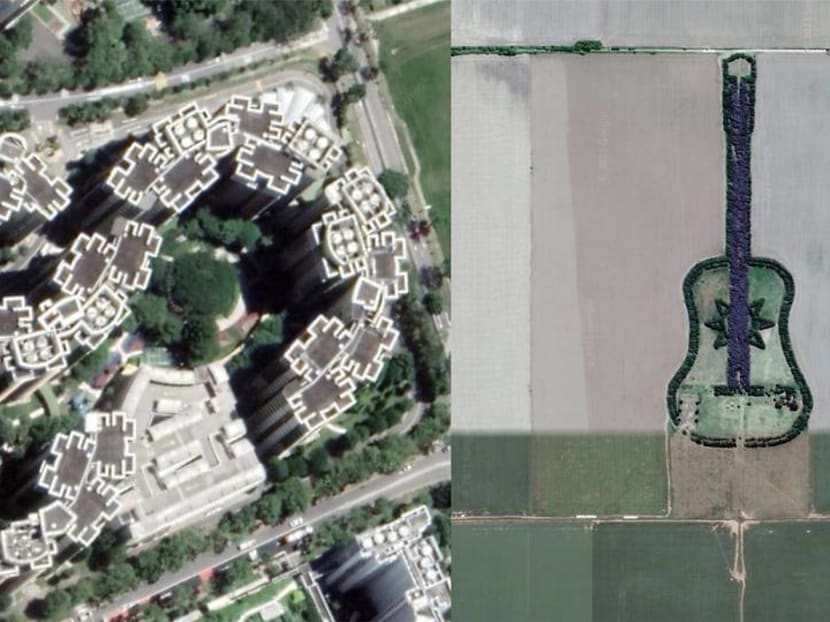 While we're all stuck at home yearning to be somewhere else, it's good to remember that the world is full of interesting sights.
And for those stuck to their screens (who isn't these WFH days?), snooping around on Google Earth makes for a nice break from the monotony. Here are some of the more unusual things you can find – some were made by Mother Nature, others by humans.
GUITAR FOREST
Most aerial shots of forests don't have any particularly fancy shapes – except for this one from Argentina, which looks exactly like a guitar. It's actually manmade, built in 1979 by Pedro Martin Ureta, who wanted to pay tribute to his wife who died in childbirth. The Guitar Forest stretches across nearly a kilometre and comprises 7,000 trees.
Coordinates: 33°52'04.4"S 63°59'13.2"W
LION KING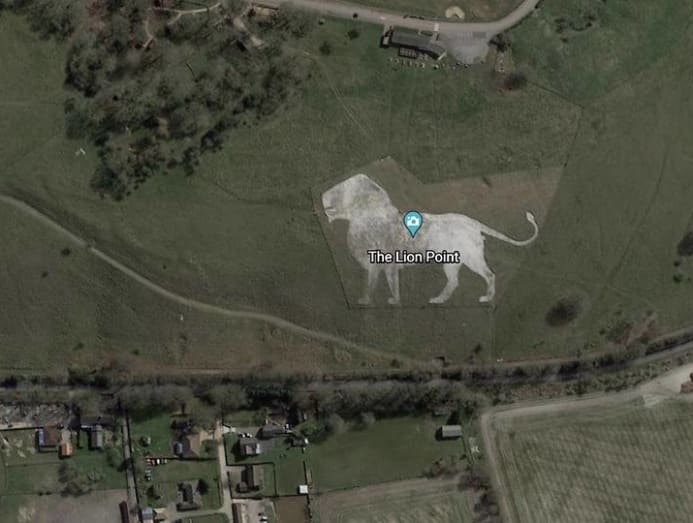 This one gives us the "Nants ingonyama bagithi Baba" feels. The 147m-long lion was created by the Whipsnade Zoo on a hillside in England. Completed in 1933, the landmark was made up of 800 tonnes of white chalk from beneath a local resident's house. As the lion became an icon in the area, it had to be covered up during World War Two to prevent Germans from using it as a navigation marker while flying.
Coordinates: 51°50'55.1"N 0°33'16.6"W
POTASH PONDS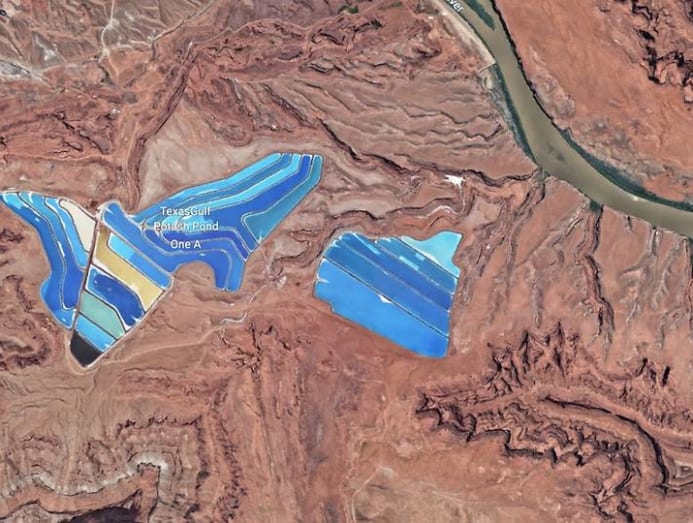 A multi-coloured pond is the last thing you'll expect to find in the middle of a desert. The Potash Ponds in Utah will probably remind you of the mixed paints in your palette as a kid, with all those seemingly unnatural colours. It's the result of a mining process: Potassium chloride (aka potash) is extracted, potash brine is poured into evaporating ponds and the water in said ponds is dyed blue so that the potash crystalises faster. Confused? That's okay, just admire the beauty of it.
Coordinates: 38°29'0.16″N 109°40'52.80″W
BATMAN SYMBOL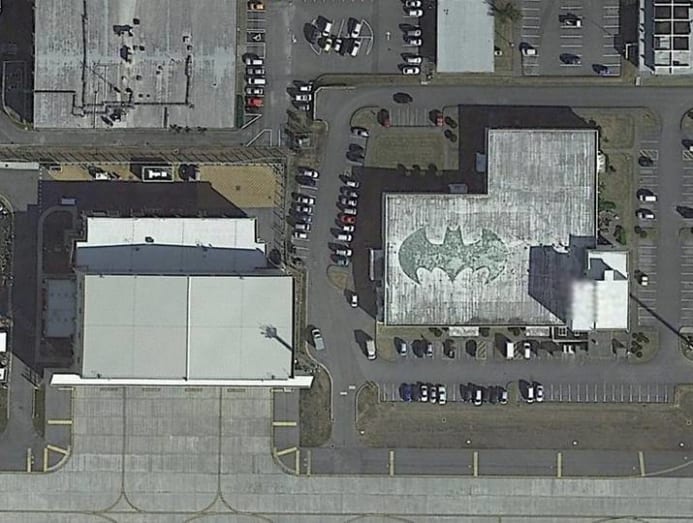 We found where the Justice League's been holding their secret meeting – a batcave in Okinawa! Well, maybe not. But if you're wondering what's really here, this is the site of the US Air Force's 44th Fighter Squadron. It is unknown who exactly painted it, but they have confirmed the heroic symbol to be there since the 1980s. Who knew the Caped Crusader was a military man?
Coordinates: 26°21'28.4"N 127°47'01.7"E
HEART-SHAPED ISLAND
Single and feeling lonely? It's alright, Mother Earth is sending her love to you through this gorgeous heart-shaped island in Croatia. It's called the Galesnjak Island, but most people know it as the Lover's Island because of its shape. The private island is uninhabited and contains wild plants and trees, surrounded by untouched beaches, but it became a popular tourist destination for couples when it was discovered in 2009. Hopefully its beauty remains for years to come.
Coordinates: 43°58′41.24″N 15°23′1.14″E
BLOOD LAKE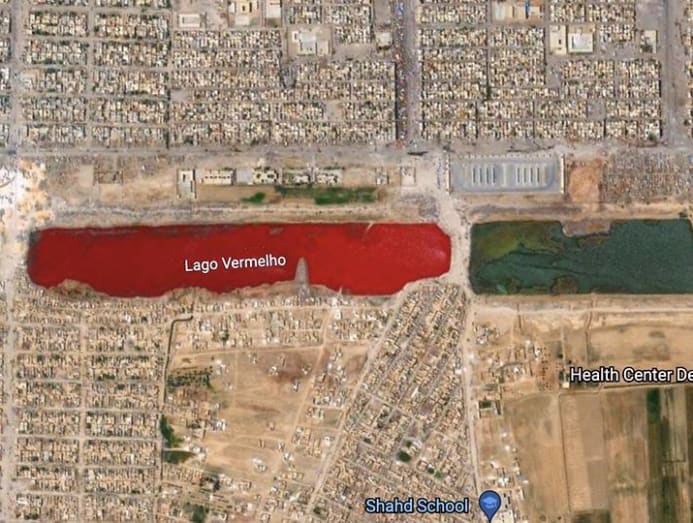 The Lago Vermelho Lake, which is bright red in colour, is located in Baghdad, Iraq, and was first noticed in 2007. Since then, there's been speculation about the reasons behind its vivid bloody colour, which stands out among other normal lakes around it. According to a story in Time, there's a number of slaughterhouses surrounding the lake, which might have resulted in this eerie sight. But that's just a theory and nothing has been confirmed. 
Coordinates: 33.396157° N, 44.486926° E
BOAT BUILDING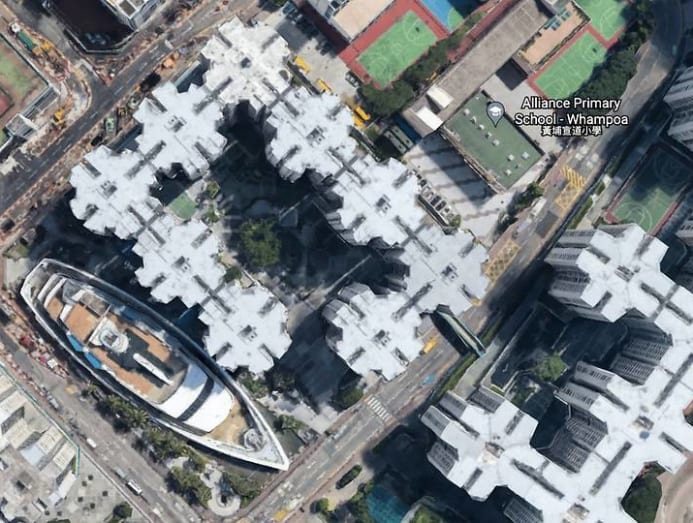 No, this is not Singapore's Marina Bay Sands. This random "boat" squeezed between buildings may seem a little bizarre, but it is actually the Whampoa shopping mall in Hong Kong. The luxury mall is 360ft long and its design is a nod to the area, which was a former dockyard.
Coordinates: 22°18'14.15"N, 114°11'24.66"E
FLIGHT DESERT MEMORIAL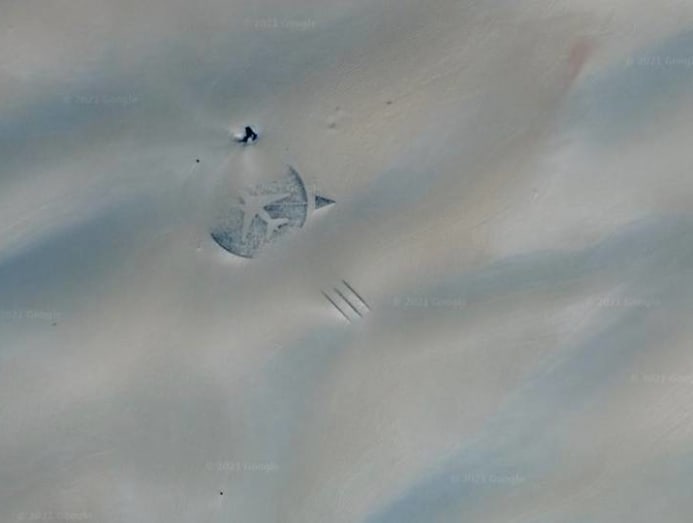 From the top, this looks like a plane icon tattooed onto the Sahara Desert. The airplane is pointing in the direction of Paris, and it's a memorial to the ill-fated UTA flight 772. On Sep 19, 1989, the plane was travelling from Brazzaville to Paris when it exploded over the desert, killing all 170 passengers and crew members onboard. The memorial is a life-size silhouette of the aircraft, which lies within a dark stone circle surrounded by 170 broken mirrors, representing the victims.
Coordinates: 16°51'53.4"N 11°57'13.7"E
BLAZING SUN GEYSER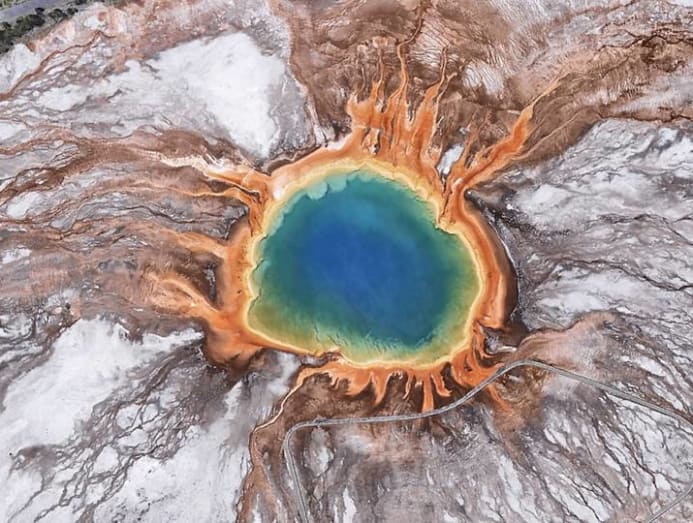 The Grand Prismatic Spring is a bright coloured hot spring located at Yellowstone National Park, Wyoming, USA. Its yellow-orange outline resembles the sun you see in drawings and the centre part is turquoise. Apart from its eye-catching look, it is actually the third largest spring in the world, with a diameter of 112m and depth that is deeper than a 10-storey building.
Coordinates: 44°31'30.2"N 110°50'17.5"W
COCA-COLA LOGO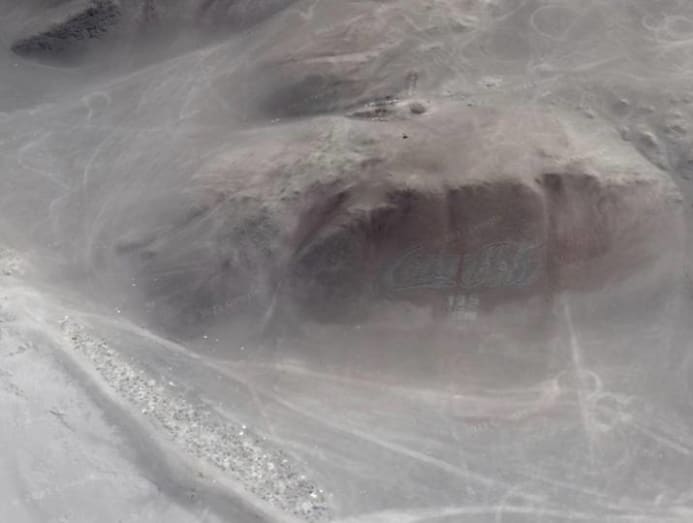 Coke decided to commemorate its 100th anniversary by putting their logo in the middle of the Chilean desert. Because, you know, people tend to get thirsty in the middle of nowhere. The logo, comprising 70,000 bottles, is approximately 120ft by 400ft, making it the largest Coca-Cola ad in the world, setting a Guinness World Record in 1986.
Coordinates: 18°31'45.1"S 70°15'00.0"W
SPACE INVADERS BUILDINGS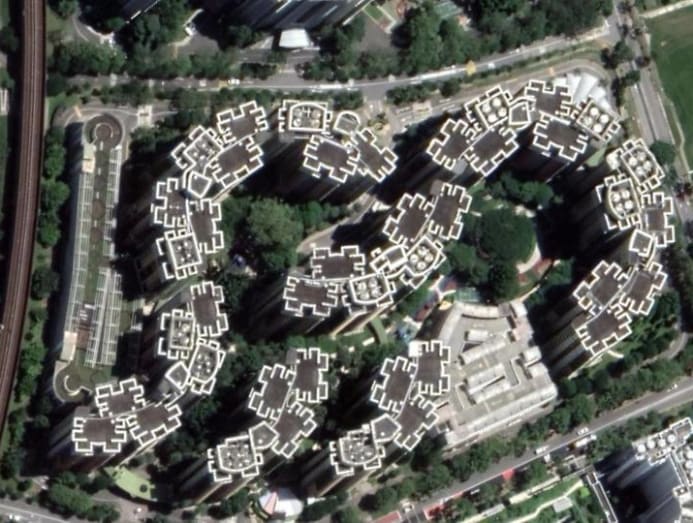 Some say this looks like the classic 1978 arcade game Space Invaders, while others think it resembles a cast of crabs travelling together. This sight may seem unfamiliar, but it is actually a bunch of HDB blocks in Woodlands, Singapore. Just like many other things, they may look ordinary at eye-level, but when viewed from the top, new things are discovered.
Coordinates: 1.4418° N, 103.8074° E