Grammy Awards: Harry Styles wins album of the year, Beyonce is most decorated artiste
Beyonce won her 32nd award, breaking a 26-year-old record. But as in years past, the album of the year honour eluded her. 
Beyonce sits alone atop the Grammy throne as the ceremony's most decorated artiste in history, but at the end of Sunday's show it was Harry Styles who walked away with the album of the year honour.
The Grammys spread its top awards among other artistes, leaving Beyonce off stage at the end of the night. But the superstar was a constant presence throughout the night, even when she wasn't in the room, especially once she won her 32nd award and surpassed late composer Georg Solti in all-time wins.
"I'm trying not to be too emotional," the superstar said after her historic win as her husband Jay-Z stood and applauded her. The singer thanked her late uncle, her parents, Jay-Z and her children for supporting her. "I'm just trying to receive this night. I want to thank God for protecting me. Thank you, God."
The Grammys stage at the end of the night has eluded Beyonce since 2010, when she won song of the year for Single Ladies. She added four trophies to her collection for her album Renaissance.
Styles was emotional accepting his album of the year award for Harry's House, saying he was inspired by everyone in the category. "A lot of different times of my life, I've listened to everyone in these categories. It's so important to remember that there is no such thing as best."
The British singer-actor took home three awards on Sunday (Monday, Feb 6, Singapore time). "It feels like validation that you're on the right path," said the singer backstage. "When we get in the studio and begin the record, we just make the music we want to make. It feels really nice to feel like 'Oh, that's the right thing to do.'"
Beyonce missed being in the room when she tied Solti's record early in the telecast. Host Trevor Noah said she was on her way to the ceremony but blamed Los Angeles traffic for not being in person to accept it.
Once Beyonce – the night's leading nominee – finally arrived, Noah presented her with the best R&B song award at her table.
Beyonce won for best R&B song for Cuff It, dance-electric music recording for Break My Soul, traditional R&B performance for Plastic Off The Sofa and dance-electric music for her seventh studio album Renaissance, which was nominated for album of the year. 
Lizzo won record of the year for About Damn Time, delivering a rousing speech that brought many in the audience, including Beyonce, Taylor Swift and Adele, to their feet.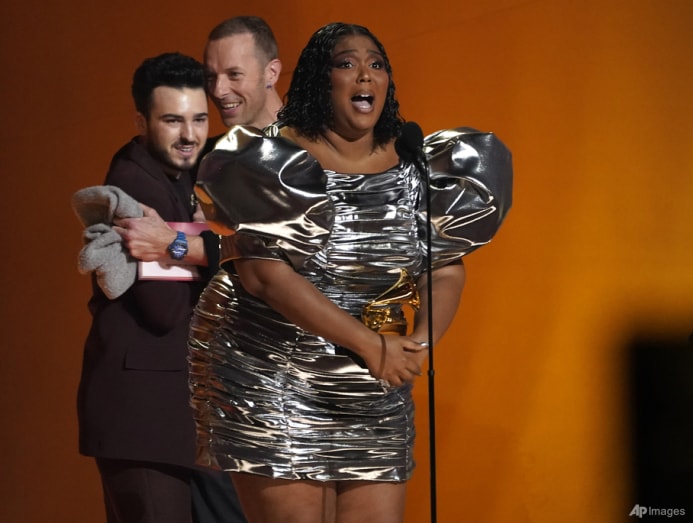 "Me and Adele were having a good time, rooting for our friends. This is an amazing night. This is so unexpected," Lizzo said, dedicating her award to Prince.
"I wanted to make the world a better place, so I had to be that change to make the world a better place. Now, I look around and see these songs are about loving your body and feeling comfortable in your skin and feeling good."
Jazz singer Samara Joy won best new artist, shrugging off challenges by such acts as Wet Led, Anitta and Maneskin. The New Yorker was virtually in tears when she collected the award and noted that her little brother was her date. "I'm so, so grateful. Thank you." She has released two albums as a lead artiste and also won the Grammy for best jazz vocal album earlier in the night.
Veteran singer-songwriter Bonnie Raitt shrugged off big-name rivals like Adele, Taylor Swift and Beyonce to win the song of the year award. "I'm so surprised. I don't know what to say," a visibly stunned Raitt said, adding that the song Just Like That explores organ donation. It capped a night when Raitt won two other Grammys – for best Americana performance and best American roots song.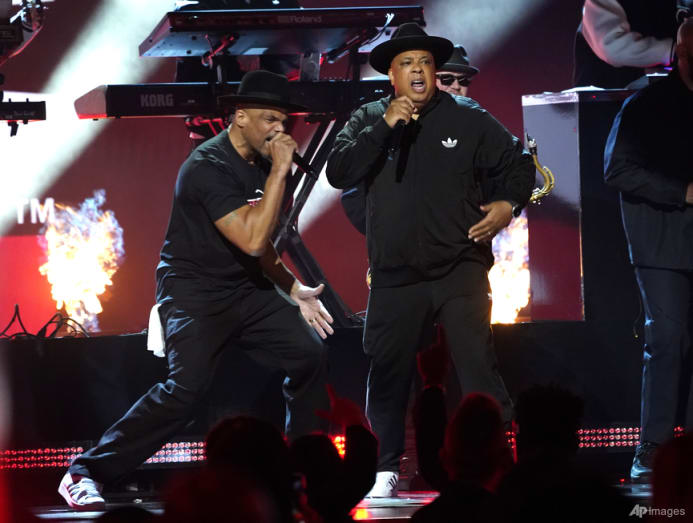 A who's who of hip-hop royalty took the stage for an epic, rousing 15-minute tribute to the genre's 50th anniversary. The performance included Grandmaster Flash doing part of his seminal hit The Message; Run DMC, Chuck D and Flavor Flav along with Ice-T, Queen Latifah, Busta Rhymes and Nelly all taking the stage.
It ended with everyone on the stage and LL Cool J shouting "multi-generational! Fifty years!"
The performance was a crowd-pleasing moment for a ceremony that has long had a shaky history of not recognising rap.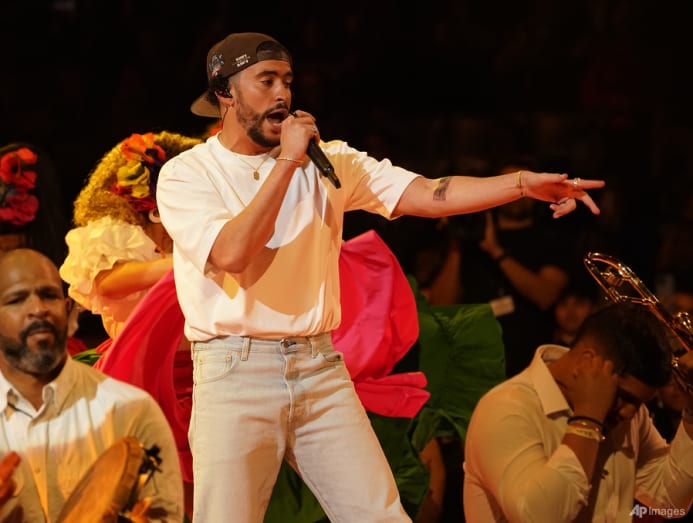 Bad Bunny opened the Grammy Awards with a festive, high-energy performance that brought many of the audience including Taylor Swift who rose to her feet and danced near her table at Los Angeles' Crypto.com Arena.
Noah introduced Bunny calling him a "global force" who is the most streamed and listened to artist in the world.
Styles won the main telecast's first award for best pop vocal album for Harry's House. The singer said recording the song was one of the "greatest experiences of my life. It's been my greatest joy".
Sam Smith and Kim Petras won best pop duo-group performance for their song Unholy. Petras said Smith wanted Petras to make the acceptance speech because "I'm the first transgender woman to win this award".
"I want to thank all the incredible transgender legends before me who kicked these doors open for me so I could be here tonight," said Petras, who made a reference to friend and Grammy-nominated musician Sophie, who died after an accidental fall in Athens, Greece in 2021. "You told me this would happen. I always believed in me. Thank you so much for your inspiration, Sophie. I adore you, and your inspiration will forever be in my music."
Petras thanked Madonna for being a tremendous supporter of LGBTQ rights.
"I don't think I could be here without Madonna," Petras said. "My mother, I grew up next to a highway in nowhere Germany. And my mother believed me that I was a girl. I wouldn't be here without her and her support."
During the in memoriam segment, the Grammys recognised the lives of Loretta Lynn, Migos rapper Takeoff and Christine McVie with several star-studded performers paying them homage. The touching performances included Kacey Musgraves singing Coal Miner's Daughter in tribute to Lynn; Quavo and the Maverick City Music hit the stage to honour his nephew Takeoff with the song Without You; and Sheryl Crow, Mick Fleetwood and Bonnie Raitt performed Songbird to remember McVie.
Kendrick Lamar won sixth career trophy for best rap performance for The Heart Part 5 and also won best rap album for his studio offering, Mr. Morales & The Big Steppers.
"You know, as entertainers, we say things to provoke thoughts and feelings and emotions," he said. "So making this record is one of my toughest. … I would like to thank the culture for allowing me to evolve in order to make this. I finally found imperfection with this album."
Viola Davis emerged from Sunday's show an EGOT – a term for those who have won an Emmy, Grammy, Oscar and Tony – after her win for best audio book, narration and storytelling recording. The actor gave an emotional speech and emphatically said "I just EGOT" after she marched on stage to collect her award.
"Oh, my God," she said. "I wrote this book to honour the six-year-old Viola, to honour her, her life, her joy, her trauma, everything," Davis said. "It has just been such a journey."
Tattered streetwear, T-shirts and denim mixed with blinged-out couture, wild patterns and plenty of skin on the Grammys carpet. Lizzo wowed in a bright orange Dolce & Gabbana robe adorned with flowers and a huge hood while Taylor Swift wore a long two-piece sparkly skirt with a high-neck and long-sleeve crop top in midnight blue.
Brandi Carlile made a rare appearance during the pre-telecast for a major artiste. The singer showed up after her song Broke Horses won for best rock performance and best rock song, a songwriter's award, and best Americana album.
"It's rock 'n' roll, man," said a smiling Carlile, who jogged on stage with a couple of her band members. "I cannot tell you how much this means to us. We're born and raised in Seattle. When I met these guys 22 years ago we decided to get into a band." Carlile co-wrote Broken Horses with twin brothers Phil and Tim Hanseroth.
This year's Grammys have also introduced several new categories, including one for video game music composition, which went to the soundtrack for Assassins Creed: Valhalla.
This year's show marks a return to Los Angeles after the pandemic first delayed, then forced the Grammys to move to Las Vegas last year. Noah hosted the ceremony as well, which saw Jon Batiste take home album of the year.