Sweet Child O' Mine! Guns N' Roses to perform in Singapore in November
Axl Rose, Slash and Duff McKagan will raise the roof at the National Stadium. Tickets go on sale on Jul 28.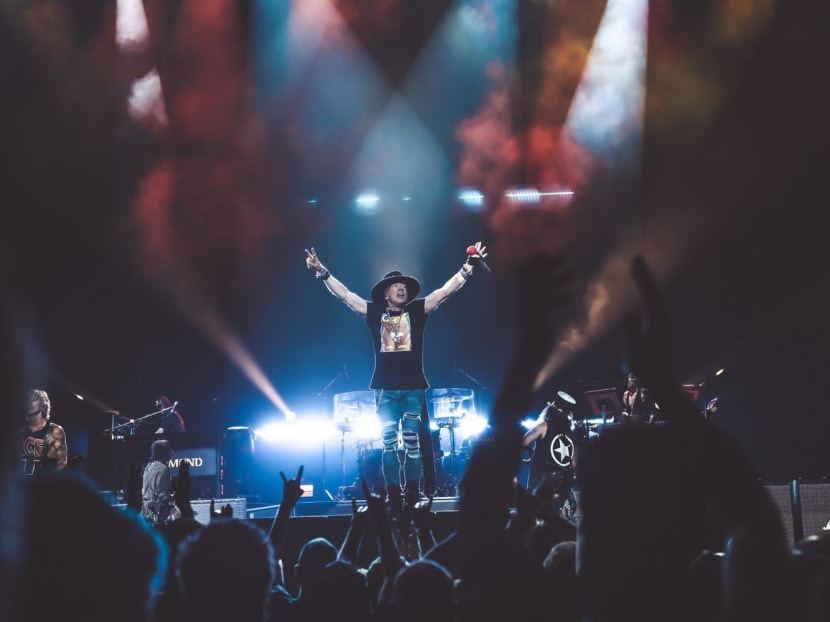 The stage is set for a November reign by American rock legends Guns N' Roses in Singapore. The band – with icons Axl Rose, Slash and Duff McKagan – returns to Singapore for a one night only concert on Nov 12, at the National Stadium. 
They will then tour Australia and New Zealand, said a joint release from live entertainment company TEG Dainty and G.H.Y Culture & Media.
Tickets go on sale at 10am on Jul 28 on the Ticketek website. More information can be found on the Sports Hub website as well.
"Announcing an international tour of this magnitude as we come out of the most challenging period in the history of live entertainment is truly gratifying," said Paul Dainty, president & CEO of TEG Dainty.
"We're all eager to return to business as usual and who better to charge into international stadium touring than the mighty Guns N' Roses! Witnessing the classic line-up of Axl Rose, Slash and Duff McKagan, reunited, on the Singapore stage during this historic band's previous Not In This Lifetime tour was an unforgettable experience for fans."
"This energetic night is definitely not to missed for the fans here and the region," said Adeline Low, regional senior group director for G.H.Y Culture & Media.
The last time Guns N' Roses rocked out in Singapore was in 2017 for the Not In This Lifetime tour. It was billed as one of Singapore's largest rock shows, with 50,000 tickets sold, although concert organiser LAMC Productions was beset by logistics issues and problems with RFID wrist tags meant for cashless purchases at the Changi Exhibition Centre.
Guns N' Roses recently had to postpone their Glasgow show due to "illness and medical advice". They will also head to Japan for shows in November ahead of their Singapore concert.
Will they turn the Singapore Sports Hub into a Paradise City? A little Patience to get all aboard the Nightrain and you'll find out.