Hands-on with the Samsung Galaxy S20 phones and their Space Zoom cameras
CNA Lifestyle was in San Francisco during the Galaxy Unpacked event to try out the new Galaxy S20, S20+ and S20 Ultra phones and their touted new camera zoom technology.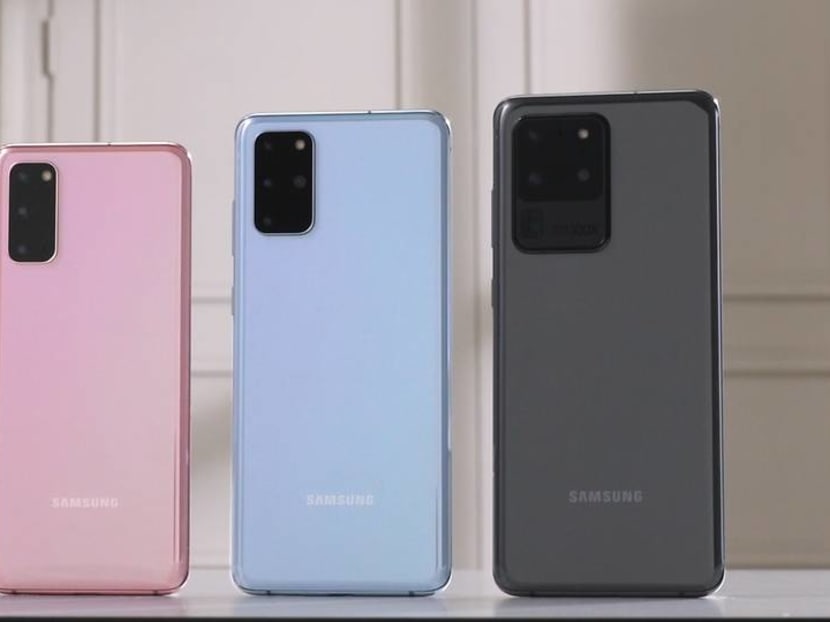 Samsung began the new decade with a new name for its flagship S-series phones. Instead of running with the S10 – which was supposed to mean we would've gotten an S11 – the new phones are called S20s. There will be three variants in this series: The S20, S20+ and premium S20 Ultra.
CNA Lifestyle was in San Francisco during the Samsung Galaxy Unpacked event, where we got a chance to have a look at the new S20, S20+ and S20 Ultra – and see what the camera zoom feature was all about.
The Korean phone company says their own research has shown the number one reason for mobile users to upgrade is the camera, and the biggest complaints they've gotten about the current phone systems include soft focus, or bokeh effect, moving objects, and poor zoom quality. Qualities, Samsung decided to focus on for the S20.
After last year's Galaxy Fold comes this second-gen foldable – this time with foldable glass. CNA Lifestyle finds out if the Galaxy Z Flip is worth the S$1,998 price tag.
We were able to have a hands-on look prior to the Galaxy Unpacked event in San Francisco, where the Galaxy Z Flip was also announced – and here's what we think.
SPACE (ZOOM) AGE CAMERA
The re-designed camera system uses artificial intelligence (AI) and larger sensors to take your photography to the next level. The Space Zoom feature on the S20 blends its Hybrid Optic Zoom and Super Resolution Zoom – including a digital zoom that uses AI – to bring you closer to your subject.
The 20 and 20+ come with a 64-megapixel telephoto lens, with up to 30 times zoom. The premium S20 Ultra goes even farther with a new camera sensor (the largest in Samsung's arsenal) that allows for a crazy 100-times digital zoom.
Just how good are the cameras in Samsung's new flagship phone? We took the Galaxy S20 Ultra 5G out for a spin.
The innovative folded lenses on the Ultra also keeps the camera lens thin while delivering high resolution pictures. Unfortunately, the camera bump is still noticeably thick, and pictures taken with digital zoom still tend to look murky. That said, being able to take a photo of something I couldn't even find with my naked eye is something to write home about.
CHANGE THE PHOTOGRAPHY GAME
Taking photos with the larger sensors also means your images are so crisp in resolution that you can zoom in on a far spot of a picture and crop it as you wish without losing image quality. With the Quick Crop feature, you can shoot first and zoom in on the action later.
Just how good are the cameras in Samsung's new flagship phone? We took the Galaxy S20 Ultra 5G out for a spin.
With hardware this impressive, Samsung needed software to complement it. The Single Take feature uses AI to catch a moment in its entirety, and offer to you the option of still photographs, videos (up to 10 seconds), live focus, ultra-wide shot and more. You also have the option of adding filters to your shots.
TL;DR: Imagine capturing the moment with the main camera, the telephoto and the ultra-wide lens for an array of still images and videos.
SHOOT LIKE A PRO
Videographers will like this: The S20 takes videos in 8K format so you can share them directly on the Samsung 8K TV. A partnership with YouTube means the same 8K video can be uploaded directly on your specialty channels.
If action videos are your thing, the Super-Steady feature, AI motion analysis and anti-rolling stabiliser trifecta makes your videos smooth as tofu. If you want to capture still images off the videos, Samsung says you can grab images of up to 33-megapixel resolution using the 8K Video Snap feature.
You can also expect pro-grade camera manipulation on the S20. Controls will let you adjusts aperture, exposure and more, just like you would on your expensive DSLR camera.
BIGGER AND FASTER
2020 is the year Samsung is aiming to go big on 5G. All the variants in the US support 5G but only the S20 Ultra comes with 5G support for the Singapore market. The high speed connectivity means you can upload the aforementioned 8K video to YouTube with blazing speeds, and gamers can match their friends' speed on the PC without lag, too.
The higher 120Hz display also improves your gaming experience for smoother transition and motion graphics. Like the Spotify agreement last year, Samsung has inked a deal with Microsoft to launch its popular Forza Street in the Galaxy Store, the debut of the game on a mobile device.
With all the high quality videos, pictures and higher refresh rate, you won't want to miss anything on screen. Good thing the S20 comes with a 6.2-inch AMOLED 2X Infinity-O display with a narrower bezel and smaller front-facing camera hole for more display. The S20+ continues that with a 6.7-inch display and the Ultra comes with a 6.9-inch screen.
CONNECTING WITH LOVED ONES
If you're still wondering what you can do with all the high-resolution videos and 5G connectivity, Samsung says you can connect with your loved ones with video chats in Full High-Definition quality and wide-angle shots to include up to eight people in the frame.
A close working relationship with Google means you can text or video chat right on Google Duo and use all that high-def imagery to work.
To continue community bonding, the S20 lets your share music and photos with the people around you with Music Share. Friends can connect to your S20 to add to the playlist whether you're at a party or on a road trip. You can also share videos and images with the people around you with Quick Share.
STAYING ALIVE
As your friends come to depend on you to supply photos, videos and music, you'll need to stay juiced up. Thankfully the phones come with tanks of up to 4,000mAh battery on the S20, 4,500mAh on the S20+,and a whopping 5,000mAh on the S20 Ultra.
The S20 and S20+ come with 12GB OF RAM and up to 512GB storage so you can multitask without missing a beat. The S20 Ultra boasts 16GB RAM and up to 512GB storage, making it the biggest and baddest phone in Samsung's line up.
The Samsung S20 phones come in Cloud Pink, Cloud Blue, Cosmic Grey, and Cosmic Black.
The Galaxy S20, S20+ and S20 Ultra 5G will be available from Mar 6 and priced at S$1,298, S$1,498 and S$1,898 for the 128GB versions, respectively. Pre-orders start on Feb 12, 1pm.
Meanwhile, the Galaxy Z Flip will be available in Singapore from Feb 14 at local telco operators' online store as well as Samsung's own online store. It's priced at S$1,998 and comes in Mirror Purple and Mirror Black variants.

CNA Lifestyle was in San Francisco at the invitation of Samsung.