The story behind Hong Huifang's Singapore-inspired dress at the Golden Horse Awards
The Ajoomma lead actress turned to her wedding dress designer, Michelle Huimin Bridal Veil, to come up with the look. Here's how they did it.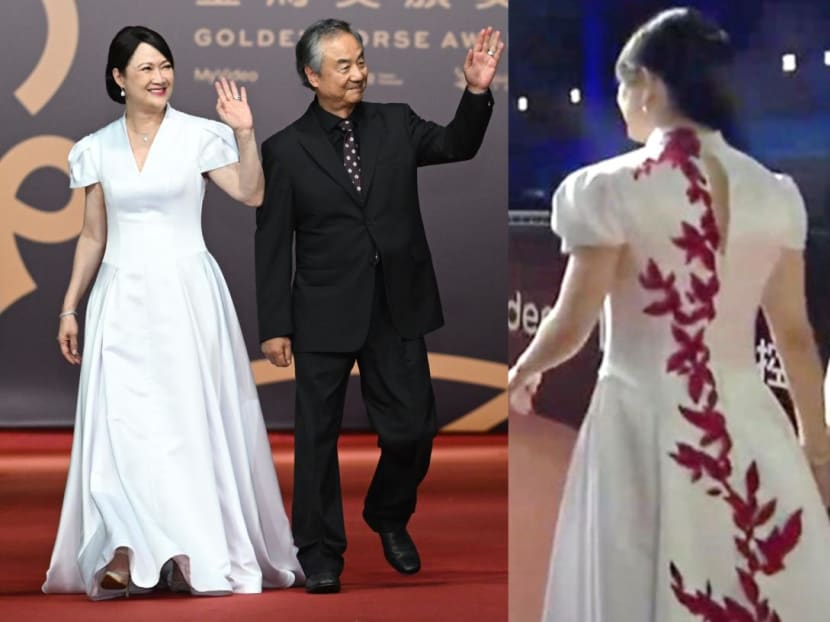 When Hong Huifang was planning what to wear at the Golden Horse Awards, she knew it had to be special.
After all, the 61-year-old Singaporean actress was going there as a Best Actress nominee for her titular role in Ajoomma, where she plays a middle-aged K-drama-addicted widow who goes on a solo trip to South Korea.
Leading up to yesterday's awards night (Nov 19) in Taiwan, the movie had premiered at the Busan International Film Festival premiere, shown in Singapore, and garnered critical acclaim along the way. 
Earlier on (Nov 10), Hong had won Best Actress at the Asian World Film Festival in Los Angeles – her first film award in her almost-40 years of acting career. 
Suffice to say, the Golden Horse Awards was going to be a night to remember for Ajoomma – with three other nominations, including Best New Director and Best Original Screenplay for Singaporean first-time feature film director He Shuming, as well as Best Supporting Actor for Korean actor Jung Dong-hwan.
"MAGICAL FRIENDSHIP"
At the previous Busan film festival, she wore an all-black ensemble comprising an elegant satin evening gown, toppped off by a cape-like blazer, from rental services Style Lease. The latter was picked by her daughter because "I felt too exposed on top".
But for the Golden Horse Awards nominee, it had to be even better. She had the vague idea that it should represent Singapore and knew the right person to ask – the person who had designed her wedding dress years ago.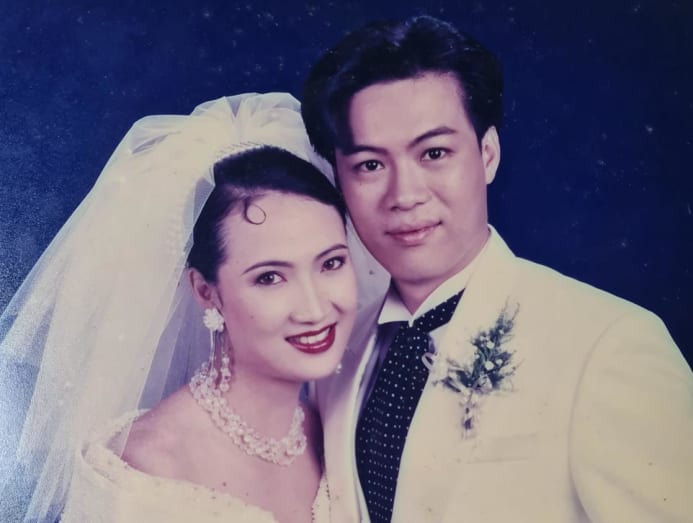 Hong immediately got in touch with Michelle Huimin, designer and owner of Michelle Huimin Bridal Veil, which specialises in bespoke bridal gowns and evening wear.
The two had first gotten to know each other decades ago, in the mid-90s. "Her designs are very tasteful. There were a few red-carpet occasions over the years when I got her to design gowns for me as well," Hong shared.
The two had met during the years of Singapore Broadcasting Corporation, the precursor of TCS and Mediacorp, and had kept in touch.
"We may even not see each other for long time, but every time we do, we always greet each other with a hug. I'd say we have that kind of magical friendship where every time we meet, it's like we just saw each other yesterday," Michelle Huimin told CNA Lifestyle prior to the Golden Horse Awards.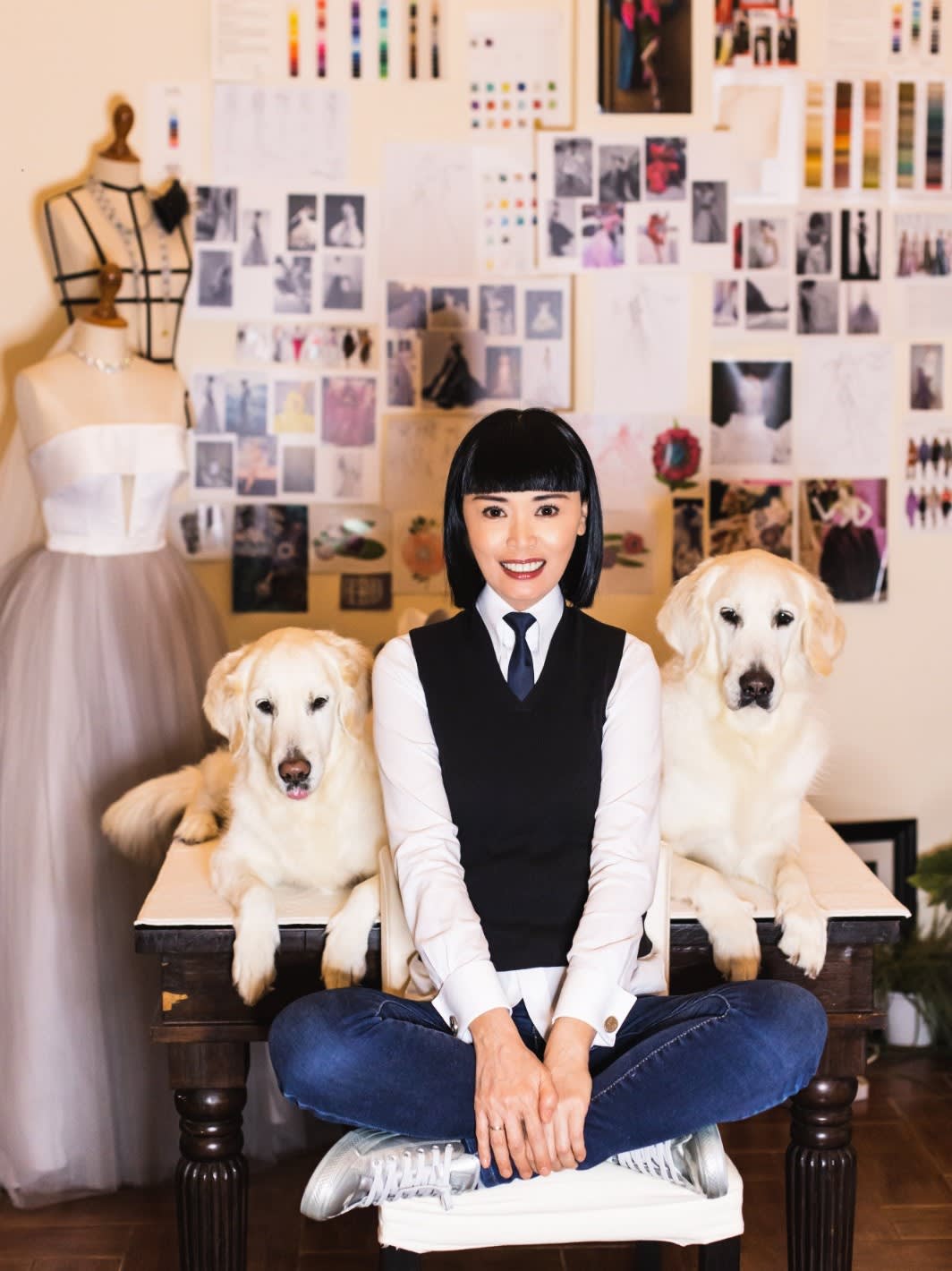 They had a month to plan. "So I called her and asked for her help, saying I wanted something simple," said Hong. "A long gown that was red carpet-worthy, and suitable for my age. Since I feel like my upper arms are a little big, I said I don't want to reveal too much flesh!"
"A TRIBUTE TO SINGAPORE'S NATIONAL FLAG"
For decades, Michelle Huimin Bridal Veil has been something of a well-kept secret among Singapore celebrities looking for made-to-measure formalwear.
Actresses Carole Lin, Phyllis Quek, Lina Ng and Vernetta Lopez all got married wearing the label's custom creations, as did TV show host Lisa Ang and CNA presenter Glenda Chong. More recent clients for their formalwear include Melody Chen, Sonia Chew, and Kayly Loh.
Meanwhile, Michelle Huimin's husband, Colin, also heads up the Men's Collection side, which counts among its star-studded clientele Adrian Pang, Randall Tan, Paul Foster, Chua Enlai, Joakim Gomez and Chen Xi.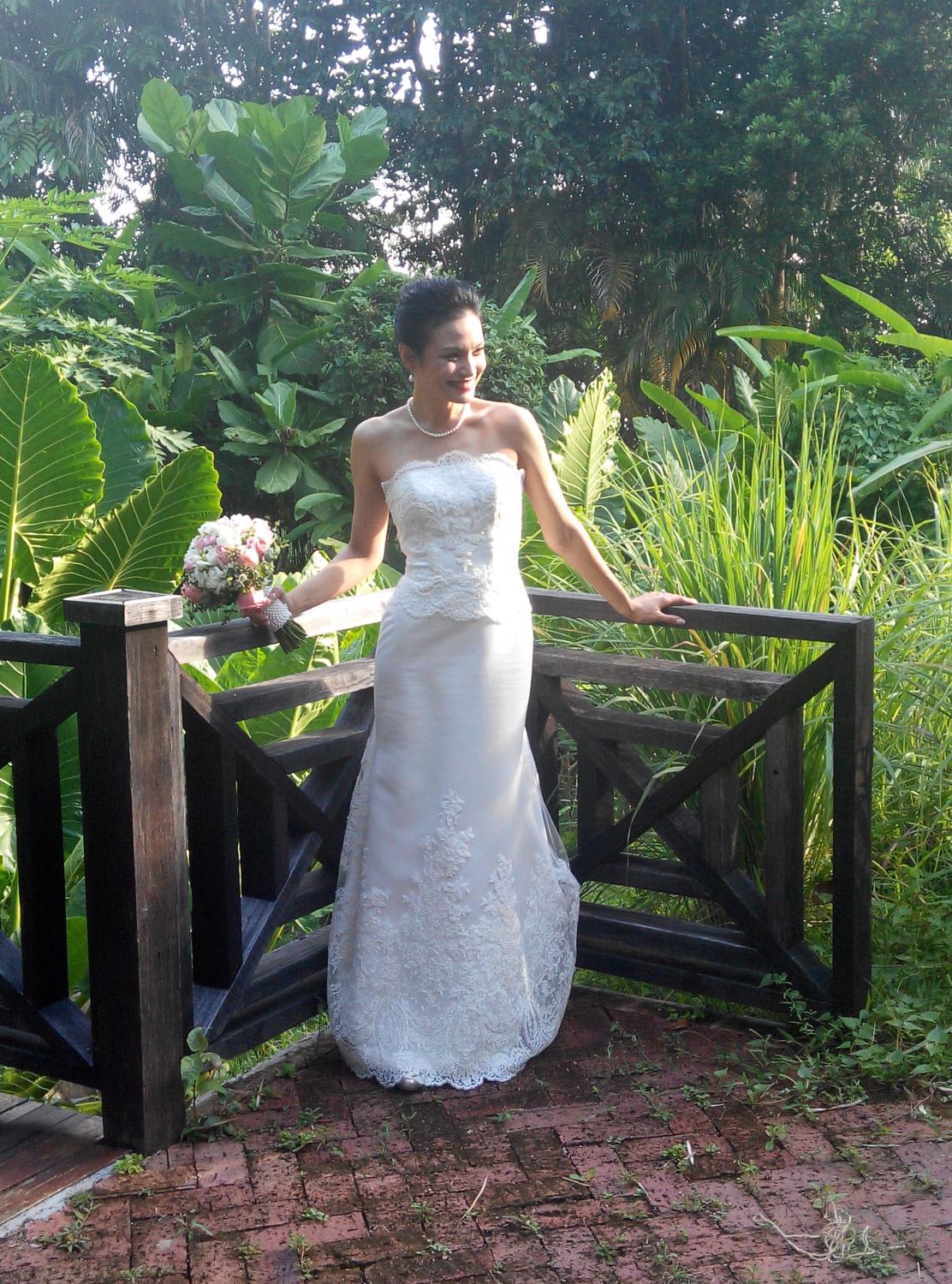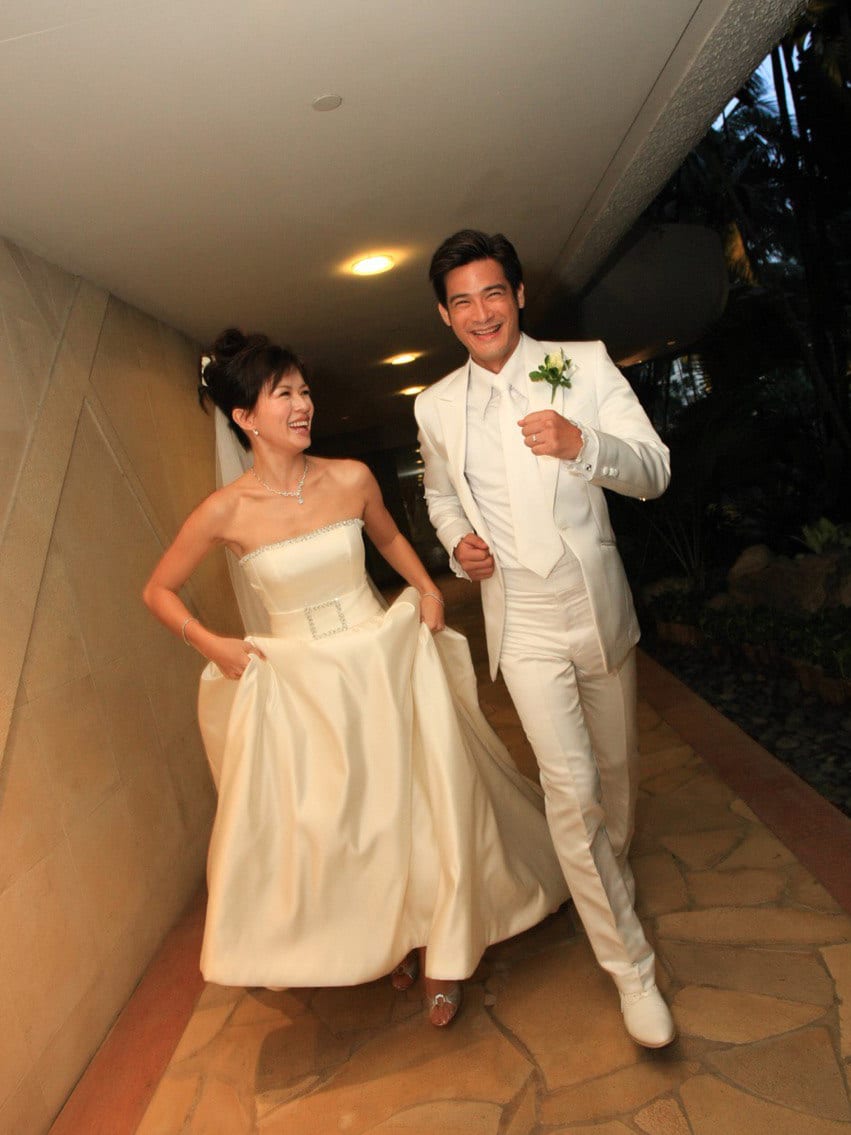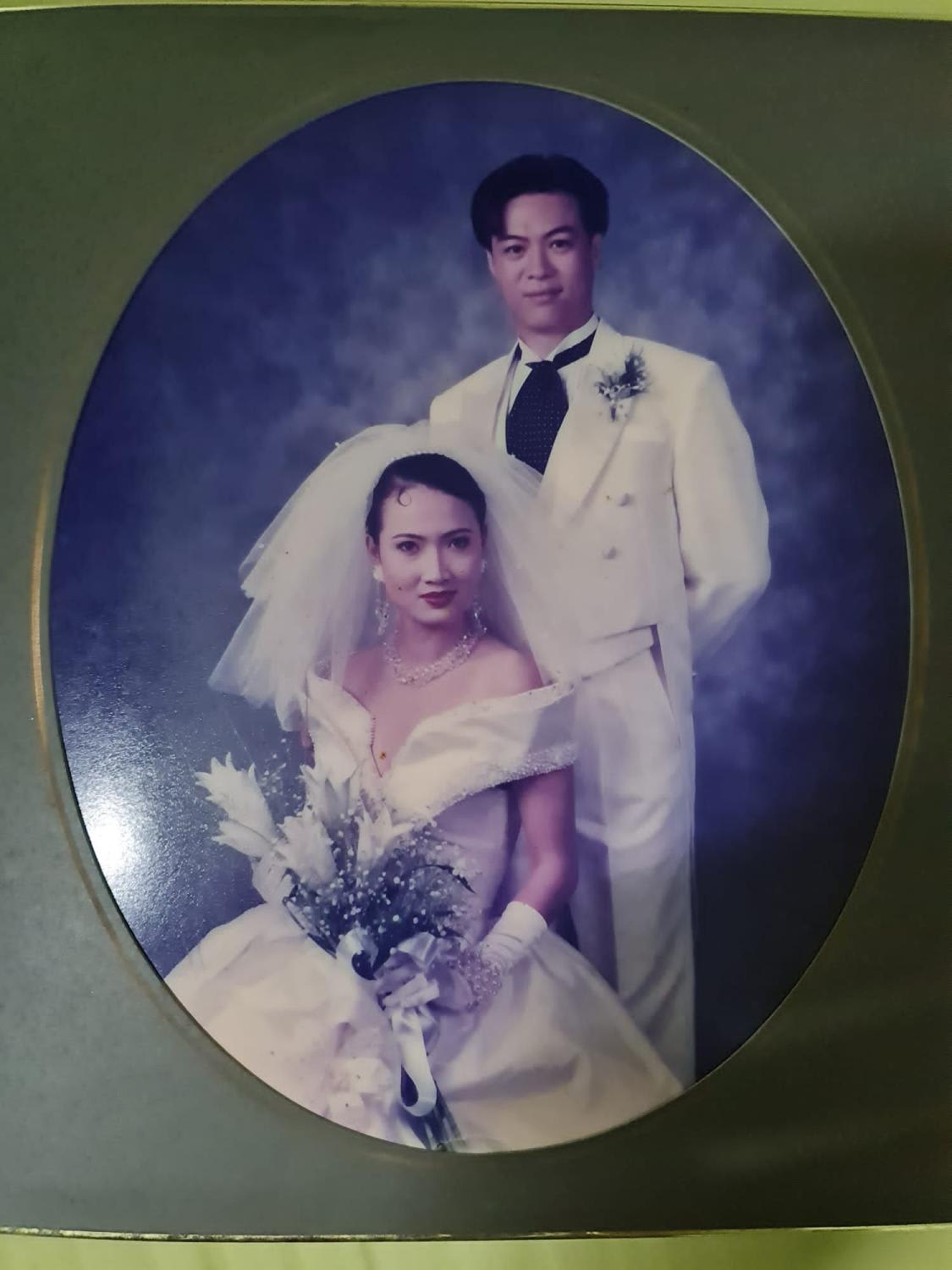 For Hong's Singapore-themed dress for the Golden Horse Awards, the designer was inspired to create something "in a white-and-red colourway as a tribute to Singapore's national flag".
She also factored in Hong's personality, which she described as "very hardworking and down-to-earth'.
"In terms of the way she dresses, she likes things simple and clean. She definitely doesn't like fussiness, and she doesn't want anything too revealing. She had had to gain weight for her role in Ajoomma, and while she definitely wants to look her best for the red carpet, we have to factor in that she may not lose the weight in time, given the short lead time."
(Fun fact: Hong's weight actually seesawed even before filming Ajoomma – when it was put on hold because of COVID-19, she proceeded to lose weight but when the project resumed in 2021, "the director (He Shuming) took one look and me and said I was too skinny; ajoomma cannot be so thin. So I put 6kg back on!")
There were a few fitting sessions with small adjustments made along the way as Hong's weight came down.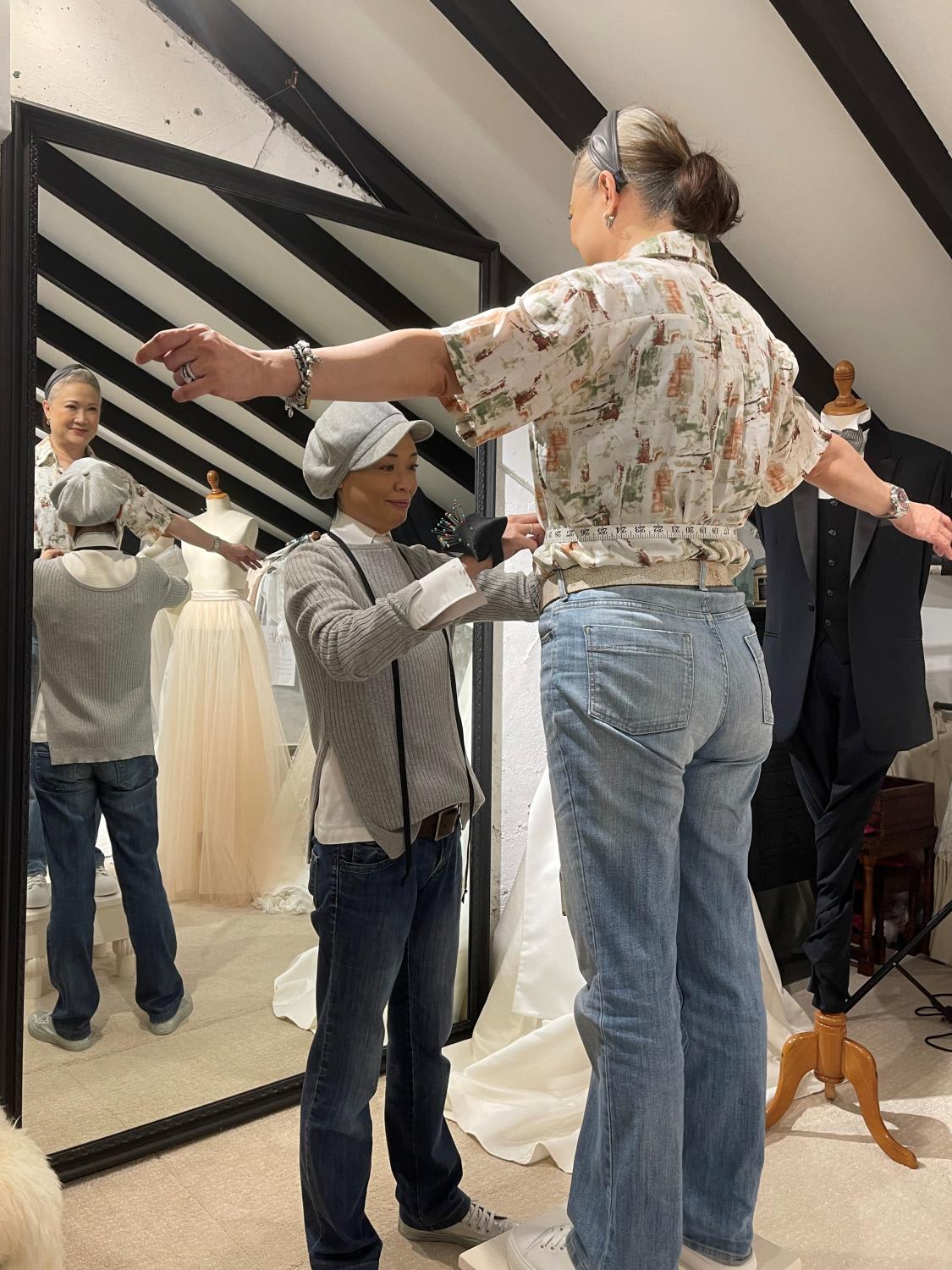 In terms of details, the dress is made of duchesse satin imported from England. It's "full-length, not too fitted, and more like a gradual flare A-line, as that's more comfortable to wear and looks more relaxed", the designer explained, adding that she included pockets on either side of the dress "as people tend to feel more comfortable when they have somewhere to put their hands".
The front of the dress was deliberately kept simple. "It's all white, with very clean lines, and is very timeless and elegant, so that Huifang will remain the main focus. Lantern sleeves lend an Oriental touch, given that the Golden Horse is an Asian film ceremony. The idea is to make Huifang, her lips, and her earrings stand out."
When Hong turns around, things get more dramatic: The back of the gown was "a tribute to the Singapore flag, with red embellishments such as hand-sewn leaf-shaped velvet cut-outs, accented by thousands of red Swarovksi crystals."
The creation of the dress was pretty labour intensive, with "five pairs of hands" handling the gown.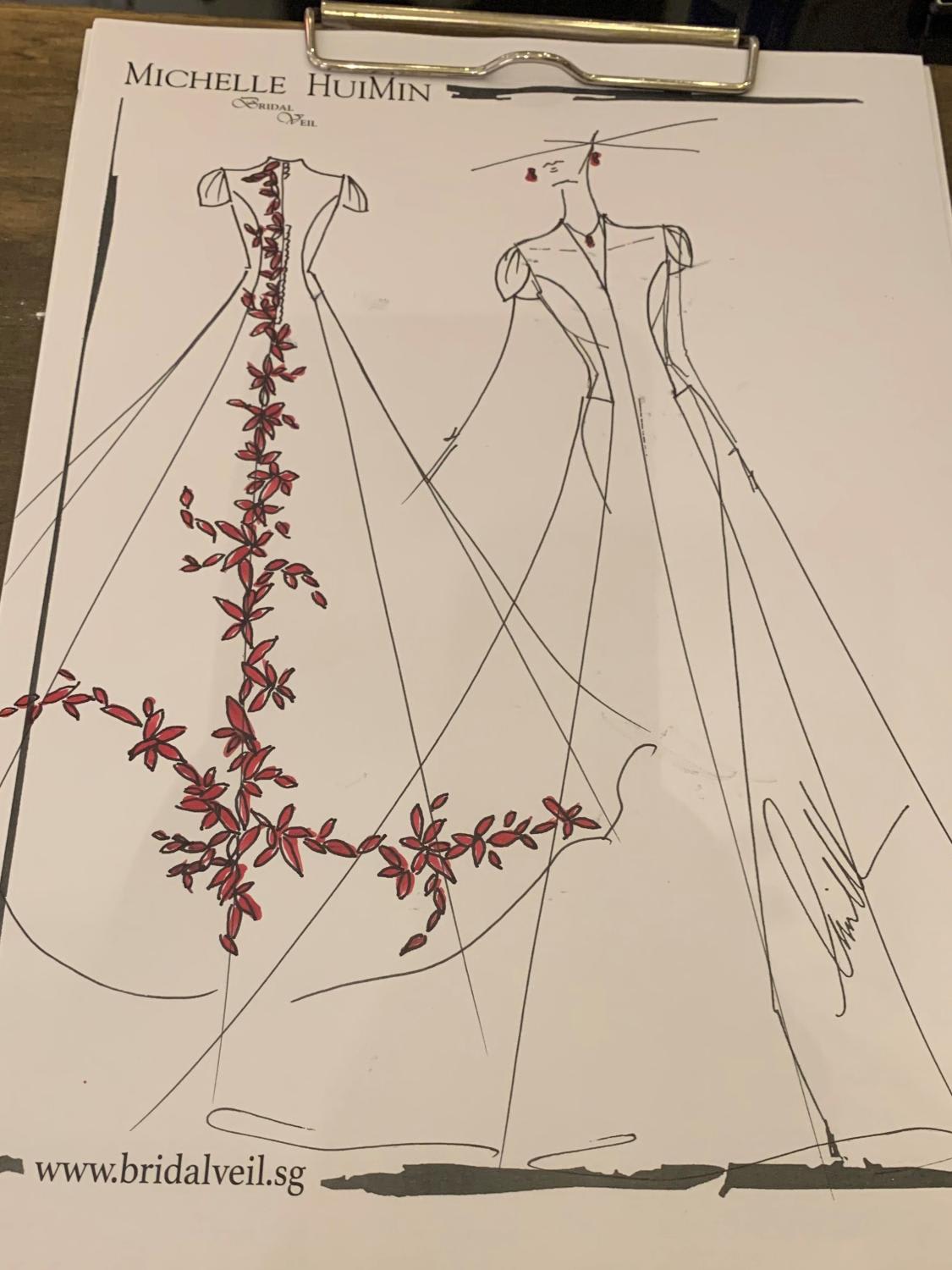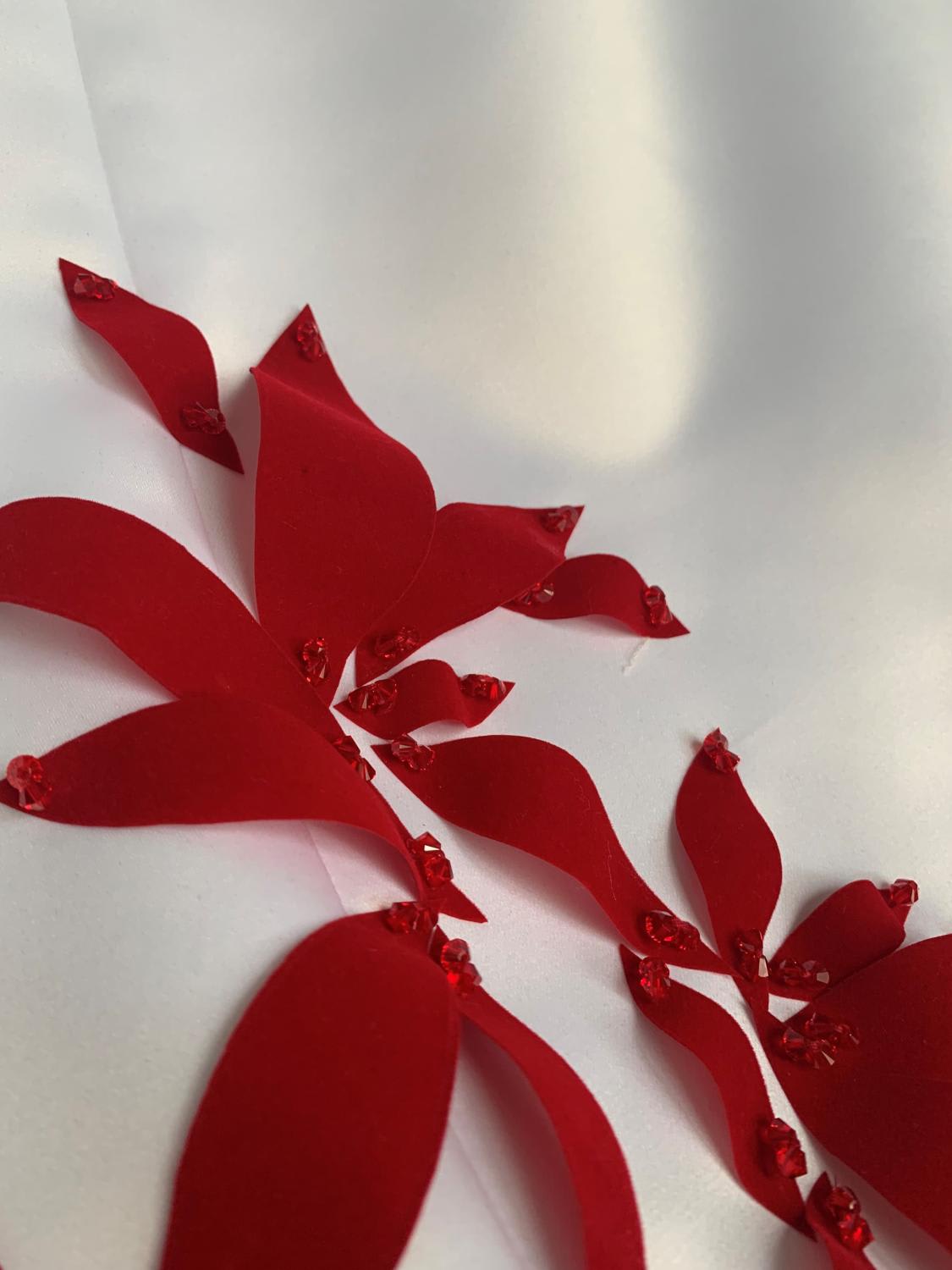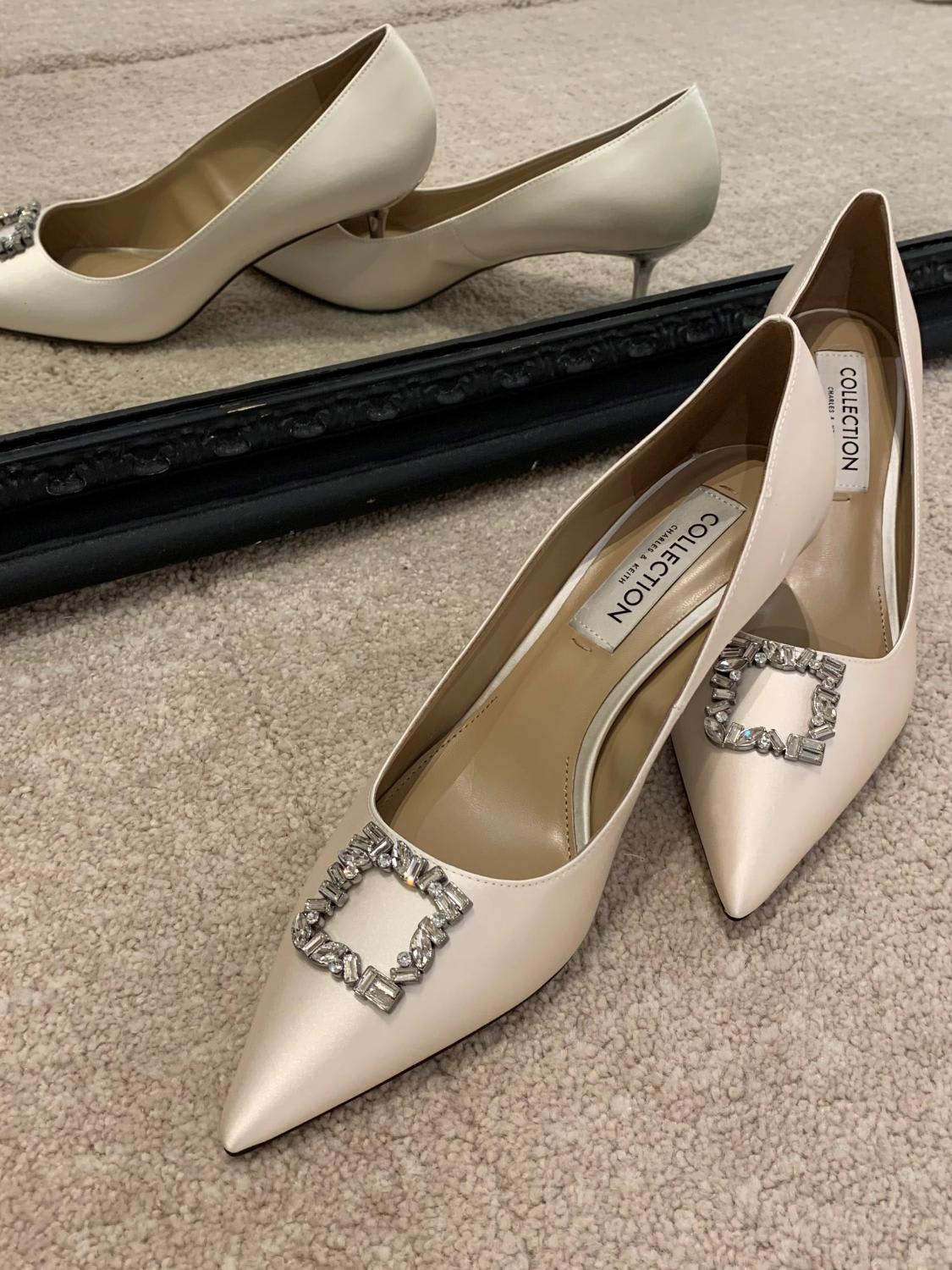 But it wasn't just the gown itself the two worked on. "I felt strongly that we had to take the Singapore theme as far as possible," said Michelle Huimin, so she suggested red ruby earrings from Singaporean jewellery designer Daughters of Earth. Makeup artist Janice Lai also came on board to experiment with "various hairstyles, eyeshadows and skin-toned makeup looks".
"We then took many pictures of it for Huifang to take with her to Taipei and show to the Golden Horse Awards' in-house hair and makeup teams, so they can recreate the look as closely as possible."
As for shoes, it was from Charles & Keith. "Because they're a Singaporean company, and I feel that when their shoes are placed alongside shoes from other brands such as Louis Vuitton, Jimmy Choo or Dior, they hold their own. Their quality is really good. I always recommend brides to wear shoes from the Charles & Keith wedding collection!"
STYLE TIPS AND THE OSCARS
While the two friends agreed on the Golden Horse Awards look, they're not always on the same page.
When it comes to style tips for older women for formal or dressy occasions, the designer reckons "there shouldn't be too many rules". "Just dress appropriate for your age, the occasion, the dress code, and your budget. No one has exactly the same figure. Even the models I work with have flaws. It's all very personal."
For the actress, "the older a woman, the simpler and the more elegant her dressing should be", because "at this age, you shouldn't be competing for attention. You should graciously let the younger women have all the attention, especially when they have youth and shapeliness on their side!"
Hong added: "Don't go with too much makeup, reveal too much flesh, or wear anything too flashy because you'll feel uncomfortable and you'll make others feel uncomfortable, too!"
After the Golden Horse Awards, there's one more event that Hong is looking forward to – whether Ajoomma gets the nod at the Oscars. At the moment, it's still just Singapore's official entry for the Best Foreign Language Film category. The final shortlist for Oscar nominations will be announced on Jan 24, 2023.
So what are the veteran actress's thoughts about walking the red carpet at the Oscars?
"I don't know if I will get to walk the red carpet or attend the awards ceremony, but if it does happen, I would feel like it's such a big honour. It really would take my career to the next level!"
And, fingers crossed, she'll probably need to give her wedding dress designer another call.