Singaporean actress Hong Huifang is not in Disney+ series American Born Chinese despite Wikipedia entry
Lesson learnt: Don't believe everything you see on Wikipedia.
If you haven't heard by now, the new Disney+ series, American Born Chinese, starring Michelle Yeoh and Daniel Wu, was released on the streaming site last week.
The eight-episode action comedy garnered plenty of attention upon its release, with netizens adding their two cents on the imaging of the show, which presents its own versions of Chinese deities Monkey King and Guanyin. 
And if you're one of those who must 'Wikipedia' the cast and plot line of a show before or after watching it, you might discover that a local actress shows up in the list of cast members.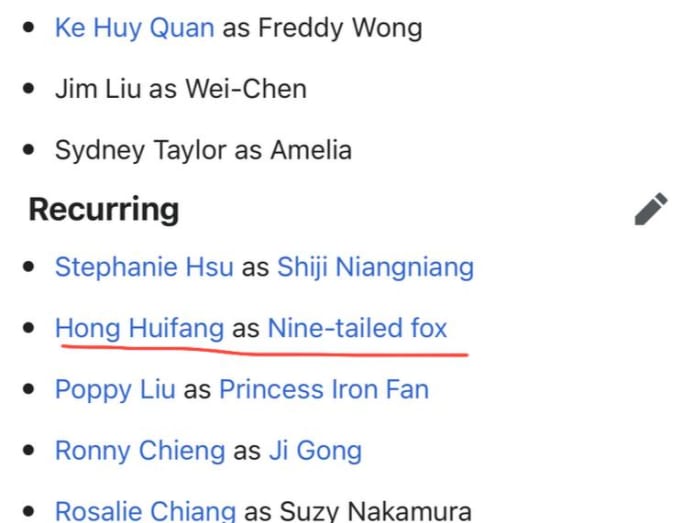 Wait a minute: Hong Huifang as Nine-tailed fox?
When we took a gander at the cast list on Wiki a day before the show's release (May 23), we were surprised to find out that the veteran actress might've gotten a gig on the series but kept it a secret.
With the success she's achieved in the 2022 film Ajoomma, it would make sense if Disney+ did really seek her out to appear in their production, right?
That prompted us to immediately drop Huifang a text to find out if the cast list was for real.
And yes, we were aware that not everything on Wikipedia can be trusted since its pages are created and edited by volunteers. 
Though we were (half) prepared for the answer, we were still disappointed to find out that, no, the veteran actress does not appear in the series.
"I'm not in the show at all, I was also bewildered upon seeing my own name in the cast," said Huifang.
The actress says she did not even audition for the show and is just as confused about how her name ended up on the Wiki page. 
Huifang told 8days.sg that we weren't the first people to ask her about the Wiki page boo-boo, and she already had to clarify several times that she was not part of the cast. 
When we checked the Wikipedia site again the day after the show launched we found out that the page has since been updated to accurately reflect the cast members on the show. 
Gone was Huifang's name, and it seems that the 'Nine-tailed fox' character doesn't even exist in the show. 
Did the Wiki page editors dream up the character and cast it themselves? Guess Hong should be flattered?
This story was originally published in 8Days.