Actors Hong Ling and Nick Teo officially engaged in surprise sunset yacht proposal
Happily ever after, sailing off into the sunset – the story of the celebrity couple's official engagement ends well, but initially involved threatening weather, an angry bride-to-be and a cake that never got eaten.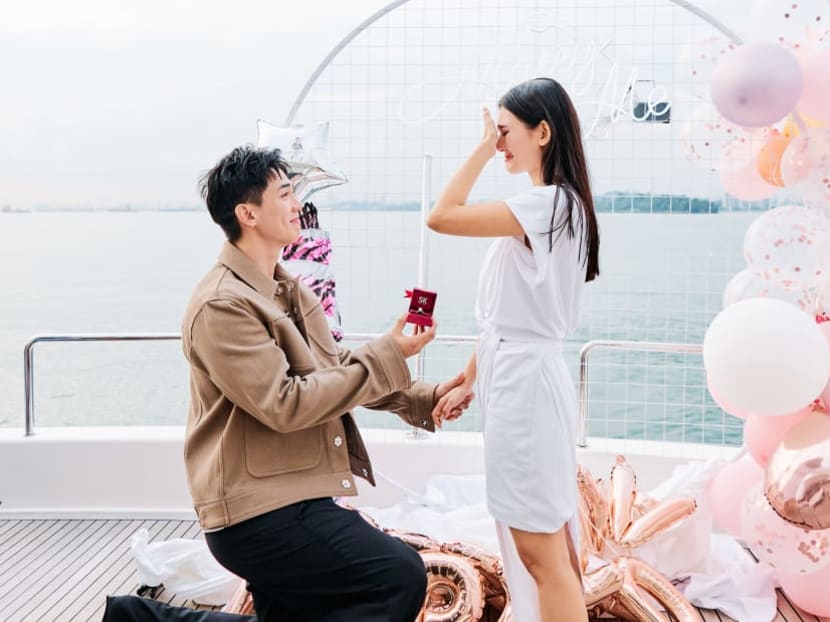 After seven years of dating, Singaporean actors Hong Ling and Nick Teo are officially engaged. Teo, 31, proposed on Tuesday (Aug 16), which was also Hong's 28th birthday, on board a yacht at sunset.
"I planned the proposal on her birthday to throw her off guard," said Teo, who explained that being out at sea holds special significance for the couple – their most memorable vacations have been spent diving and snorkelling in beach paradises like Bali, Cebu, Phuket and Tioman.
Hong recently starred in the drama Your World In Mine, while Teo stars in the currently-airing When Duty Calls 2.
While Teo was busy setting up the decorations on board, Hong had to make her way to the yacht on her own for what she thought was her birthday celebration. "He lied to me that he was working. I was quite sad. I said, 'I thought you'd blocked the date off with your manager?' He said his filming schedule was hectic. So, I didn't suspect anything," she recounted.
"We had planned to go over together," Teo said, so "she was a bit angry".
Adding additional stress for Teo was the fact that it threatened to rain just before the event. "I spent three months planning it, but I didn't think of a wet weather programme!" he said.
"I waited for the right moment – it was still quite cloudy and I couldn't make up my mind. At the last minute, I said, 'I'm going to do it.'" Friends and family, who were invited on board, went up onto the deck, where they sang Hong a birthday song and presented her with a cake.
While she had her eyes closed making a birthday wish, Teo had a friend remove a sheet covering lit-up words spelling "marry me". But Hong was facing the other way and didn't notice, and someone had to pop a balloon to get her to turn around.
Teo got down on one knee and popped the question with a diamond solitaire ring, against the setting sun.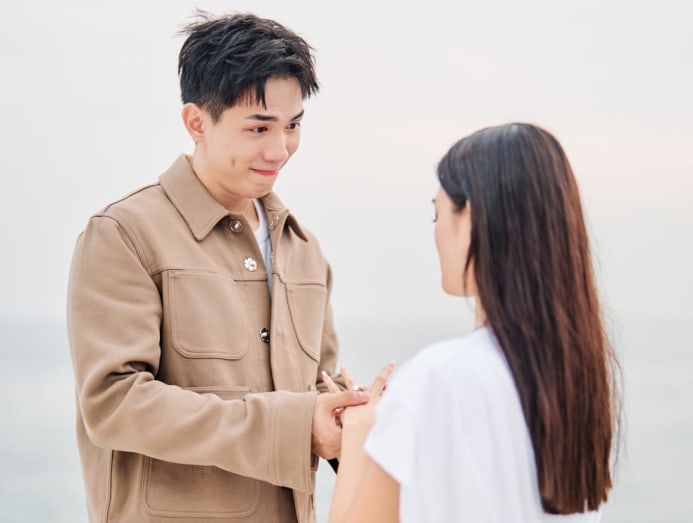 "I was very touched and happy," Hong said. "The whole atmosphere was very romantic and I loved it. It was my dream proposal, even though I'd never mentioned it to him before."
Teo revealed: "Actually, she always insisted that I didn't need to propose."
"I find it weird," Hong said, with a giggle. "Like, I thought we were already confirmed – does he still need to ask the question? Because I was sure he was the guy I wanted to marry.
"But, when he proposed, I still felt very touched. He even asked my parents way before for their blessing."
Hey Gorgeous 2013 finalist Hong and 8 Days Shirtless Guy 2012 contest winner Teo met at a Mediacorp event when they were both new to the industry, and went on to star in the long-running drama 118, where they spent lots of time together on set. They also lived near each other at the time, and would travel to and from work together, the couple shared.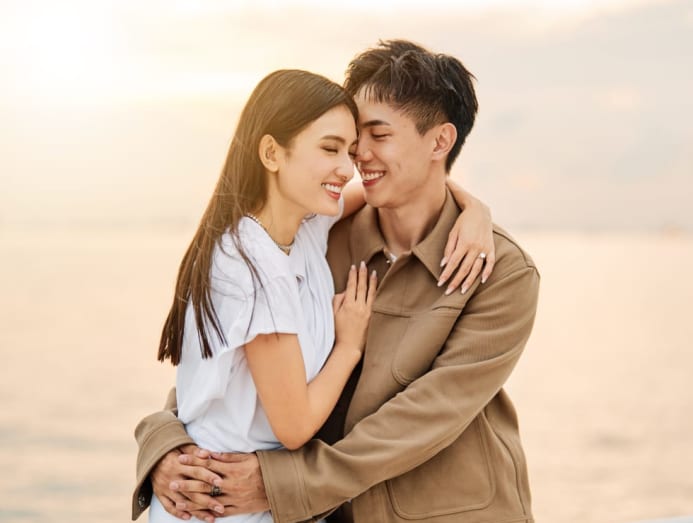 But, Hong said, she knew Teo was the one "the moment I saw him". "It was at a work party, and we were just newbies. I thought, 'This guy is very attractive'," she said. "After that, we went to a few auditions together and got to know each other more, and I really liked his personality, so when we got together, I knew I wanted to marry him. He's very good to my parents, loves my family, loves animals and treats me like a princess."
Once, Hong recalled, when her mother absentmindedly threw her keys down the rubbish chute along with some trash, Teo went down without a word to the rubbish collection area and rummaged through the dumpster until he found the keys. "He's very, very thoughtful. It's the heart that counts," she said.
Teo said what he loves about Hong is that "she's always so unexpected. All of a sudden, she'll do something that will make me laugh. I'm so mesmerised by her actions. Despite being together for so long, I constantly want to spend more time with her. When I have difficulties in life, she always encourages and believes in me. Even when I don't believe in myself, she's the one always telling me, 'You can do it.' I love how much confidence she has in me."
The wedding is tentatively planned to take place in two years, the couple shared, but, "Who knows?" Teo said.
Will it take place aboard a cruise ship? "Thanks for giving us the idea," laughed Hong, who added that no plans have been made yet. "I think most likely, we will invite all our friends and family who've supported us through our relationship."
As for setting up house together, Teo said, "I prefer a bigger space, just in case we want to have kids."
"Yeah!" Hong said, sharing that ideally they would like two children. "And more cats in the future," Teo added.
The one regret Hong has is that she didn't get to eat her birthday cake.
"It was a chocolate cake – my favourite," she sighed. There was so much going on that everyone "forgot about the cake. I was so happy about the proposal – until I got home and thought, 'Hey, where's the cake?'"