Actress Hong Ling admits she's the messier one in her relationship with Nick Teo: 'He's super tidy'
The Star Awards 2023 best actress nominee also shared that she and Nick have had disagreements when planning their upcoming wedding, but they try to resolve the issues by having a mix of ideas from both of them.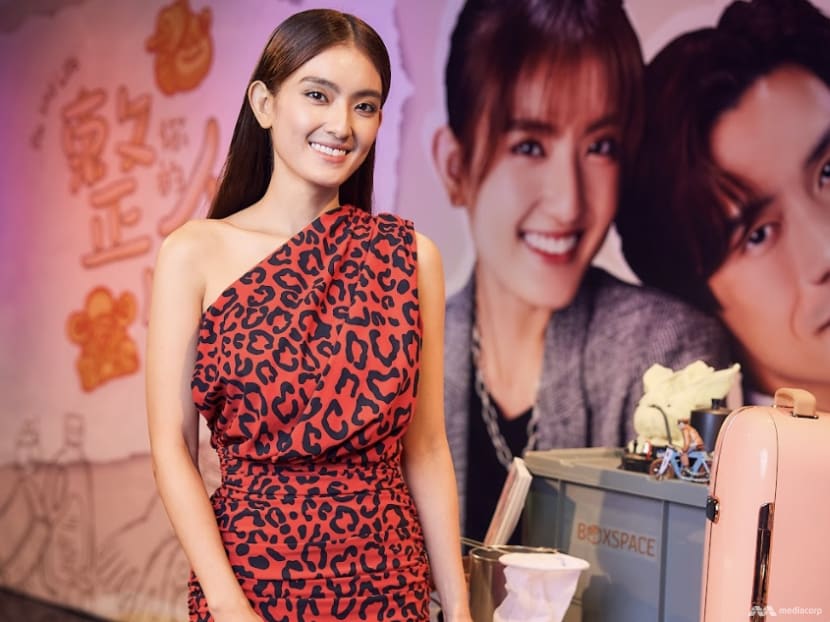 In early February, 8days.sg attended the press event for the latest Mediacorp drama, Fix My Life, where we sat across from the star of the show (and best actress nominee), Hong Ling, 28.
The actress was surprisingly cheerful and open when it came to answering our questions about her personal habits and her upcoming wedding with her boyfriend of eight years, Nick Teo, 33, who appears in the drama as well.
What's so surprising about a celeb being forthcoming during an interview? Only when the artiste is "very shy and introverted" and admits that much herself.
In fact, she told us that she used to be so "awkward" that she found it weird to intentionally walk up to someone to greet them. As such, she was criticised for being rude. She now makes a more conscious effort to say 'Hi' when she is around people, though she still finds it strange to "deliberately walk over" and make small talk if there is "no eye contact".
Still, she has attempted to come out of her shell and tries to "talk more, for work". And as you would imagine, that's something that we really appreciate.
Though still soft spoken, the actress ever so slightly moved our recording device towards herself and held it up at times so we could hear her better.
But before we dive into the conversation we had, here's a little on her character in the drama.
Hong Ling plays Yuan Manying, a "slashie" – a term used to refer to a person who works several jobs.
Manying is a part-time magazine reporter, bartender and interior designer, among other things, and she forms a connection with decluttering "expert" Fan Shede (played by James Seah) as they work together to "fix" the lives of others.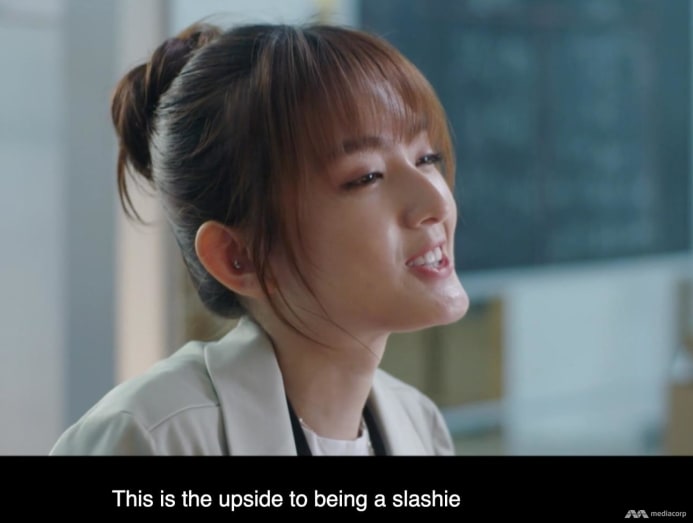 As it turns out, like Peter Yu, who plays an antique shop owner in this show, Hong Ling feels she couldn't possibly be more different from the character she plays.
"Manying is someone who wants to do a lot of things, so she doesn't just have [one or] two jobs. She also signs herself up to learn new things, like dancing classes and cooking classes. She's the kind who wants to make up for the things she lacks, and that's why she learns new skills," Hong Ling explained.
As for herself, the actress revealed that she "doesn't like to learn anything and would rather stay at home".
"At the start, when I first started playing her, it was very tiring. But after I got used to her energy levels, I came to understand why she wanted to learn so many things," said Hong Ling.
When asked if she was inspired by her role to learn new things, the actress laughed while telling us: "No, because it's really too tiring. It's been two months since we wrapped up filming for this show, and I didn't make any plans during this period of time at all. If I have the chance to rest at home, I can choose to wake up at whatever time I want, and that's relaxing for me."
FIX MY LIFE IS ABOUT PEOPLE CLEARING OUT THEIR PERSONAL BELONGINGS TO DECLUTTER THEIR LIVES. WOULD YOU CONSIDER YOURSELF TO BE A NEAT OR MESSY PERSON?
HONG LING: I'm very messy. But because I'm with Nick now, and he often visits my house, I'm not as messy. When I was single, I remember [how] my old room used to be like – there was no way you could walk across it. My whole floor was full of clothes, bags, and whatever you can find. But! I always know where my things are! (Laughs)
SO, NICK IS DEFINITELY THE TIDIER ONE BETWEEN THE TWO OF YOU?
He's not only tidier than me, he's super tidy. Actually, I appreciate that he helps me with cleaning my place lah. But he's so tidy that… I think he doesn't like mess, he's very organised. [For him], everything must go back to where it came from. He thinks clothes should be in the wardrobe, but my clothes are sometimes in the room, sometimes in the kitchen.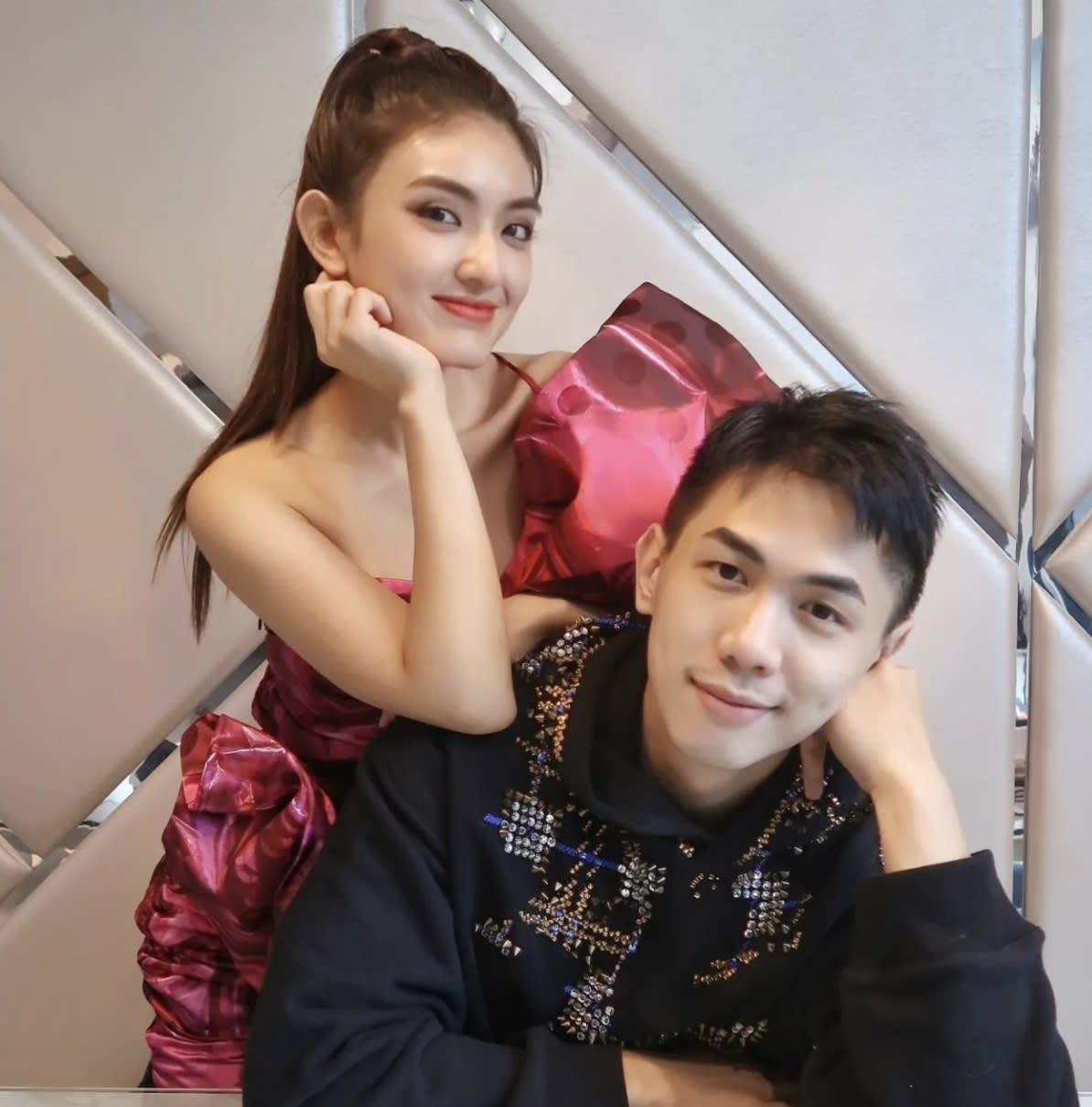 DOES NICK DO YOUR HOUSEHOLD CHORES FOR YOU?
(Pauses to think) Not everything, but when he comes over, we will do it together. He will force me to do it with him (chuckles).
WHEN YOU GET MARRIED AND START LIVING TOGETHER, HAVE YOU DISCUSSED WHO IS IN CHARGE OF WHAT CHORES?
We've roughly discussed it before, and I think we can compromise. I'm someone who really likes to cook, but I hate washing. Nick doesn't know how to cook, but knows how to clean, so we will split the roles as such. He has requested that I put my things back where they belong, and he can help to tidy. I have to at least not be too messy.
DO YOU THINK IT IS IMPORTANT FOR PEOPLE TO FIND OUT HOW MESSY THEIR PARTNERS ARE BEFORE GETTING MARRIED?
Yah, I think there's a need to know lah. If not, they will get a shock.
In my case, when [Nick and I] got together, I was staying with my parents, and I was already so messy. He's seen it before, so he didn't get a shock from seeing my house now. Imagine you get married and live together and suddenly you find out about these things; I feel like it will become a problem.
SPEAKING OF MARRIAGE – HAVE YOU GUYS STARTED PLANNING FOR THE WEDDING?
Yes, we have. We've been looking for venues and we've started to look at wedding gowns, but we're still deciding on the date.
The process has been quite tiring because for us, we have a lot of ideas, but we don't know how to execute them. We have a planner lah, and they give us some suggestions, so it makes things a bit easier.
HAVE YOU GUYS HAD ANY DISAGREEMENTS DURING THIS PLANNING PROCESS?
Yes, sometimes we do [disagree]. For example, when it comes to the venue we want, the seats are limited. Though we have discussed the guest list, we have our own opinions about it.
Another thing is I only want to wear one wedding gown, because I want to enjoy the moment, but he feels like it's once in a lifetime, so he wants to change many suits. It's very weird if he keeps changing and I don't change right? So we're still talking about it.
HOW DO YOU RESOLVE SUCH DISAGREEMENTS THEN?
Hmm, we try to have a mix of some of his ideas and some of my ideas. In the case of the wedding dress… maybe we will only stick to one (laughs).
DOES THIS ALSO MEAN THAT NICK IS MORE VAIN THAN YOU?
I think so. Because okay, looking at how messy my room is, you can tell that I'm a very lazy person. I'm lazier lah, so I don't think I am more vain than him (chuckles).
Catch Fix My Life on Channel 8, weekdays at 9pm. All episodes are available on meWATCH here.
This story was originally published in 8Days.