Host Kimberly Wang stalked by 'superfan' who waited for her till 3am
He gifted her a bottle of medicated oil that had already been opened.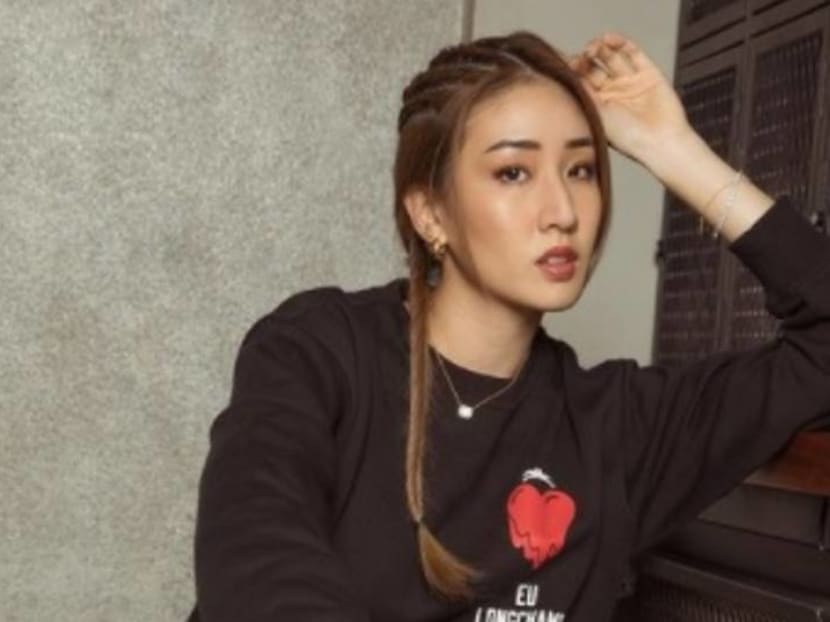 Host and radio presenter Kimberly Wang recently revealed that she was stalked for almost a year and a half by a man. On the first episode of Liar Liar Pants On Fire, a new meWatch series, the 30-year-old host recounted her "craziest fan experience" to celebrity guests Ah Boys To Men star Tosh Zhang, actress Michelle Wong and fellow host Yang Guang Ke Le.
Wang said she first met her "superfan" after a night DJ shift on Caldecott Hill, the former Mediacorp campus. The male fan called out to Wang as she was leaving the building. She stopped to take a photo with him before he handed her a gift in a plastic bag.  
After thanking him, the 987 presenter got into a taxi. As Wang got into the taxi, the male fan opened the door on the other side, wanting to get into Wang's taxi.  
"I said I was taking this cab and asked him to take another one, and he was like, 'Oh, okay.', recounted Wang. "I thought it was strange, so I quickly got on, closed both doors and told the driver to get us out of there."
Wang later discovered that the gift from the male fan was a bottle of medicated oil that had already been opened.
Later on, a 987 intern stumbled upon the superfan's social media account. In his feed was an image of the same medicated oil bottle he gifted Wang, with a caption that read, "I know you're hurt, this is for you to help with your bruises."
The intern also noticed that the superfan had been having daily "conversations" with Wang via his entries. He also tweeted about waiting in vain until 3am for Wang to get off her radio DJ shift.
The panicked Wang informed her boss about the stalking and special arrangement was then made to allow a taxi to come into the Mediacorp building nightly to pick Wang up.
"I would lie flat on the seat as the cab exited the building 'cos I knew he was waiting for me outside," Wang said.
A taxi driver asked Wang why she was so mean to her "boyfriend" who waits for her outside the Mediacorp building every night. She later learned that the driver had told the stalker where she lived.
The stalking only stopped after the superfan decided to "break up" with Wang.
When asked what advice Wang has for other personalities facing similar predicaments, she said, "You must tell somebody about it 'cos you never know what could happen, and once something does happen, it might be hard for others to help you."