How to escape the boredom trap: Parents, reframe your child's thinking
Boredom is a signal, much like hunger, say psychologists who work with children.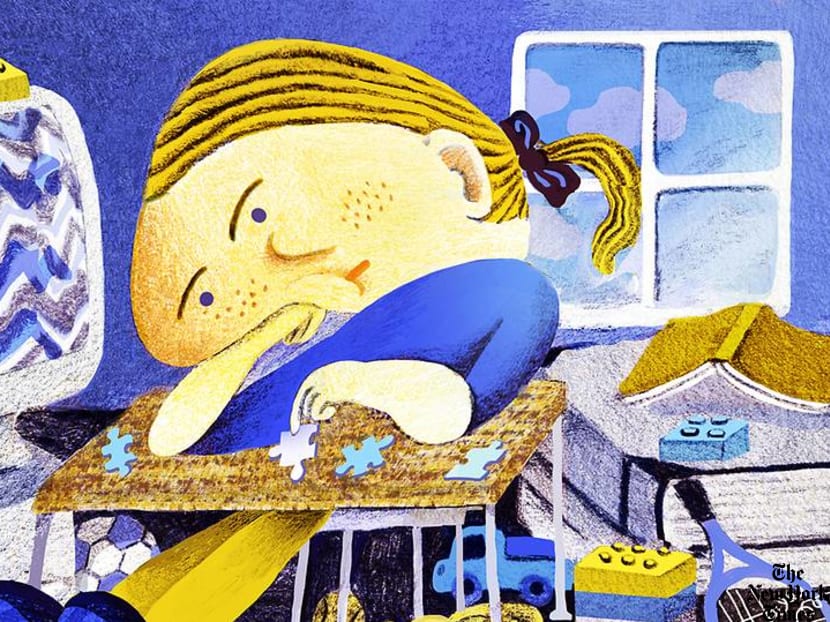 Thanks to this pandemic, I am now the proud (and not-so-proud) owner of the following things: A boomerang, a hula hoop, a water balloon pump, a hippity hop jumping ball, a remote control helicopter, a rope tree swing, a 50-pack of rocket balloons, two fishing rods, assorted fishing tackle and the toys from roughly 37 Kinder Surprise eggs.
I am not a shopping addict; I am the mum of a six-year-old. And six-year-olds get bored fast.
"Before COVID-19, our days were usually built around scheduled activity after scheduled activity," said Parker Huston, a paediatric psychologist at Nationwide Children's Hospital in Columbus, Ohio.
"Now that we can't do those things, kids and parents are struggling."
Parents are often tasked with "curing" their kids' boredom. And this can lead to self judgment, said John Eastwood, an associate professor of clinical psychology at York University in Toronto, who leads a team of researchers at the Boredom Lab.
But boredom is neither good nor bad, said James Danckert, a cognitive neuroscientist at the University of Waterloo in Ontario, Canada, and author of the book, with Dr Eastwood, Out Of My Skull: The Psychology Of Boredom.
"In-the-moment feelings of boredom are uncomfortable," he said. But it's how you – or your child – choose to act on those feelings that can determine the outcome.
In their book, Dr Danckert and Dr Eastwood described boredom as a signal, much like hunger. When you're hungry, you crave food. When you're bored, you crave an experience different from the one you're currently having.
The best boredom coping strategy might involve simply reframing how you view a boring task or situation, said Dr Danckert.
Thinking about quarantining as a Robinson Crusoe-style adventure, rather than an annoyance that makes fun things off limits, can help kids deal.
Try to build unstructured time into every day with no devices, no screens and no parental engagement.
"You might have to start off small, like 5-minute increments," he said. "Then reward or really praise them for successful independent play."
For older kids, it can be more helpful to find things they really want to be engaged with on a more consistent basis.
At any age, "the goal is to force kids to use the resources they have to entertain themselves and be stimulated and happy," Dr Huston said.
Jill Waldbieser © The New York Times
This article originally appeared in The New York Times.
https://www.nytimes.com/2020/11/03/parenting/boredom-kids-pandemic.html