Are your kids racking up charges from mobile games? Here's how to fight back
A very handy to guide fighting bait apps on devices from Apple, Google and Amazon – and a little parenting tip.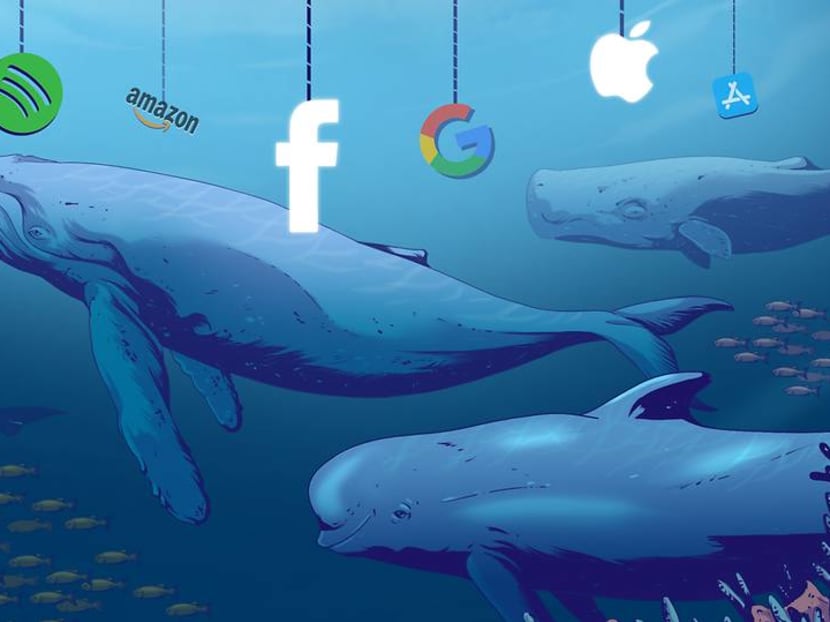 A teenager once spent US$6,500 (S$8,800) on Facebook games over two weeks, according to a recent report by The Center For Investigative Reporting. Some Facebook employees internally referred to these children as "whales," a term typically used by casinos to describe gambling addicts.
The report follows actions by the Federal Trade Commission five years ago that required Apple and Google to issue millions of dollars in refunds to parents whose children made unauthorised in-app charges. In 2017, the FTC made a similar arrangement with Amazon.
It's incumbent on the tech companies who are selling you these apps and games to make it much easier for parents. I think it's really unfair to assume that the average parent is tech savvy.

At the heart of all of this are mobile games that persuade children – who are the most vulnerable – to buy virtual goods using their parents' credit card accounts while they are playing. It has become such an issue that these games have been called "bait apps" in class-action lawsuits.
So what can adults do to prevent their children from falling prey to bait apps and running up their credit card bills?
Unfortunately, preventing unwanted in-app purchases is far from straightforward. Many young ones are clever about finding workarounds when they are blocked. And tech companies typically don't have much incentive to invest in safeguards because these purchases generate revenue.
Jim Steyer, who runs the non-profit Common Sense Media, said fighting bait apps is often confusing. Even though his group reviews tech products for families and suggests limits on tech, he himself often has to call tech companies to reverse charges made by his 14-year-old son inside apps like Fortnite, the popular shooter game.
"It's incumbent on the tech companies who are selling you these apps and games to make it much easier for parents," Steyer said. "I think it's really unfair to assume that the average parent is tech savvy."
To come up with some solutions, I gathered many gadgets in my household – including devices from Apple, Google and Amazon – to devise a guide to fighting bait apps. Here's what you should know.
APPLE
Let's start with Apple, the maker of many of our devices and a purveyor of mobile games through its App Store. It offers several effective tools for restricting in-app payments on iPhones, iPads and the iPod Touch.
One is Ask To Buy, a set of controls that requires a parent to approve each app purchase on a child's device. It can be set up with the following steps:
A parent first sets up a family sharing account, by going into the settings app, selecting "set up family sharing" and following the instructions.
The parent then sends an invitation to the child's Apple device to join the family account. (If the child doesn't have an Apple ID, the parent can create one and add it to the family group.)
Then, the parent goes into the family sharing settings, selects the child's account and turns on Ask To Buy. It notifies the parent's device whenever the child tries to buy an app or something inside an app. The parent can approve or reject the purchases.
You can also disable in-app payments on Apple devices altogether. Here's how:
On the child's device settings, choose "screen time" and select "this is my child's iPhone".
Set a secret passcode and then tap "content &privacy restrictions". From here, tap "iTunes & App Store purchases".
Then choose "in-app purchases" and select "don't allow".
GOOGLE
Google's tool for managing a child's app purchases on Android devices is incomplete compared with Apple's. Google offers a parental control tool called Family Link, which includes a setting for requiring parental approval for app purchases. But children can choose to leave Family Link once they turn 13 and remove the restrictions – a limitation I have criticised in the past.
While I do not recommend Family Link for managing a child's app purchases, here's an alternate method that is more reliable for regulating in-app payments on Android devices:
On your child's Android device, set a password for the Google account that is used for making purchases from Google Play, which is the Android app store.
Open the Google Play Store app on the child's device. Tap the hamburger menu (an icon with three lines) and scroll down to settings.
Tap on the "require authentication for purchases" option. Then select "all purchases".
With this setting turned on, you will have to enter your password whenever the child tries to buy an app or goods inside an app. As long as you set a strong password and keep it secret, the child should not be able to make purchases.
This solution is imperfect because the child will need to use a separate Google account and password for unrelated tasks, like email, but it is more reliable than Family Link because the restriction won't expire when the child turns 13.
FACEBOOK
The process for blocking in-app payments on Facebook was the most lacking and the most confusing, I found.
That's because people can make purchases in games on the social network and on its family of apps – which include Facebook Messenger – in a dizzying variety of ways. Children can spend in games loaded inside Facebook's mobile apps, which include Facebook and Facebook Messenger, or on a computer using Facebook.com.
That means if your children are racking up charges inside Facebook's iPhone apps, the aforementioned Apple tools will help. If they are spending inside Facebook's Android apps, the Google solution above might stop them.
But if they are buying things inside games on the Facebook website on a computer, there is no direct tool to prevent payments. The best you can do is to go into your child's Facebook account and remove your payment method from it.
In other words, if a minor failed to buy something inside a game using a Facebook mobile app, they could go on a computer and use the website to make the purchase, so long as they have your credit card handy.
This is a glaring loophole. When I called Facebook about it, a spokeswoman pointed me to its Parents Portal, which includes guidelines on how parents can talk to their children about how they use the web.
AMAZON
Amazon offers games for its Fire tablets along with a range of controls for restricting app payments on those devices, which require a password to make purchases. It also offers another tool called Amazon FreeTime, which automatically blocks minors from accessing content inside its app store.
Here's how the parental controls work:
On the tablet, open the Amazon Appstore app.
From there, select "account" and then tap "settings".
Then tap "parental controls" and select "enable parental controls". With this setting turned on, the Amazon account password will be required to make in-app purchases.
And here's how to set up FreeTime:
Swipe down from the top of the screen and select "settings," and then tap "profiles & family library".
Choose "add a child profile" and create a lock-screen PIN, which your child will not have access to.
From the "add child profile" screen, select "choose a profile picture" to add a profile picture. Enter your child's name, birth date and gender.
From here, you can choose "use Amazon FreeTime", which is suited for children, or "use teen profiles", which has an aesthetic more suited for teenagers. (Either one will automatically block in-app purchases.)
Tap "add profile" and choose the content you want available on the child's profile. Then tap "done".
IF TECH FAILS, THEN WHAT?
So here's what I learned: Fighting bait apps is a lot of work. But when tech fails, a parent can always turn to a free tool: disciplining and educating their children.
Steyer of Common Sense Media said he eventually had to teach his teenage son a lesson for his Fortnite splurging. How? He took the game console away.
"It does give you a teachable moment to sit down with your kid and talk about being responsible financially, and that you don't have my permission to spend the money," he said.
Brian X Chen ©2019 New York Times