How TV shows like Superstore and The Office fill our need for the office
We're turning to shows like Succession and Superstore during the pandemic for a fix of working lives, says The Financial Times' Emma Jacobs.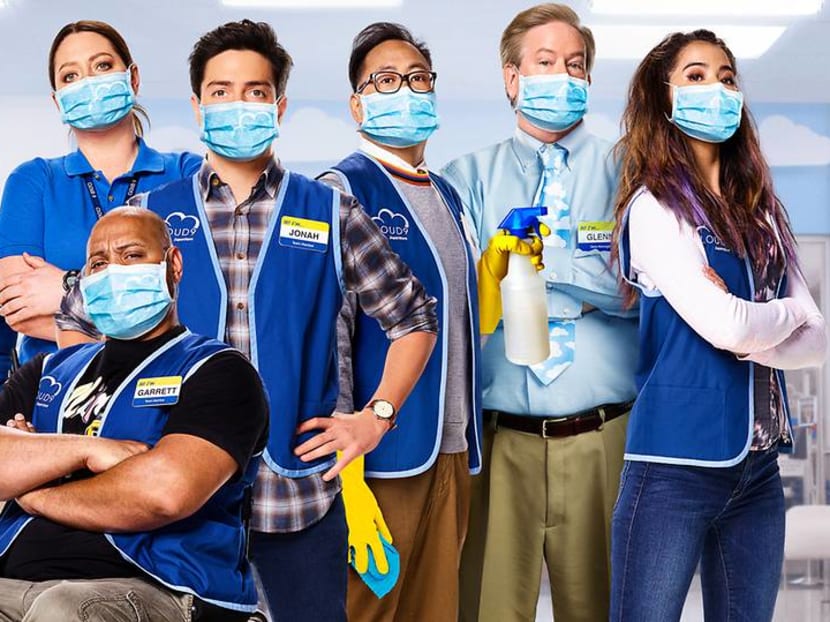 In the past year I have, like many of us, spent far more time watching – and rewatching –  dramas and comedies about the workplace than I have spent inside one.
I am hardly alone in doing so. Sprawled on my sofa, which has occasionally doubled as a desk, I have observed the misfits in the basement of Abaddon Industries – a "corporate parasite that's raping land and drugging kids" – in Laura Dern and Mike White's Enlightened; rubbernecked anxious and delusional French stars at ASK, the Parisian talent agency in Call My Agent!; cringed at the treatment meted out to junior bankers on the trading floor in Industry; and seen retail workers get sloshed at lunchtime and go on strike at Cloud 9, the big-box retailer in Superstore.
Watching actors hold meetings, stack shelves and make calls has triggered both relief and curiosity. After a day writing about offices shutting, Zoom calls and claps for carers, the workplaces I was seeing on TV seemed almost quaint.
There was something peculiar and revealing about them – like a scientist peering at a familiar object through a microscope, observing it in an entirely new light. At the same time, we were bit players in our own workplace shows, appearing on computer screens in colleagues' homes through video conferencing.
These dramas and comedies were a reminder of workplace dynamics. They might focus on politics or policing, but there were universals: HR issues, hierarchies, tensions, mentors. Although I was starved of company beyond my family, it would be overegging it to say the shows made me nostalgic for the camaraderie of the canteen. Yet watching workers do their jobs made me yearn for the delight of unexpected conversations, the glamour of clean, smart(ish) clothes and a stationery cupboard.
Workplaces are attractive to programme makers. There is, after all, no need to explain the logic of bringing disparate people together in an office, estate agent's or store.
Justin Spitzer, a writer and producer on the US version of The Office and Superstore's creator, explained the appeal over email: "In a workplace, it's a bunch of people from different backgrounds, who might not remotely like each other, forced to spend most of their day together".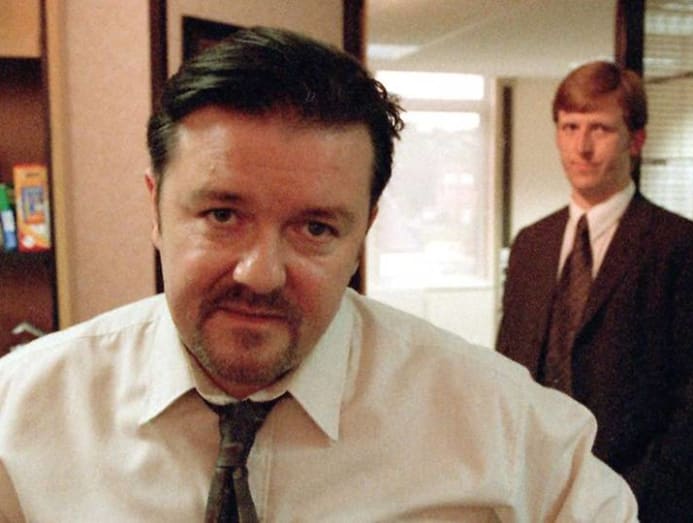 Jamie Demetriou, creator and co-writer of the Channel 4 comedy Stath Lets Flats, who also stars as the show's eponymous inept Greek-Cypriot north London estate agent, said: "For a lot of people, their job does not reflect their passion. As a result, you don't get people who are like-minded". This smorgasbord of personalities is compelling to writers, he added: "Ultimately, you want to have a variety of characters who have friction."
Workplace dramas are not, of course, about day-to-day tasks that characters happen to be performing – the tedium of email ping-pong or pricing cereal packets – but, rather, the human condition. For insights, I spoke to Lucy Prebble, who has depicted the working world in stage plays such as Enron and as a writer for the ongoing HBO series Succession.
There are some jobs that viewers find inherently interesting, she suggested – for example sex work, the subject of her ITV adaptation Secret Diary Of A Call Girl, "but even that becomes pretty dull unless you're telling a person's character story within it".
In Succession, which depicts the brutal infighting at Waystar RoyCo, a media empire run by a family with teasing similarities to the Murdochs, Prebble insisted it is the characters that drive the story.
"By the time a company gets to be the size of Waystar, it's more about 'money' or 'business' than a particular product," she said. "Work like this is really only interesting when there are character or relationship dynamics being played out underneath."
Perhaps so. But for this viewer at least there is also delight in the settings: The corporate trip to a Hungarian castle; or when Roman, the wayward youngest son, swaps his smart suits and glistening headquarters for management training that requires him to rub along with employees at an amusement park while wearing a turkey costume.
Or the ugliness of hierarchy when an active shooter enters the office and Roman's brother-in-law Tom pushes people aside to get to the panic room, shouting: "Executives coming through".
The high toll of work on love and life runs through the four series of French comedy Call My Agent!. While the work seems seductive – glamorous, creative and full of intrigue – there are costs: High-maintenance clients, workplace politics, messy relationships, scant downtime.
As the show heads to a finale, we wonder whether Andrea Martel, the hyper-driven agent who picks up work calls minutes after giving birth, might opt for another path in life – as many of us have contemplated in the pandemic.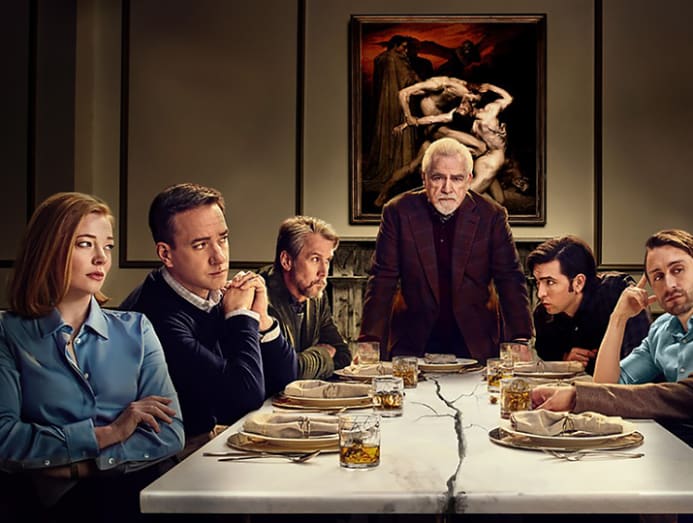 While working from home is monotonous for many, it's not as if most physical workplaces lack boredom. Joe Moran, author of Armchair Nation: An Intimate History Of Britain In Front Of The TV, cited shots in the original British The Office depicting workers yawning or feeding paper into shredders, and the surreal management-speak and status games of the BBC's W1A, set in an exaggerated version (perhaps not too exaggerated) of the corporation itself. "Comedy can portray work's essential absurdity," he said.
In the early 2000s, a decade before the anthropologist David Graeber popularised the term "bullshit jobs", The Office was exploring this territory. "Most of us," said Spitzer, "can identify with difficult co-workers and bosses who give mandates we don't agree with."
We who are watching lap it up. Whenever I feel unappreciated by my employer, it is not a career coach or book I turn to, but Mad Men. In one scene, the advertising creative director Don Draper lashes out at copywriter Peggy when she complains that he has won an award for a campaign she worked on. Don: "It's your job! I give you money, you give me ideas." Peggy: "And you never say thank you." Don: "That's what the money's for!"
Some may see this as a reminder that bosses can be tyrannical jerks. I am more sympathetic towards Don: At work, sometimes the best strategy is to stop whining and pull yourself together.
The question, of course, is what TV writers and producers will make of the strange working world so many of us now inhabit. There are a few signs, here and there: Superstore's most recent series, filmed last autumn, depicts shop workers with face masks, frozen Zoom calls and social distancing. When management fails to supply sufficient PPE, one retail worker says: "You gotta look at it from corporate's perspective. They love money, and they don't care if we die".
Prebble has also recently been on set for the latest series of Succession, filming in offices emptied by the pandemic – a topsy-turvy experience, she said. "We hire spaces that are now unused . . . to perform a ritual of working in them that humans used to do, and then record that for brief, vivid moments of what life used to be like."
The actors were the only ones allowed to unmask and touch each other, while the rest of the crew stood by, wearing heavy PPE, "so we can later safely transmit these moments to other, separated humans and help them feel distracted from their circumstances and less alone".
There have been experiments with Zoom – notably the BBC's Staged, which portrayed actors Michael Sheen and David Tennant playing fictionalised versions of themselves, attempting to prepare for a play over video conference, while also chatting about home life and career paranoia (all of it filmed over video conference). Yet other TV writers have found it difficult to adjust. Cut off from the world, it's hard to find inspiration for material, said Demetriou: "You don't realise how influenced you are by the conversations you have every day".
Konrad Kay, who created and wrote Industry with Mickey Down, said that when the show aired at the end of last year, viewers told him that seeing people at restaurants and parties made them nostalgic, something the writers had obviously never planned: "It made people miss the office".
Will viewers want to binge on programmes featuring face-masked and socially distanced actors? If the pandemic permanently overhauls our working lives, how will that be reflected on screen? Shows about estate agents, police officers and medics are unlikely to need to alter their depictions of the workplace – though presumably masks would feature. Yet writers who focus on white-collar work may have to grapple with what seems likely to be a hybrid future, split between home, co-working spaces and the office.
Down, who is deep into the second series of Industry, said: "If you're writing a workplace drama and it's set post-2020, it wouldn't be sensible to [avoid the biggest] shock to workplaces in 100 years: You have to acknowledge it. The difficulty is we don't know how it will affect work in the long term."
Kay does not expect the finance world – the focus of Industry – to change hugely, pointing out that his former colleagues in investment banking are already back at the office. "With some concessions – that is, more spread out, some desks going unoccupied – it seems to be business as usual, at least at the one place we know of first hand."
Spitzer is working on a new show, American Auto, about executives at a big car company based in Detroit. Though it's possible the programme makers will include some hybrid-working scenes, they'd rather not, he said.
"We're not thinking of this as a world in which the pandemic didn't happen, but we're also not dealing with it in any substantive way. By the time this airs, hopefully we'll be trying to put COVID behind us." They're proceeding on the basis that the workplace of 2022 won't be that different to the one of 2019, he said: "If that's not the case, we'll adjust from there."
How about working-from-home or hybrid-working storylines? "Anything that can happen in a workplace presents an opportunity to do a story about it," he said.
The strangeness of the period we're in right now, both interminably slow and hyper-fast, is that shows currently being made may, in a year's time, look as archaic as Mad Men's 1960s. Will there be masks? Will we still be socially distanced or cramming once again into lifts and canteens? Will vaccines be the hot topic around the water cooler?
I am hopeful that a hybrid future will provide fresh comedic and dramatic material – the conflict between personal and work life may even become more sharply drawn at home. And like cockroaches in the apocalypse, office politics will surely survive at a distance – perhaps thrive. Rather than covert conversations in the corner of a meeting room, white-collar workers may have to meet like cold war spies on park benches to do each other in.
And I feel sure the office will remain in some shape, providing a stage for our personal dramas, politicking, rivalry and idiocy. Strange though it may sound, I can't wait to see the future of work play out on my telly.
By Emma Jacobs © 2021 The Financial Times