Road test: How does Huawei's Mate 30 Pro do on vacation without Google?
Yes, it's inconvenient not having the apps you want at your fingertips – but with a camera this good, it's tempting to find a workaround.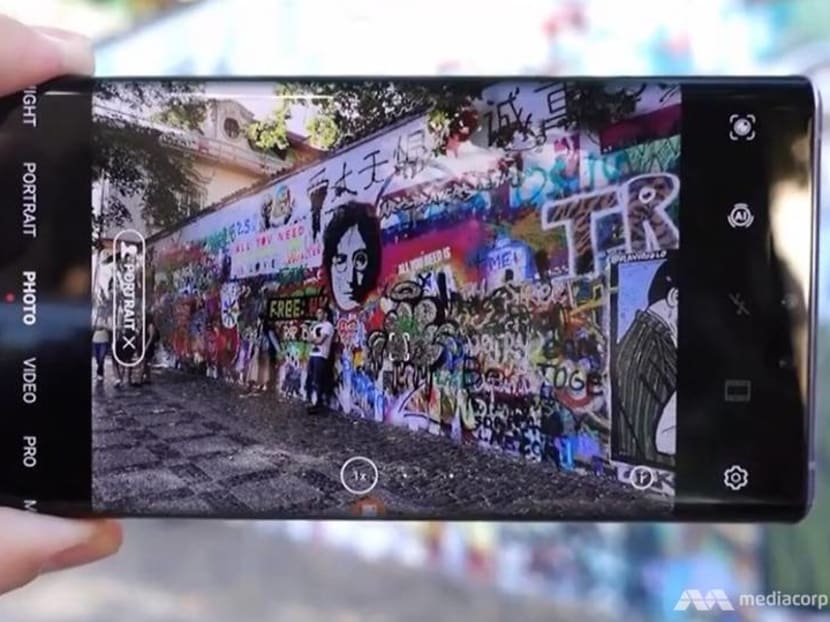 Huawei's Mate 30 series launched to much fanfare on Sep 19 in Munich, Germany. But while technological features such as low-light photography, ultra slow-motion and an intuitive EMUI 10.0 operating system wowed attendees, it was Huawei's chief executive Richard Yu's confirmation that it has departed from Google Mobile Services (GMS) that drew headlines.

CNA Lifestyle took the phone out for a spin in Prague.
The following day, CNA Lifestyle and invited media had a long chat with vice president of consumer mobile services Jervis Su about its implications.
While Su impressed on us that Huawei would love to work with Google, and vice versa, political tensions have forced them to look elsewhere. He also stressed that China users have been getting around without GMS for more than half a decade – and he is assuming the rest of the world can, too.
"This 'crisis' would allow developers in Asia Pacific and around the world a unique opportunity to provide services (outside of GMS)," said Su.
He also reiterated that they would gladly return to GMS, together with its proprietary Huawei Mobile Services (HMS) – as it had done all along – should situations change, but that the user experience without GMS should not be vastly different.
Huawei has dedicated teams to work with Singapore developers in ramping up essential government apps as well as services such as banking and travel apps on their AppGallery. There's also a US$1 billion (S$1.38 billion) fund to spur HMS, an incentive to get developers to port their apps over to HMS. And should that US$1 billion run out, Su said there will be more on the table.
In the meantime, the Chinese company's strategy is to provide the best hardware, user experience in its operating system and the apps in its AppGallery.
All that remains is to see if consumers bite. How good does a device have to be for the public to overlook the absence of apps we've gotten extremely cosy with?
I took the Mate 30 Pro on a solo trip to Prague in an attempt to find out.

CNA Lifestyle was in Munich to try out Huawei's latest flagship phones, the Mate 30 and Mate 30 Pro. Here are the features that stood out the most.
GETTING AROUND WITHOUT GOOGLE COMFORTS
As an Android noob, I decided to use web services like Uber's mobile website, the Prague Public Transport website (dpp.cz) and various online resources on things to do / eat in Prague – instead of trawling through the 45,000 apps in the AppGallery.
Of course it's inconvenient compared to having the usual apps ready to roll, and, yes, it requires backbreaking (from lying on the bed) research but, hey, it's not the end of the world. Although having to unfold a physical map did seem a bit like going back to the dark ages.
There are maps in Huawei's AppGallery like Offline Map Navigation but it's buggy and I wouldn't use it to cross the road. Other map alternatives like Map.me and Karta GPS help with route planning but run ads or have public transport information missing. So, essentially, you'd be using three apps and the web to replace Google Maps.
In an era where convenience is king, the Huawei road test wasn't looking very royal. 
And then I took a picture.
NIGHT PHOTOGRAPHY, VIDEOGRAPHY AND EVERYTHING IN BETWEEN
The Mate 30 Pro comes out of the box with a slew of photography and videography "magicks". Even as I packed my Sony RX 100 III compact camera and DJI Osmo+, I quickly found I could have left them at home – along with my super heavy tripod – for great night shots and timelapse videos.
For my money, the Mate 30 Pro is a prosumer camera masquerading as a phone. It comes with a Leica-powered quad camera system that has a 40-megapixel SuperSensing Cine lens, an 8-megapixel telephoto lens and a 3D depth sensing lens.
SuperSensing Cine is Huawei's dual camera lens system that comprises a large 1/1.54-inch light sensor designed for videography and its mind-blowing ultra-high speed feature that slows videos up to 7,680 frames per second. It looks incredible on screen. It also has a 1/1.7-inch Huawei SuperSensing lens that delivers images under low light conditions.
Results for low-light shoots were comparable to the compact camera I brought along – but without the need for a tripod or exposing the shutter for more than 30 seconds. It only took the Mate 30 Pro five seconds to get all the data it needed to produce a sharp night shot. Bonus: You can a stop the countdown at any time to create more dramatic shots. And it didn't require the 10 minutes or so processing time my camera required.
For someone whose hands shake even when pouring water, I'm most impressed with the device's superior image stablisation. Videos are just as smooth as the footage shot using my professional gimbal – except the Mate 30 Pro is also much easier to stow and move around.
I can now say goodbye to the days of grappling with the Osmo while concerned members of the public ask if they can help.
Users of the P30 may sneer at the Mate 30's "only 30X" zoom with their crazy 50X capabilities. Personally, I didn't see anything that would require me to zoom in that close. I could hardly find anything worth zooming in at 30X for this review.

WHAT IT COMES DOWN TO
After two days of rigorous testing while visiting the beautiful sights of Prague, the Huawei Mate 30 Pro left a lasting impression on me.
It helped that the Mate 30 Pro packs a massive 4500mAh battery (the Mate 30 has 4200mAh) – which easily blew past both my camera and regular phone's batteries. Together with its power-efficient Kirin 990 5G chipset, the Mate 30 Pro gave me the option of leaving the power bank at the hotel.
The camera capabilities on the device are staggering. But while it may not kill off a DLSR competitor just yet (it needs to let users save raw footage), it is definitely a keen rival to prosumer and compact cameras. 
The question is, really, what do you want in a smartphone? Since the launch of the Mate 30 series, more than a few people have said the same thing to me: Maybe I'll get the Pro just as a camera, while hanging on to my actual phone phone.
I have to say, with a camera this impressive, that's a tempting proposition.