Hugh Jackman on leaving Wolverine behind to act with a 'beautiful hologram'
The award-winning actor revealed what it was like working with Reminiscence director Lisa Joy and her mind-bending new hologram technology. "I've never read a movie like this before," he gushed.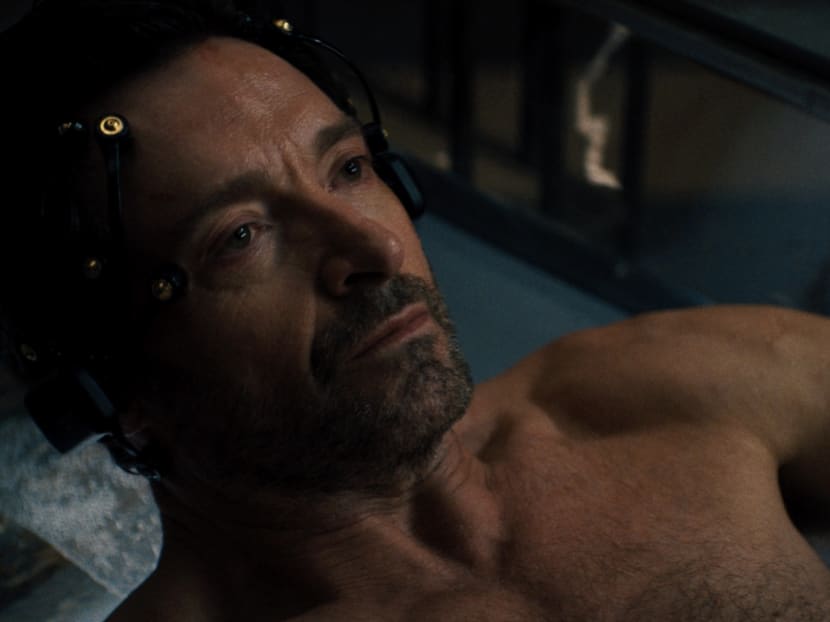 What does life after playing Wolverine for 17 years across 10 films look like? For Hugh Jackman, it means the leisure of being able to say "yes" to a film without even reading a finished script – like the mind-bending sci-fi thriller noir Reminiscence.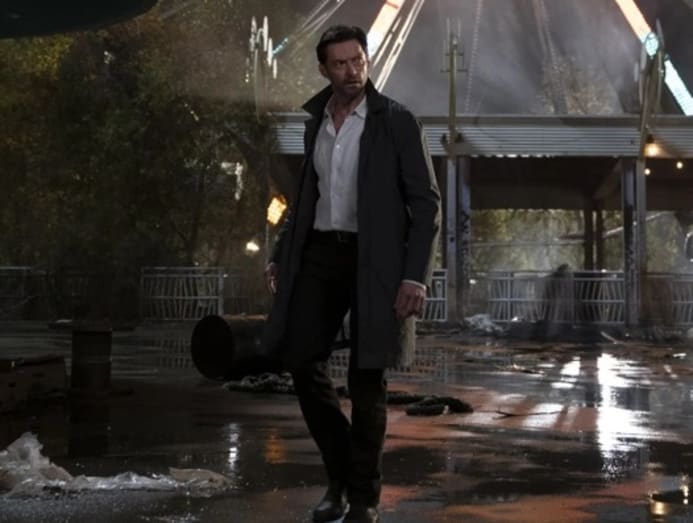 Writer-director Lisa Joy of Westworld fame told CNA Lifestyle that Jackman was her first and only choice as the lead, revealing that she flew to New York to pitch to him at his home. She said she would have never done the film if he said "no".
"The brain of Lisa's – to come up with something like this is so extraordinary! Working with her just felt like, well, I've never read a movie like this before," he said. "And I think for movie goers it's going to be something really fresh and original."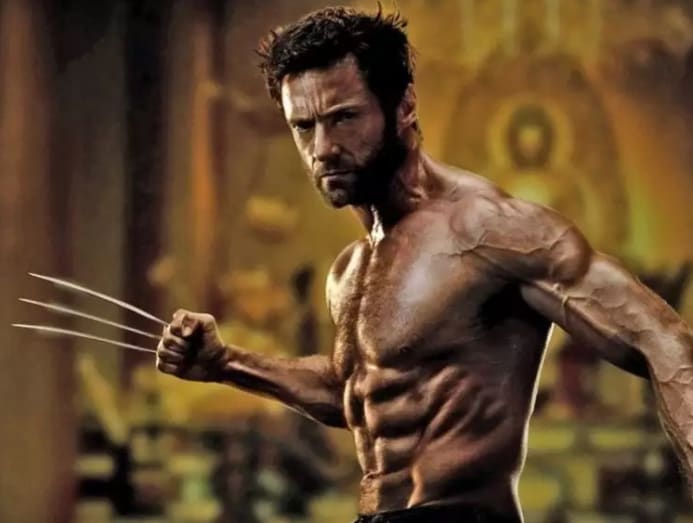 Having said farewell to his mutant alter-ego in 2017's Logan – arguably the perfect swan song – Jackman has since impressed with massive successes in different genres, such as the blockbuster movie musical The Greatest Showman and the highly underrated dark comedy Bad Education.
So, how important is it for the 52-year-old to seek out new and original content, and play characters such as Reminiscence's Nick Bannister, a former war vet turned "private investigator of the mind" who helps people access faded and forgotten memories in a not-too-far away dystopian future?
"Yeah, I think I've always looked for that," Jackman told CNA Lifestyle.
But that is not to simply say it was a chance to get as far away as he possibly could from playing Wolverine, the beloved fan favourite character who catapulted Jackman to global stardom.
"Every time I play Wolverine, I felt like I was either discovering new things or searching for something like scratching an itch. I never felt like I really had got to the core of it. I guess it's a bit like a golfer trying to hit a perfect golf shot – it's like I had to get back out the next day. I never felt like I was walking through it at all – (it's) the opposite!" he explained.
"But in general, I've always liked to do different stuff. I mean, people in the movies might not know the amount of stuff I do on stage, or plays and musicals… so I'm constantly trying to challenge myself and I know I'm better."
He continued: "When I'm doing different stuff, somehow each thing feeds the other. So, to do something like this with a director like Lisa Joy and this kind of character – has elements of Wolverine in them. But this is very different and so, as a genre, it feels like a little bit of everything."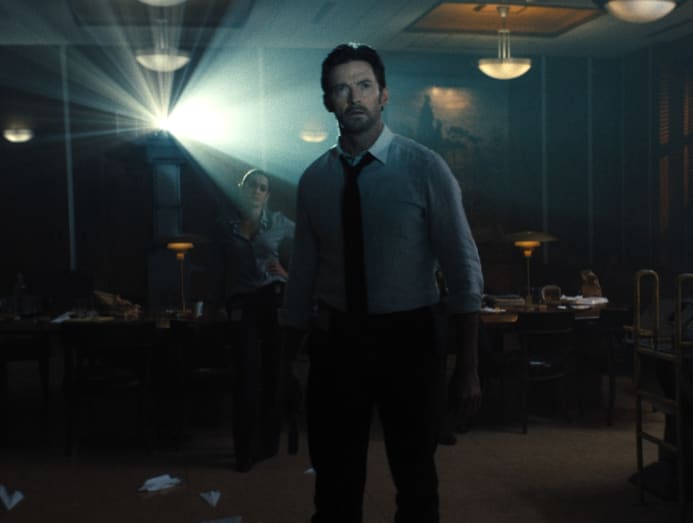 Indeed, Reminiscence has a little bit of everything, including a hologram technology used by Jackman's character Bannister to view memories.
The director actually created an entirely new kind of tech for the film ("blending a bunch of different technologies and shooting all the memories first, before projecting them on a dimensional screen," explained Joy). Instead of adding the visualised memories in post-production, the creation displayed the images for the actors to play against.
Which meant, she explained, everything we see Nick Bannister reacting to in the film, Hugh Jackman was reacting to in real time on the set. 
And the actor himself is a big fan, remembering the marvel at seeing the technology in action for the first time. And he's worried that audiences might not know that it's the real deal.
"I think people are going see the movie and assume everything was done in a computer visual effect but the reminiscence itself is a projection of the memory!" said Jackman.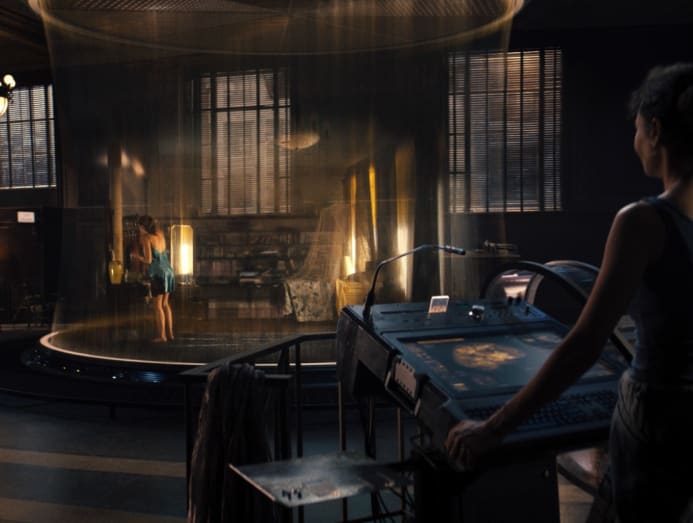 "So, you're lying in a tank, you remember it, and then I get to see (the person's memories) up on this machine, and I watched the entire thing and I talked them through it – that was all for real! I was really looking at the most beautiful hologram I'd ever seen in my life."
"I don't know if I've ever seen a real hologram actually" he laughed. "But it took them a year to work out how to do this, and it had never been done on film before. It was really actually time consuming and complicated, and I'm so glad you brought it up because it's certainly one of the, I think, one of the unique parts of this movie."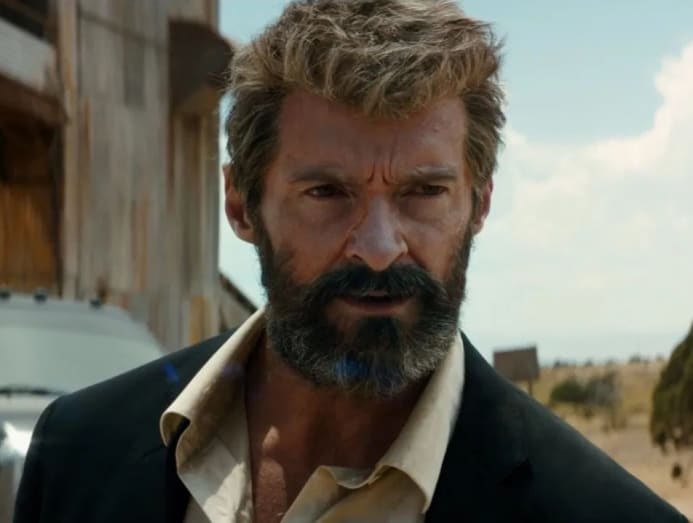 So, with the idea of fully revisiting memories in the movie, what is the one cinematic memory Hugh Jackman would never like to forget?
"Well, it's so hard, it's a bit like picking which of your children (you like most)," laughed Jackman.
But if he had to choose, it would be of course reminiscent of his beloved mutant hero.
"Sorry for those people who haven't seen it, but the day we shot my character dying in Logan? That's the one – that's the moment I won't ever want to forget."
Reminiscence is in cinemas now.