IKEA says it's got curtains that clean the air inside your homes for S$50
The Gunrid air-purifying curtain, which launches in Singapore in April, is said to use sunlight and chemicals to destroy indoor pollutants. When's the next haze season?
Nowadays, air purifiers are a regular fixture in many homes. Those silent little workhorses in one corner of the house working its magic sucking the air inside its filters to remove pesky particles like dust and bacteria. 
But what if you could hang a few all around the house?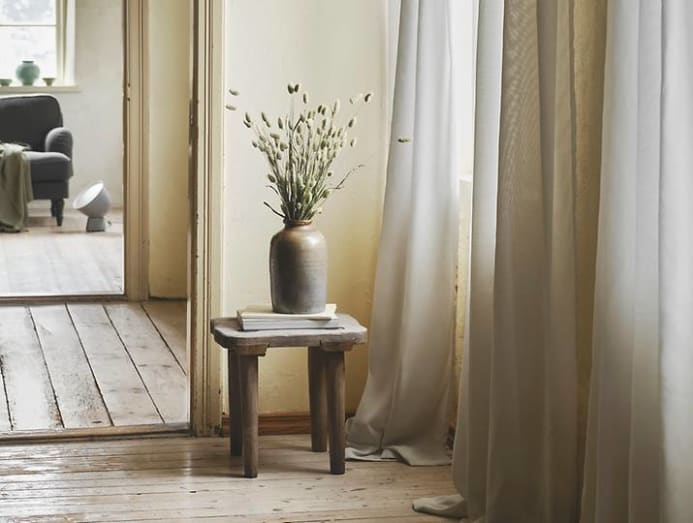 IKEA says it's developed a curtain that actually cleans the air in your house. Called the Gunrid air-purifying curtains, it's a new invention by IKEA Sweden product developer Mauricio Affonso and a team of developers, scientists, and engineers. It's set to be launched in Singapore in April and will be going for S$49.90 a pair.
"Many people know that outdoor air pollution can be a problem, but not many are aware that indoor air can be as bad, or even worse than the outdoor air," said Affonso. "That is why we see it as our responsibility to bring awareness to the problems associated with indoor air pollution, this way people can do something about it."
So how exactly does it work? According to IKEA, the fabric's surface is treated with a thin mineral-based solution and, using a process similar to photosynthesis, this breaks down particles of common pollutants such as odours, formaldehyde and acetaldehyde, "cleaning up and purifying" the air.
"The photocatalyst surface of the fabric captures indoor air pollutants and uses daylight to break them down," explained Affonso to CNA Lifestyle. He added that Gunrid works without using any electric power or complex filtering systems.
What these high-tech curtains do isn't technically new. According to an article by Fast Company, similar versions of this photocatalyst do exist elsewhere – except that Ikea's tweaked the technology so that it's also activated by indoor or artificial light and not just natural sunlight.
And because it can be applied to all sorts of fabric, there might be plans to use it not just on curtains. "The development will give us opportunities for future applications on other textiles," said Lena Pripp-Kovac, head of sustainability at Inter IKEA Group in a press statement.
A technology like this could be especially effective in a country like Singapore because of the weather. Victoria Farnworth, Bedrooms Business Leader, IKEA Southeast Asia told CNA Lifestyle that all that consistent sunlight is "the perfect environment for the photocatalyst surface employed by the Gunrid technology to work its magic and continuously break down indoor air pollutants".
Still, we're not exactly choking on smog are we? "Singapore's air quality is generally good because of intelligent urban and industrial planning, strict legislation and enforcement and stringent monitoring," she added. "However, Singapore's air quality does suffer due to transboundary smoke haze from land and forest fires in the region."
We'll have to wait until the next round of haze comes around to test its effectiveness – but at the very least, it could be a fun show-and-tell for the next person who drops by your place.
The Gunrid air-purifying curtains will be available in April in Ikea Singapore in three colours and priced at S$49.90 per pair.