Creative Capital: How this illustrator and children's book author dreams big in Singapore
What began as a blog grew into a career for lecturer Lee Kow Fong, who creates charming, child-like worlds that capture the imaginations of both kids and adults alike.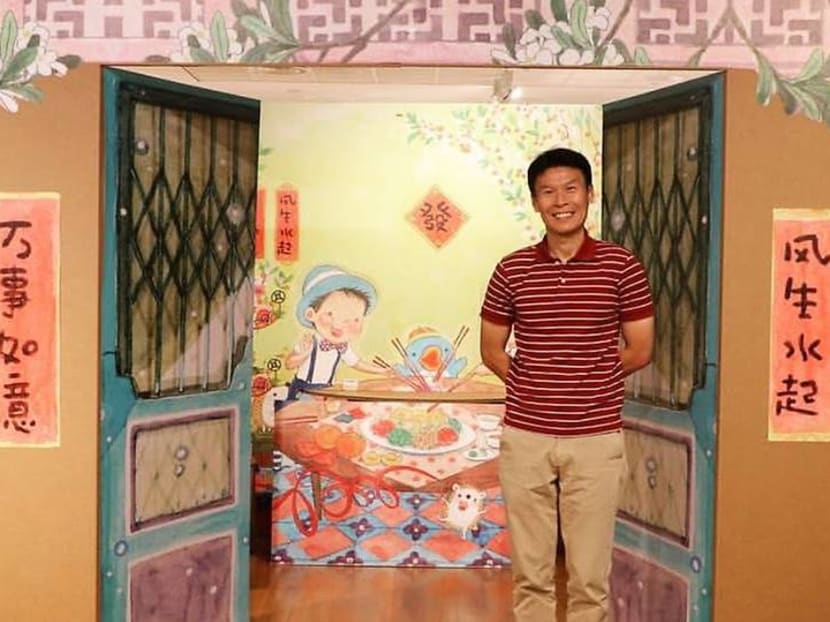 I'm a bit of a failed artist. When I was a teenager, I wanted to be an illustrator. Later, when I was in university, I aspired to be a painter of note. I studied fine art, and even took part in a few group shows and had one solo show in New York before leaving art behind for a job in venture capital in Hong Kong, which did not last very long.

So, when I came across someone like Lee Kow Fong, who has followed his dreams to become a professional illustrator, artist and children's book author, I have nothing but respect and admiration. Kow Fong's work is charming, with an innocence and child-like quality that make you smile. He's also prolific, working on new books, personal art pieces, and corporate commissions all at the same time.
YOUR BIO SAYS THAT YOU ARE ALSO A POLYTECHNIC LECTURER. IS TEACHING SOMETHING THAT HAPPENED BEFORE OR AFTER YOU BECAME A PROFESSIONAL ILLUSTRATOR?
I used to teach full time at Ngee Ann Polytechnic's (NP) School of Humanities & Social Sciences (HMS). I was with the Chinese Studies Department, and focused on Chinese media-related modules and translation.

Illustration and teaching happened almost at the same time. I had the chance to illustrate for a children's book when I started teaching in 2007. I was also working as a freelance illustrator, and I slowly built my base, skills, knowledge and confidence. After obtaining a Master of Arts (MA) degree in children's book illustration, I took up some picture book-related modules in the Early Childhood Education Diploma course. It took me 10 years, from 2007 to 2017, before I was confident enough to turn professional.
I left full-time teaching in 2017 and I'm now doing adjunct teaching with the school.
WHAT SPARKED YOUR PASSION FOR ILLUSTRATION?
I'd loved to draw since I was a kid. I'm also passionate about Chinese culture and language. I was from the pioneer batch of the Art Elective Programme at Chinese High School. 
But art faded off from my life after the O levels, which I realised, created a great sense of loss in me. I stumbled upon digital illustration when I started blogging, and from there, I began to create simple stories with illustrations. 
I'm always trying to find my voice. I'm most confident and comfortable when voicing my inner thoughts through a combination of pictures and words. Picture books, which combine writing and illustration, fit nicely in this aspect.

YOU MAY BE THE FIRST PERSON I HAVE MET WITH A MASTER DEGREE IN CHILDREN'S BOOK ILLUSTRATION. WHAT PROMPTED YOU TO STUDY IT? WHAT WAS THE APPLICATION PROCESS LIKE?

I decided to pursue the MA degree in 2009 because I had just fulfilled my two-year teaching contract with NP, and I needed a valid reason to push myself forward as a professional illustrator. Going overseas to study would mean no turning back. Once the course fee was paid, by hook or crook, I needed to achieve some results.

I'm also not the only Singaporean who has taken the course. I know of at least two others who were as bold or foolish as I was. The MA degree is offered by the Cambridge School of Art at Anglia Ruskin University in the UK. It's a three-semester or one-and-a-half-year full-time programme. 
Let me put it plainly – you are not there to learn to draw or paint. You are free to adopt any style, form and medium. The course teaches you the process of illustrating a full picture book. To apply, you need to send over a portfolio of artwork, and for some, a phone or online interview is required.
YOUR ILLUSTRATIONS HAVE A WHIMSICAL INNOCENCE TO THEM THAT IS VERY SPECIAL. HOW DID YOU ARRIVE AT YOUR CURRENT STYLE OF ILLUSTRATION?

I don't deliberately draw in a certain manner. I paint and illustrate in a way I feel comfortable and take delight in. There are definitely lots of influences from various sources, including Hayao Miyazaki's animation, those old Japanese and Disney cartoons, and even children's programmes like Sesame Street that I'd watched in the 70s and 80s. During my university days, I loved books by Taiwanese illustrator Jimmy Liao.

Style aside, there are other more obvious changes in my works over the years. The first change was my medium of choice. I started with digital because I wanted to share my drawings on my blog. It came as a surprise to me when I was studying in the UK, and saw that almost all my course mates worked non-digitally. 
When I was at the Bologna Children's Book Fair in 2010, I met up with publishers from different countries and regions to show them my portfolio. One advice given to me, which I remember till today, was: If you want to be taken seriously as a picture-book illustrator, show people actual paintings. 

The turning point was in 2013 after my first solo exhibition, The Colour Of Silence, at The Arts House. I had showcased prints of my digital illustrations and they were pretty well received. But when people asked for my original paintings, I had none. That incident spurred me to switch to paper and canvas. It took quite a few months to get used to the medium as I had not worked on physical artworks for decades. I now work mainly with watercolour and I enjoy it thoroughly.

The second change is the mood in my picture. I think my earlier works were more melancholic. I enjoyed depicting a sense of loneliness or loss, which I thought was aesthetically enchanting. Perhaps age has caught up with me and I now prefer warmth, happiness and less self-indulgence in my work. 

The last obvious change are the themes. It was also around late 2013 that I started to illustrate scenes of my memories. Before that, my illustrations were purely fictional, and there was a period in which I focused a lot on old, vanishing Singapore, such as my playground series or old iconic building series. Today, I enjoy drawing inspiration from everyday life. I consider it a shift from fantasy to old memories and the present.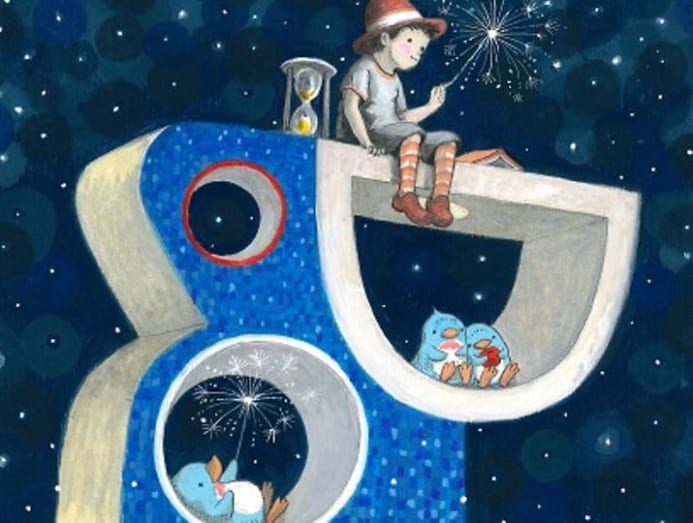 YOU ALSO WRITE A COLUMN FOR LIANHE ZAOBAO'S LIFESTYLE SECTION CALLED ZBNOW. WHAT DO YOU WRITE ABOUT?

I started the fortnightly column in 2010, and every piece comes with my writing and an accompanying illustration. I basically write about everything ... picture books, literature, movies, art, travelling and, of course, my thoughts on life, dreams and aspirations. But no politics or sensitive social issues.
I CAN'T IMAGINE THE LIFE OF AN ILLUSTRATOR IS AN EASY ONE, ESPECIALLY IN SINGAPORE, WHERE THE COST OF LIVING IS SO HIGH. HAS IT BEEN TOUGH TO STAY COMMITTED TO YOUR PASSION?

Yes, definitely. It's not as romantic as most would imagine, especially for someone like me who is already in his late 40s. The stable income I gave up was rather overwhelming. But I did not jump into becoming a full-time illustrator overnight. It was a gradual process. 
For this, I'm very grateful to NP where I teach. When I decided to go to the UK for my MA degree, HMS's director was very supportive and offered me no-pay leave. In 2014, after I'd successfully applied for the National Arts Council's (NAC) overseas writer's residency programme, the school granted me three-month professional development leave. During that period, I enjoyed my stay at the Toji Cultural Center in Wonju, South Korea, and came back with the painted picture book, The Search, written in Korea. 
When I discussed my career again with HMS's new director in 2016, he suggested that I took up a flexi-work scheme for a year instead of quitting. After a year, I was ready to go full time into illustrating. 
This is my second year as a professional illustrator. I wouldn't say it's a constant struggle to make ends meet, but the financial insecurity still pops up now and then. What's important is to maintain a positive mindset, get your priorities right and visualise what you want to achieve. Whenever I'm feeling down, I tell myself: I'm now my own boss. I have total control of my time and my plans. What else could I ask for?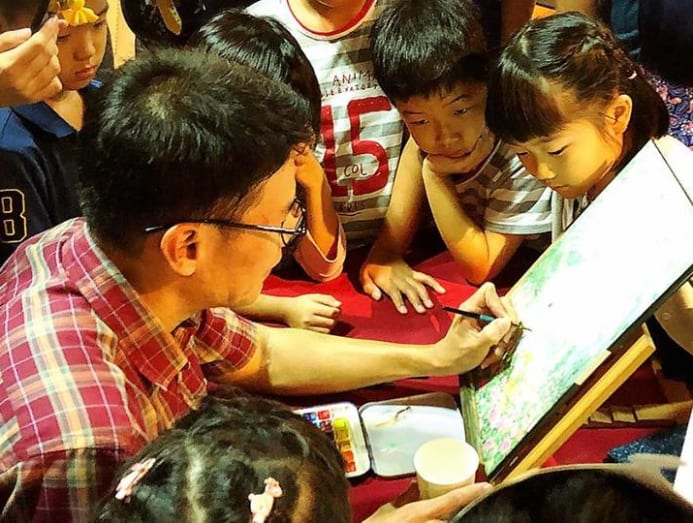 YOU'VE WRITTEN 20 OR SO BOOKS. WHERE DO YOU GET THE IDEAS FOR THE BOOKS FROM?

Most of my books are picture books for young kids, with one or two titles suitable for adult readers as well. Then, there are some books that are compilations of my column articles and illustrations. To create books for kids is not really that difficult. Just keep the storyline simple and throw in lots of wild imagination. Also, think about rhythm and repetition in both the visuals and narration to enhance reading enjoyment.

HOW LONG DOES EACH BOOK TAKE? DO YOU COME UP WITH VISUAL IDEAS FIRST OR THE STORY FIRST?

It depends. I would say it takes maybe slightly over a month to finish a picture book. That would include ideas, storyboard planning, painting, digital editing and page layouts. I'm a visual person, so most of the time, I prefer to use images to drive the story.

THIS FEBRUARY, YOU BECAME THE FIRST ARTIST-IN-RESIDENCE IN SINGAPORE PRESS HOLDINGS' (SPH) CHINESE MEDIA GROUP. WHAT DOES THAT MEAN AND HOW IS THAT GOING?

Basically, it's a two-year arrangement and I am given a rent-free studio space to illustrate for them. I'm very grateful to SPH for promoting and supporting local talent. I hope more commercial organisations would do like-wise.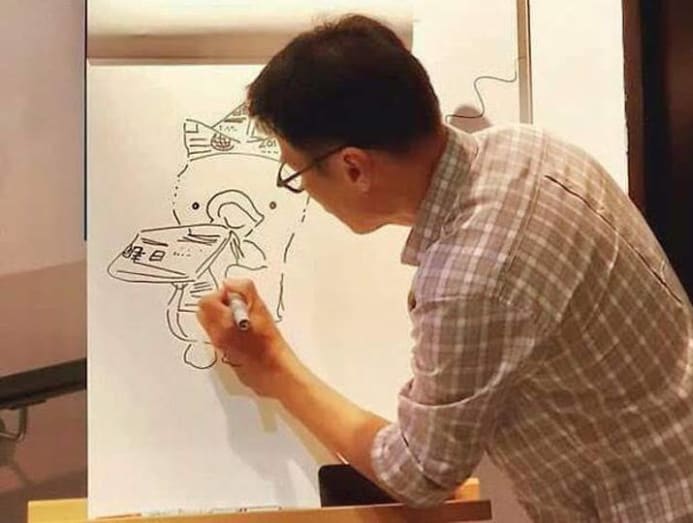 DO YOU THINK SINGAPORE FOSTERS CREATIVITY?

I remember being asked at my very first job interview: You have a great creative idea but the client can only afford a 30-second spot. Do you see that as a restriction? My immediate response was that creativity had nothing to do with the duration. And I still believe that. Creativity is about making the best of whatever we have. 
Singaporeans are known to be effective, law abiding, pragmatic and boring. But we are not as rigid as most would perceive. We face so many constraints in every possible way, and this actually pushes us to work around things creatively. If we look at Singapore from this perspective, we are, in fact, forced to be creative.

WHAT ARE YOU WORKING ON NEXT?

I'd just finished a picture book for a commercial organisation and it was launched during the one-week school break in September. In late October, a small space in a local tourist attraction will be converted into a gallery for my original illustrations. And the third compilation of my column-illustrated articles will be published early next year.