How did Janice Koh celebrate becoming a French knight? Hint: Not with French food
The actress shared more about how she spent her first few days after being awarded a French knighthood – and gave tips for anyone else who wants to be in her shoes.
She's been a household name with countless appearances onscreen and onstage, as well as her stint as a Nominated Member of Parliament, where she championed the Singaporean art scene. 
Now, Janice Koh's also a knight. Not literally one in shining armour, but nonetheless, impressive.  
During an intimate ceremony at Wild Rice's Ngee Ann Kongsi theatre on Jun 6, the French government awarded her the title of Chevalier dans l'Ordre des Arts et des Lettres (Knight of the Order of Arts and Letters), recognising her contributions to the arts. 
Looking at how far she's come since taking on theatre studies in junior college and being a regular in local television and theatre – and even a Hollywood outing in 2018's Crazy Rich Asians – knighthood seems almost inevitable. 
She tells CNA Lifestyle how she's settling into her role as a chevalier.
HOW DID YOU FEEL WHEN YOU FIRST HEARD YOU WERE RECEIVING KNIGHTHOOD? 
The official letter from the French Minister for Culture came as a huge surprise. I never expected this honour and felt truly humbled and touched by this gracious gesture from the French government. 
WHAT DOES THIS AWARD MEAN TO YOU, PERSONALLY? 
Our arts and cultural products reflect who we are and how we see the world. It is a critical means of showcasing our originality and creativity, as well as transmitting stories about ourselves across generations and beyond our shores.
Artistic works that can be experienced and enjoyed by people outside our country are also a subtle yet palpable form of soft power.
This award not only demonstrates that the French recognise the positive impact of the arts on cultural diplomacy, but also that they are proud of their cultural heritage and choose to celebrate those who champion it. 
HOW HAVE YOU SPENT YOUR FIRST WEEK AS A KNIGHT? 
Feeling extremely grateful and thanking all the people who have sent their congratulations or gifts. It's been hectic as I only recently completed Project Salome, a Singapore International Festival of Arts production.
So I'm also rushing around doing domestic things like household repairs, and packing to fly off to France!
YOU'VE WORKED ON A NUMBER OF FRENCH PLAYS. WHICH ONES WOULD YOU LOVE TO WORK ON NEXT? 
I would love to work on more plays by French playwright and director, Joel Pommerat. I've learnt a lot by performing in one of his plays, The Reunification Of The Two Koreas. He writes very profoundly about the contemporary human condition and modern-day relationships.
THERE WAS CHAMPAGNE AT THE AWARD CEREMONY. DID THE CELEBRATIONS CONTINUE WITH FRENCH FOOD?
After the ceremony, my friends and I went back to my house, where I ordered some delicious Indonesian food prepared by a home chef!
But (we didn't get French food) because I'm saving my stomach for a lot of French food and wine when I go to France! 
NOW WE'RE EXCITED FOR YOU TO ENJOY FRENCH CUISINE THERE, TOO. BUT DO YOU HAVE A FAVOURITE FRENCH FOOD OR DRINK?
Champagne. Period.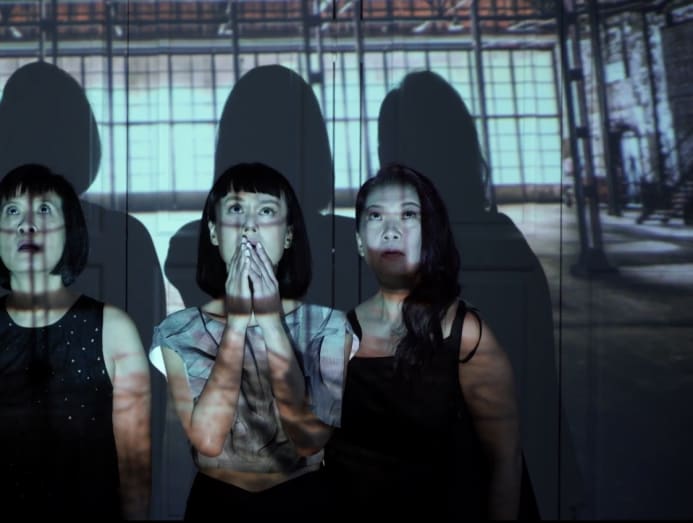 ANY ADVICE FOR BUDDING ARTISTES WHO MIGHT WANT TO BE IN YOUR SHOES SOMEDAY? 
Being a freelance arts practitioner can be a rollercoaster journey. There will be days you feel invincible and on top of the world because you feel connected to what you do. There will also be days you'll be paralysed by self-doubt or despair at not having any work lined up.
I try to take the long view and take on a wide range of projects that fulfil me in different ways – television, theatre, commercials and corporate training – and find ways to give back to the industry and society. It makes the journey that much richer and more meaningful. 
THIS MAY BE A CLICHED QUESTION, BUT WHAT'S NEXT FOR YOU? 
A holiday (in France). Haha!