Singaporean actress Janice Koh awarded knighthood by French government
The 48-year-old was made a Knight of the Order of Arts and Letters (or Chevalier dans l'Ordre des Arts et des Lettres) in recognition of her contributions to the arts and literature. Also awarded were Singapore Tourism Board's Pamelia Lee and Singapore International Photography Festival director Gwen Lee.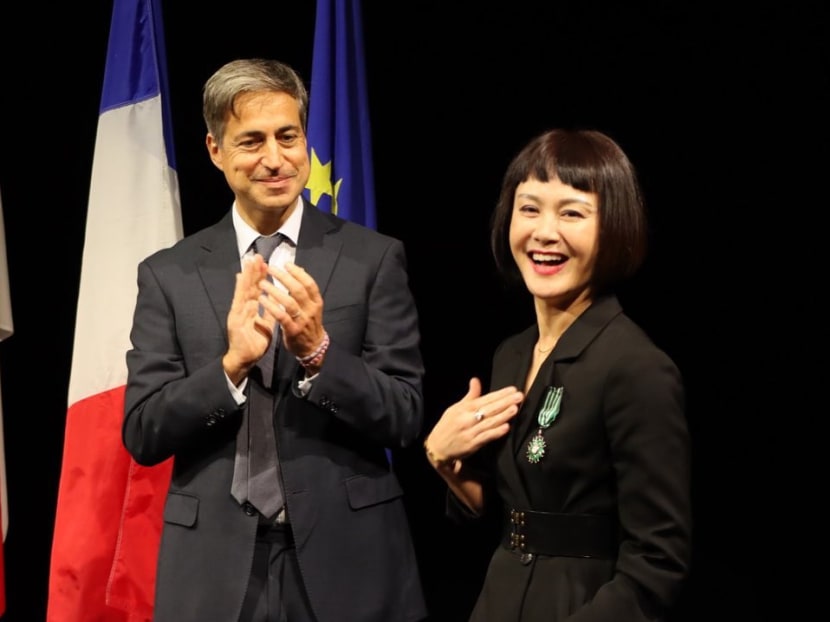 She's a lauded Singapore theatre and TV actress, Crazy Rich Asians' cast member, former Nominated Member of Parliament, mother of two and as of Monday (Jun 6), officially a French knight. 
Multi-hyphenate Janice Koh has added yet another feather to an already overflowing cap after being awarded the title of Chevalier dans l'Ordre des Arts et des Lettres (or Knight of the Order of Arts and Letters) by the French government.
The Order of Arts and Letters is an award established in 1957 by France's Minister of Culture to recognise people who have made significant contributions to the arts and literature.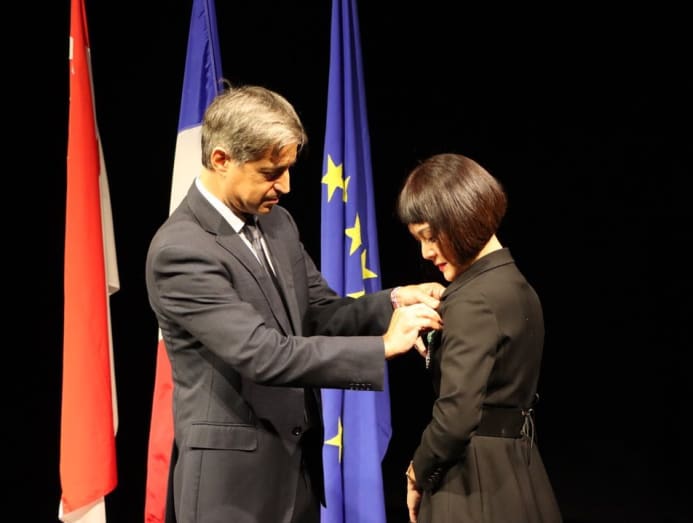 "Your contribution and your sense of commitment to the art scene in Singapore is of great value," said Marc Abensour, Ambassador of France to Singapore, during Koh's conferment ceremony held on Jun 6 at Wild Rice's Ngee Ann Kongsi Theatre. "You have always dedicated yourself completely to the different roles you played on stage or on screen."
He added: "Your friendship with France is special. You have been present at every step of the very fruitful collaboration between France and Singapore in the performing arts over the last years."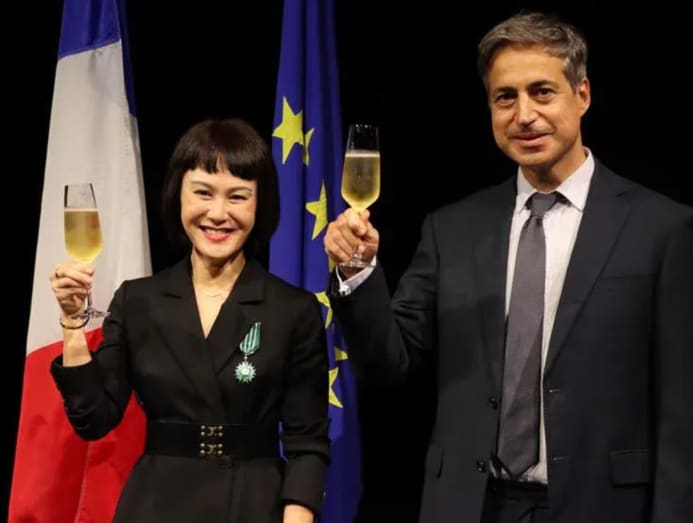 Koh's French connection has been long and varied. She has starred in acclaimed plays such as French writer and director Joel Pommerat's The Reunification Of Two Koreas, which played to sold-out crowds in Singapore and France in 2018; George Clemenceau's The Veil Of Happiness for the Voilah! Festival in 2020; Pangdemonium's production of French novelist Florian Zeller's trilogy of The Father, The Son And The Mother; and her most recent triumph, Project Salome, writer-director Ong Keng Sen's deconstruction of Oscar Wilde's 1891 French one-act tragedy Salome.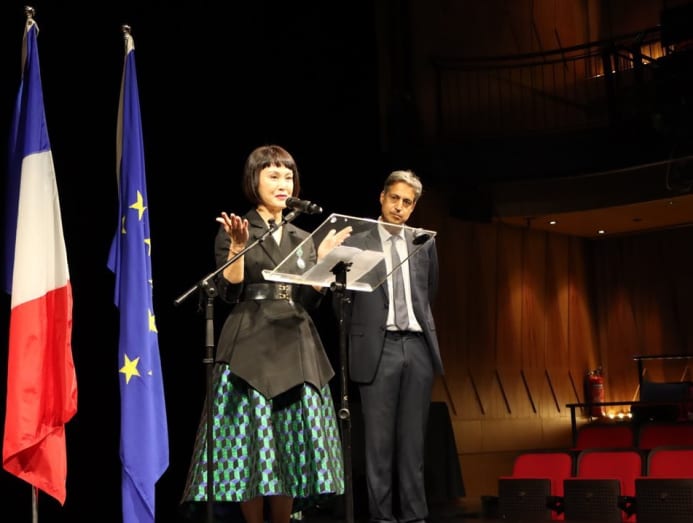 In a passionate and emotional speech, Koh said she was "honoured and deeply humbled".
She said: "Honoured because this special recognition is an affirmation of the vital importance of the arts, culture and creativity in society – an industry that I am immensely proud to be working in and contributing to – but also deeply humbled because I feel so fortunate and touched that the French government has chosen to confer this prestigious award on me."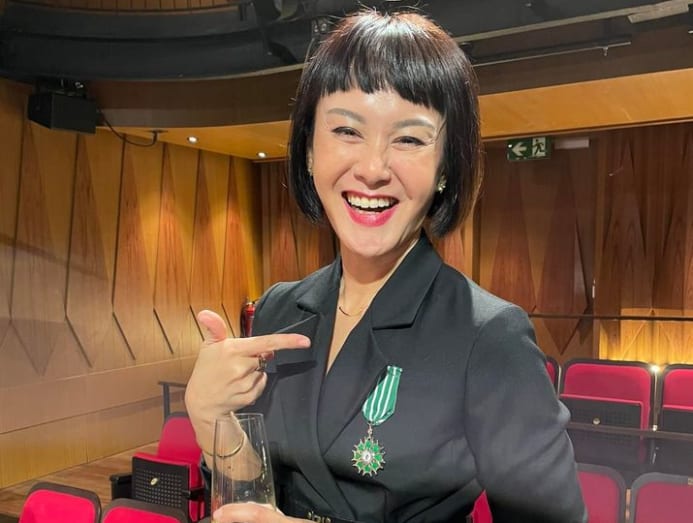 The 48-year-old pointed out that this may be "quite possibly, the only national honour I can expect to receive in recognition of my work as an actor".
"As actors, unlike writers, painters, composers, filmmakers, or even directors, we don't usually get awards like this one," she explained. "Maybe it's because we don't make anything really tangible… We channel, we inhabit, we energise the space, we fill the silence."
Which is why Koh is "grateful" for this recognition as a performer.
"And more importantly, for the message the French government is sending through this award – that culture and the arts play an important role in bringing people and countries together, and that artists, actors included, are valued and worth celebrating," she said.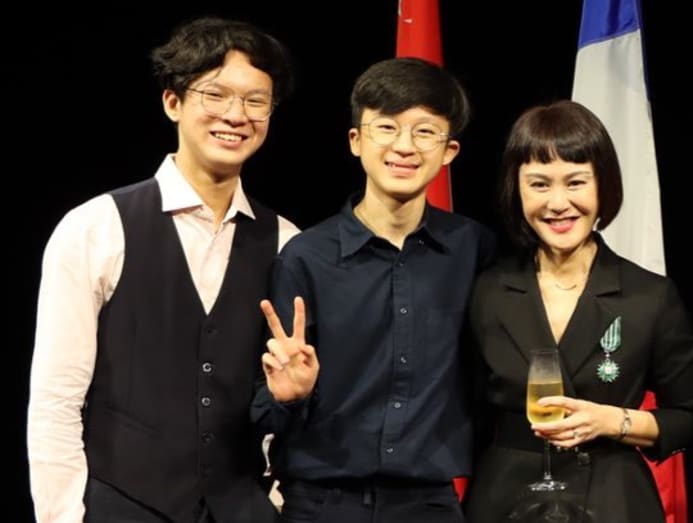 After the ceremony, Koh reiterated her gratitude.
"As for my role as Chevalier, I am committed to being worthy of this honour, to making work that is meaningful and impactful, and to strengthening the ties between our two countries," she wrote on social media.
To date, 40 Singaporeans have received this honour and Koh is one of three awardees this year.
The other two were Pamelia Lee, senior director of tourism development at the Singapore Tourism Board, and Gwen Lee, director of the Singapore International Photography Festival.