Japanese band Arashi wants to stay connected to fans during indefinite break
Fans won't 'feel so lonely' with Arashi's new social media accounts announced during a press stop in Singapore.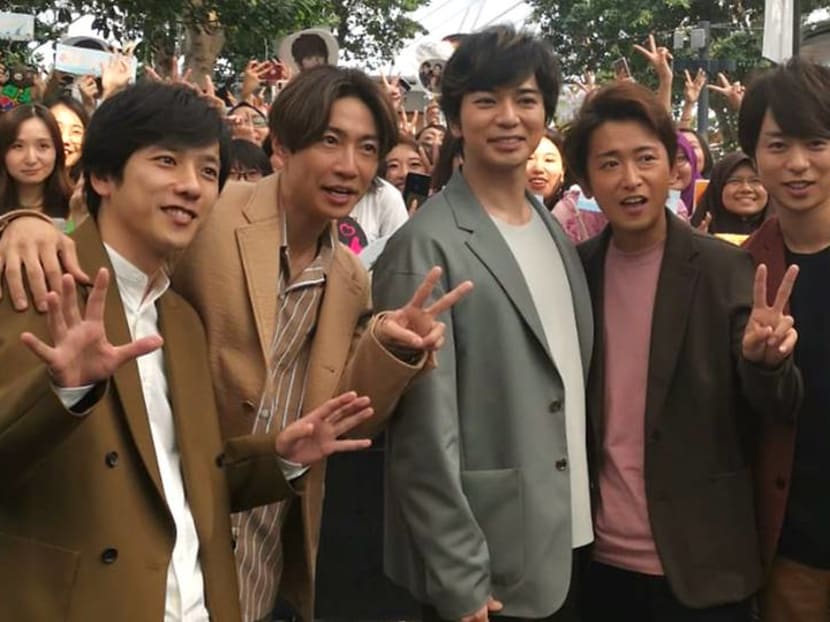 They are one of the OG Japanese boybands of the 90s but that doesn't mean Arashi is done connecting with fans – even though band members Satoshi Ohno, 38; Sho Sakurai, 37; Masaki Aiba, 36; Kazunari Ninomiya, 36; and Jun Matsumoto, 36, are taking an indefinite hiatus from the entertainment scene at the end of 2020. 
The decision came about as leader Ohno wanted to take a break.

The quintet made the announcement at a press conference held at Jewel Changi Airport on Sunday (Nov 10) to promote their new official social media accounts (@Arashi5official on both Facebook and Instagram) as a way for fans to not "feel so lonely" during their absence.

They needn't worry about fans forgetting them. 
About 50 of them, picked via lottery, were given access to the press conference. More than a thousand fans packed two viewing areas on the sidelines and neighbouring restaurants, queueing as early as 5am to secure a spot. About 40 fans from Malaysia even chartered a bus to come to the event.

Matsumoto thanked fans for their support and said he was "pleasantly surprised" at the passion fans have towards the group. He added that they have since received several messages from fans in Singapore through social media, but Sunday's event was to meet them face-to-face.

"We are able to be here today celebrating our 20th anniversary because of the support that you have been giving us all this while," he said.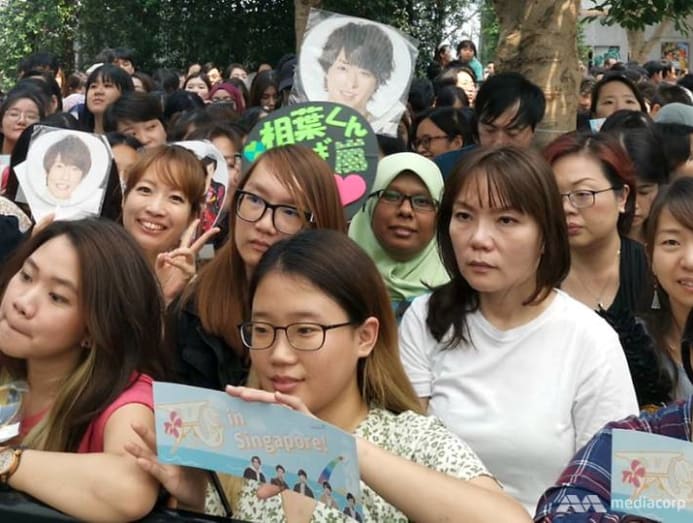 The band's Jet Storm promotional tour, which kicked off in Jakarta before making its rounds to Singapore, Bangkok and Taipei, is probably the only chance fans here can meet Arashi in person. Their last tour in 2006 took them to Seoul, Taiwan and Bangkok.

Regional fans were excited about the tour as the group rarely ventures out of their native Japan. 
"It feels so surreal," said 23-year-old Ngeh Chee Yen, who travelled from Malaysia. "While I am disappointed that there won't be a concert in Southeast Asia, this meeting is a memory I'll cherish for life."

Vivien, 25, was among the lucky fans who scored a ticket to the press conference. "I can't believe I got to meet them and (I'm) excited... Just feel like crying a little bit as well," she said.

Maya, 30, an administrator for a local Arashi fan page, said: "Most of us in Singapore can't see (Arashi) in person because it's so hard to get tickets to their concerts, so having them come here is a big thing for us," she said.

The good news is, fans can access all of Arashi's singles, including their 65th, Turning Up, on music streaming sites. They were released on Nov 3, the 20th anniversary of their debut single, A.RA.SHI.

Arashi, one of Japan's best-selling acts, are managed by Johnny's Entertainment, the talent agency behind male groups such as SMAP and Tokio. In May, they are set to play two dates at the Japan's new National Stadium, ahead of the 2020 Tokyo Olympics.