Jay Chou, Stephen Chow coming together for 'collab of the century'
Fans were thrilled when the Mandopop singer and Hong Kong's comedy king began hyping each other up on Instagram.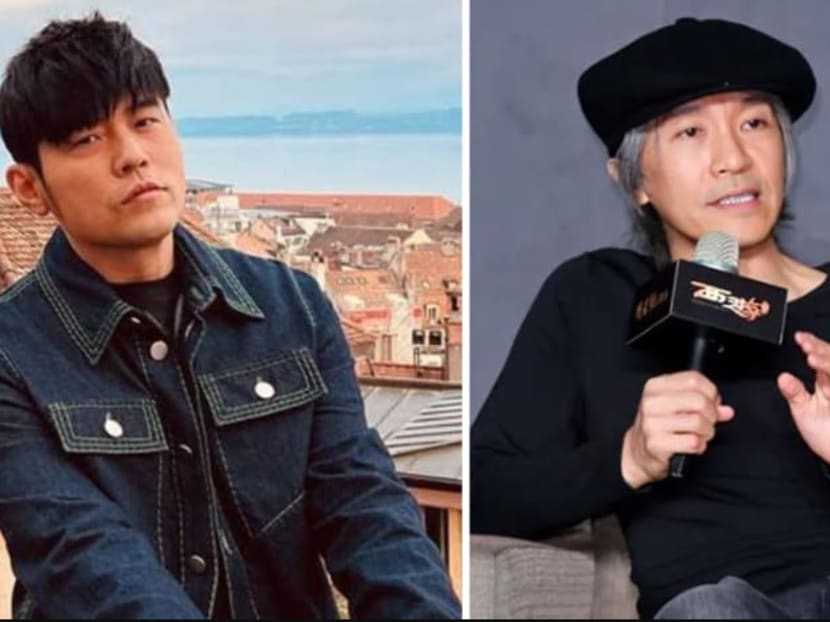 Fans of Jay Chou and Stephen Chow, brace yourselves as the Mandopop king and Hong Kong's comedy king are getting together for a collaboration.
Yes, Chow's agency has confirmed rumours of a collaboration, saying the stars are "indeed in talks" but cannot yet make an announcement.
Chows parked rumours of a collaboration when he posted a pic of himself enjoying a glass of red wine, while listening to Chou's album Greatest Work Of Art on Tuesday (Mar 7). 
In his Instagram caption, he tagged the singer, writing: "See you in Hong Kong!"
Soon after, Chou, who is holidaying in Paris, commented: "Sing ye's taste is too cool."
Chou also shared on his Instagram a pic of himself holding the ace of clubs card and beside him was a screen showing Chow from his 1991 comedy God Of Gamblers Part III: Back To Shanghai.
"Sing ye, do you want me to bring you a few bottles of red wine from France or do you want me to get you Pierre Cashon?" he said. The character Pierre Cashon (played by actor Declan Wong) is known as the "French God of Gamblers" in the movie.
Naturally, fans were thrilled by the news, dubbing it the "collab of the century".
"New group?" quipped one netizen, while another wrote: "The two bosses are doing something together, looking forward to see what sparks will fly."
Fans also began speculating what that might be.
Would Chow make a guest appearance at Jay Chou's Hong Kong concert in May? Would the latter sing the theme song for Chow's highly anticipated The Mermaid 2?
Guess we'll have to wait to find out.
This story was originally published in 8Days.