The artist who illustrates Jeanette Aw's packaging for her new patisserie is also her makeup artist
She even uses expired makeup products in her art.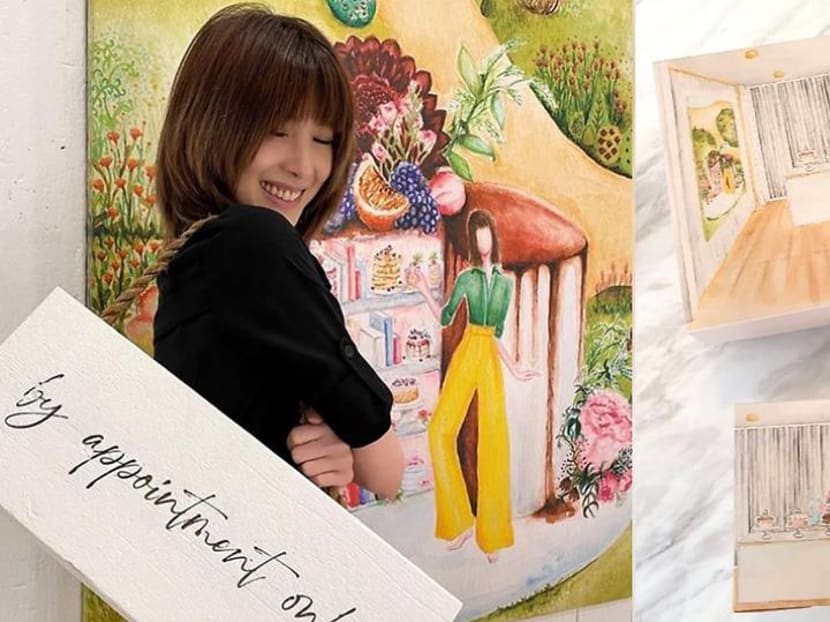 There's no doubt actress Jeanette Aw's new patisserie Once Upon A Time is the talk of the town. Within minutes of its opening on May 25, high traffic crashed its website.
But aside from the buzz on her delicious bakes and the shop's decor, there's another thing that has caught many people's eyes: The artwork on the packaging that reflects the shop's minimalist interior and the lady boss herself behind the counter.
Adorning a side wall in the patisserie is another watercolour painting in the same whimsical style – this time, in vibrant colours. 

So, who is behind the artwork? As it turns out, the artist Elain Lim is also the same person who does Aw's makeup. 
Lim has been a makeup artist for about 25 years, and counts other Singaporean celebrities such as Fann Wong, Carrie Wong, and Stefanie Sun as her clients. 
She specialises in watercolour and acrylic, and has even used expired makeup products in her art as seen on her Instagram post: "Moving towards a more environmentally friendly approach with makeup products. Instead of discarding expired products, use them to create art."

Lim has also conducted art classes and held exhibitions of her works in Singapore.