Jennifer Lawrence's epic 12-hour wedding featured barbecue and lobster rolls
Celebrity guests at the Oscar-winner's intimate wedding to art dealer Cooke Maroney on Oct 19 danced for hours and enjoyed cocktails served in copper mugs.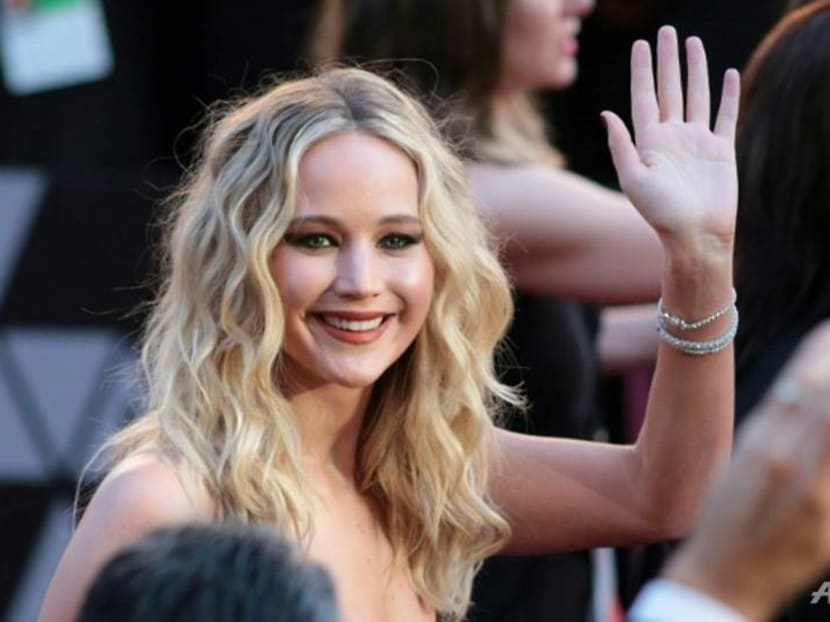 What did Jennifer Lawrence's celebrity friends and other guests get up to at her Oct 19 wedding to art dealer Cooke Maroney?
According to an eyewitness who spoke to E! News, guests at the luxurious Belcourt of Newport were greeted on a lawn with cocktails served in copper mugs. "The wedding had all the touches of fall with dark coloured flowers, apples in baskets and open fire spits roasting beef."
The eyewitness added that all the food was prepared outdoors, including wood roasted fish and heirloom roasted carrots and squash.
The site also reported that the 29-year-old bride, a Dior spokesmodel, wore a wedding dress from the label while her 34-year-old groom wore a black Dior tuxedo.
Her close celebrity friends who were spotted and photographed at the nuptials included Adele, Emma Stone, Amy Schumer, Kris Jenner, Ashley Olsen, Nicole Richie and Cameron Diaz, and their musician husbands, Joel and Benji Madden.
It was also revealed that guests danced for hours at the wedding. "They played all the classics from Jackson 5 to Aretha Franklin. Nobody wanted to leave. Many stayed until 2 and 3am. Jennifer and Cooke didn't leave Belcourt until 5.30am. They were the last guests to leave. They looked very happy but tired. Jennifer had on a long sleeved jewelled dress. Her hair was up with strands framing her face."
According to E! News, the bride and groom stayed at a nearby rental house while their families stayed at nearby properties.
The historic mansion had very tight security during the event, as reported by the UK Daily Mail. Black curtains were taped to the windows, and fake hedges and privacy screens were erected.
The festivities continued for 12 hours with guests treated to a barbecue, singalongs and late-night burgers and lobster rolls.
Before the ceremony, guests enjoyed cocktails and a wood-fire barbecue, followed by dinner and a party, with the band, The Ruckus, performing.
The night before the wedding, the couple held their rehearsal dinner at Rose Island. Guests arrived at the secluded island by ferry, and were treated to a fireworks display.

The Belcourt mansion where the wedding was held is owned by Carolyn Rafaelian, founder of a jewellery company, who bought it in 2012 and restored the historic building.
Lawrence and Maroney met through a mutual friend last year. They were engaged earlier this year and were seen at a New York city marriage bureau in September, which sparked rumours that they were getting married soon.