Jennifer Lopez's bathroom selfie sparks body positivity challenge for mothers
Mothers around the world are embracing their bodies with the #JLoChallenge.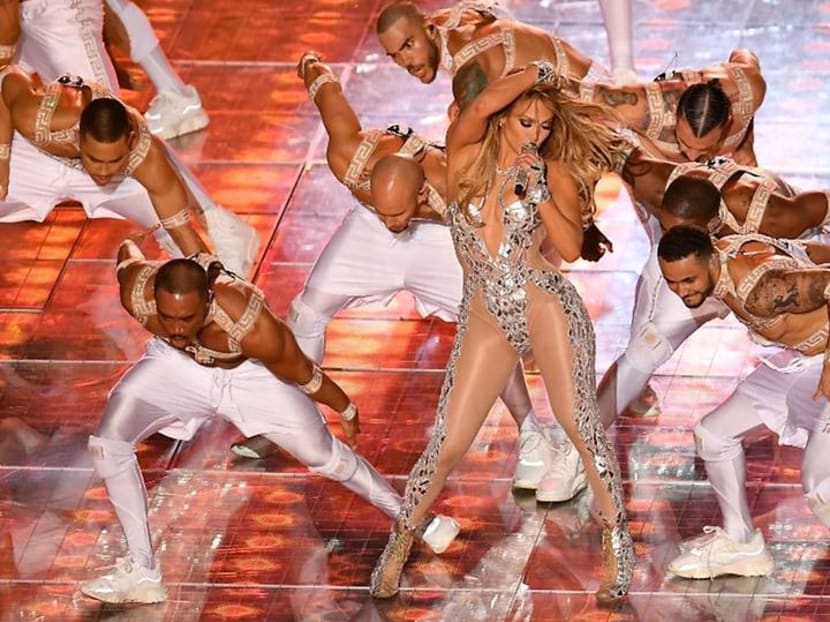 Jennifer Lopez is 50-years-old and she has never looked better.

The singer wowed audiences with her fit physique and sleek moves when she performed at the Super Bowl Halftime show to a pole dance sequence in a sheer Versace bodysuit.
A week before celebrating her twins' 12th birthday, the On The Floor singer shared a selfie of herself in the bathroom striking a pose in a white bikini, to which she captioned, "Relaxed and recharged".
The selfie prompted other mothers to follow suit by embracing and flaunting their bodies, sparking a major body positivity movement.

Maria Kang, founder of the No Excuses Mom fitness community took up the #jlochallenge and posted a selfie of herself (also in a white bikini) to inspire her followers to stop making excuses and start loving their bodies.
The 39-year-old's caption read, "Own your story. Create your own accountability. Don't make excuses for your inaction. If she can do it, if I can do it, if thousands of working moms who come in all sizes, shapes and ages can do it - then YOU CAN DO IT!"
She then went on to challenge her followers to do likewise. "Post your #bathroomselfie and tag 3 friends who can bring it like #jlo #jlochallenge #noexcusemom #whatsyourexcuse."

Personal stories from other mothers began flooding in.
One challenge taker wrote, "I don't have a two piece. At 3.5 months postpartum I'm at my heaviest non-pregnant weight ever. I have SEVERE diastasis recti and am battling breastfeeding cravings and binge eating. I almost couldn't bring myself to take the picture. I have birthed 3 children, overcome trauma and rebuilt myself countless times. Here's to never giving up."
"I am a 37 year old wife, mother, business owner and a proud member of the #noexcusemom community – joining in on the empowering movement of spreading body positivity with the #jlochallenge… I'm choosing to love my body because it gave birth to 2 healthy + beautiful children (now 16 & 13) and has gone through many changes," wrote another challenger.
Another shared, "This is 32, well I'll be 33 in 2 weeks but anyways this is me!... I AM NOT PERFECT!... I don't have abs, and I definitely still working on losing weight, my 3 year old has so much energy I'm exhausted by 8am, waking up at 4am sucks and some days I only drink 30 oz of water. No one is perfect."
Let's get loud says Jenny from the block. There have since been 4,871 posts tagged to the challenge.