This jewellery designer wants you to tell your own stories through her pieces
Mindy Chow's jewellery brand SOAMI is beloved for its personalisation service.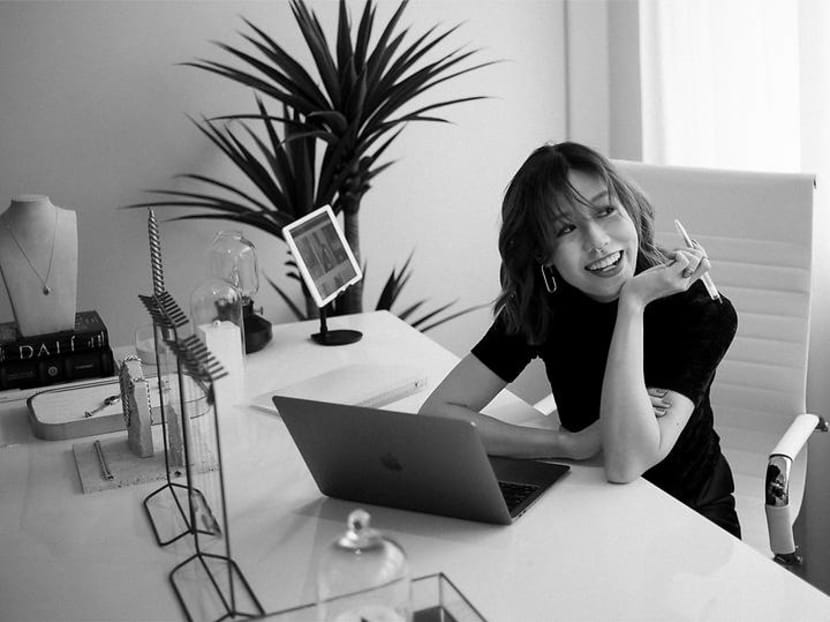 The art of gifting is very much an exercise in storytelling. We want the thing we have chosen for someone – whether it is a tangible object, an experience or something else – to not just be about the gift, but more importantly to communicate our feelings to the receiver. We want said gift to be able to encapsulate a message – a story – that we hope is understood and appreciated.
Sometimes, our intentions are misunderstood or are just not clear enough. Sometimes what we think are witty and fabulous inventive ways of communicating our wishes and hopes for our friends and loved ones are too witty or too obscure and they go sailing over heads like satellites that have flown off-course. Sometimes, then, it is so much better and easier if we can inscribe our messages directly onto our gifts.
Enter SOAMI, a local jewellery brand started by Mindy Alethia Chow, a visual communication graduate from Nanyang Technological University's School of Art, Design & Media.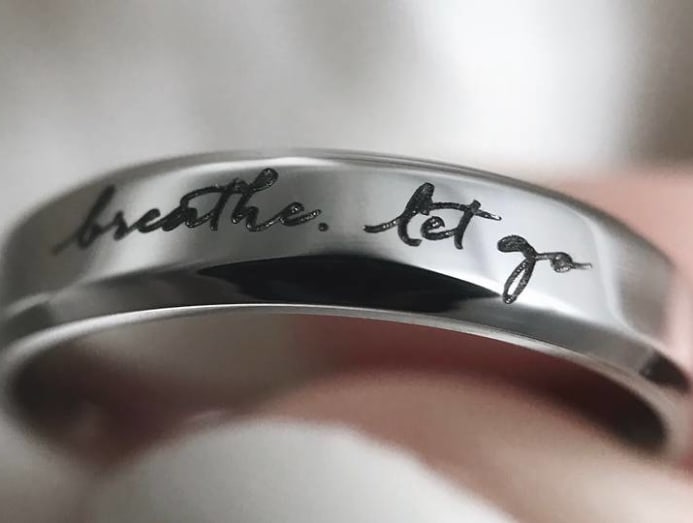 Several of SOAMI's pieces, including the current hero product, her Lumiere Classic Bevelled Rings, are designed to give you the space and freedom to inscribe phrases directly onto the jewellery.
This personalisation is integral to the design and has become something that has made Soami a favourite among young couples.
HI, MINDY. TELL ME ABOUT YOURSELF. WHAT DID YOU DO BEFORE YOU STARTED SOAMI?
Before SOAMI, I was exploring the Graphic Design path as a Visual Communication graduate. I did freelance design work, and MC-ing and hosting on the side. I dabbled in media as a host on Kids Central and did some acting in my earlier years before jumping onto the entrepreneurial bandwagon.
WHAT WAS THE CATALYST FOR SOAMI?
It is so important what we feed our souls – our mind, thoughts, body – and realising that we all need encouragement and kind reminders every day, and I wanted to make that concept a little more "tangible" for people.
WHAT GAVE YOU THE CONFIDENCE TO START YOUR OWN JEWELLERY BRAND?
After graduation, I joined Lululemon. I loved it there and they left a pretty big impact on me. I was surrounded by motivated, supportive people and a team who constantly pushed me to chase my dreams.
We had this "Goal Wall" in the store where we would write down the goals we wanted to crush, and everyone could read them and hold you accountable to them. I know now that simply talking about your goals and getting excited about them can steer you in that direction in ways you cannot imagine.
In my time there, I would take in all of it – connecting with the customers, noticing what makes people love the brand so much, why they keep coming back, why anyone would pay so much for a pair of athleisure pants, etc. I thoroughly enjoyed analysing, observing, dissecting and learning the little things that contributed to the success of this global brand.
Then, it hit me one afternoon as I was folding pants! That I love the idea of building something and watching it grow. Seeing something take its own form gives me so much fulfilment. My time there created a confidence in me that was just waiting for the right, opportune moment to start the fire, and on one of my travels, I met the humblest craftsman, and everything fell into place from there.
FROM CONCEPT TO ACTUAL LAUNCH, HOW LONG DID IT TAKE?
I conceptualised the idea in November 2016 and was able to launch in February 2017. So, just three months, actually.
WERE THERE ANY SURPRISES OR HICCUPS DURING THAT PERIOD?
In the first month, I signed up for SOAMI's very first pop-up booth at Central Mall with a very small inventory that fit into a small container. Along with display props and banners, everything fit into one suitcase; this really tickled me as I looked around and saw the other vendors lugging bags and bags of things, and there I was strutting in with one suitcase like I was going on a holiday.
The more surprising thing was that we broke even and made a profit at my very first pop-up! That gave me so much confidence as I knew that there was a demand for whatever I was putting out, and that people appreciated even the very clumsy beginning of our brand and aesthetics.
That was definitely very encouraging to me as I was bootstrapping it and still paying off university loans while not drawing a proper salary in the beginning, all while reinvesting almost everything back into the business. This was met with a lot of concerns and discouragement from family and friends, as you can imagine! But I pushed through and they were finally convinced when the courier guy started ringing the doorbell weekly to pick up bags of orders for delivery.
HOW WOULD YOU DESCRIBE YOUR BRAND?
Graceful, gentle opulence. I want SOAMI to be a brand that invokes a sense of wonder.
WHAT OR WHO INSPIRES YOUR DESIGNS?
The Aletheia Bar + Disk Necklace was an 'accidental' design when a disk necklace and a vertical bar necklace were overlapped on the display and a customer had thought that was the design. She got so excited about it so we combined them and it subsequently became a very popular design. Our customers inspire our designs. By engaging in online and offline conversations with them, we learn a lot about what people are looking for, and find gaps that are not being met.
I don't believe in following trends as they come and go very quickly. To me the power combination is timelessness and soul. Timeless aesthetics date back to ancient art history which I like to draw references from, and the soul behind the item is what completes it. When you tie meaning and stories to your products, their value increases significantly. I never underestimate this value that I get to create in anything from SOAMI that would bring people hope, joy and excitement.
WHAT DO YOU HOPE YOUR PIECES COMMUNICATE TO YOUR CUSTOMERS?
Our hope is that anyone who receives and unboxes a SOAMI product will feel so absolutely loved. With butterflies in their bellies and a silly grin on their face. That is one of life's greatest joys and we always want to create that feeling for people.
WHAT IS YOUR HERO PRODUCT?
It varies during different periods. Right now, it's our Classic Lumiere Bevelled Rings. They are simple markers of love and so many couples love them as you can put little discreet messages on these classic bands.
WHAT ROLE DOES THE ASPECT OF PERSONALISATION/PERSONAL ENGRAVINGS PLAY?
A massive one! Personalisation has been a big part of SOAMI and our customers love that they can inscribe their personal reminders on our simple jewellery pieces.
WHAT HAS BEEN THE BEST THING TO HAPPEN TO YOU BECAUSE OF WORK, SINCE LAUNCHING THE BRAND?
So many! But an unforgettable moment was when my senior pastor, Pastor Joseph Prince bought an item on the webstore for his wife. I couldn't believe it! It meant and still means so much to me because he has been such a great influence in my life, and the fact that a piece of what I created is in his home is completely surreal to me.
Getting my own office has definitely been one of the greatest milestones this year. It is a sanctuary, not just to me but also to anyone who comes in. I get full privacy to work and create. With a physical space, you get to create sensory play and manifest the brand tangibly. When customers come in and experience the brand physically, it transcends the online experience.
AND WHAT HAS BEEN THE TOUGHEST OBSTACLE IN RUNNING A BUSINESS SO FAR?
As someone with a design background, visuals and aesthetics are so important to me. The challenge is to divide my time, energy and priorities between aesthetics and the non-design aspects. It is very hard for me to make executive decisions that could potentially compromise the branding and visuals, but I sometimes have to. Some decisions that I make directly affect the business' vertical growth, and others affect its horizontal growth. I have to consider this in my decision-making processes in order to make informed decisions, as wrong moves can be costly sometimes and I want to avoid paying financially for my mistakes as much as I can.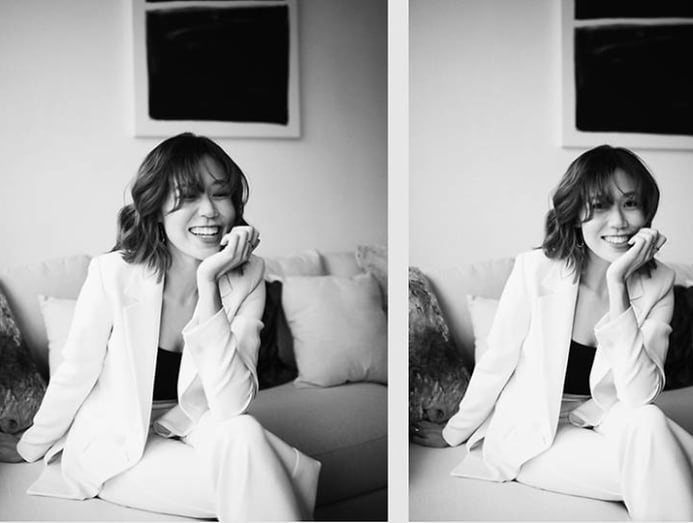 WHAT IS YOUR AVERAGE DAY LIKE?
Apart from my appointment schedule, my days tend to be unpredictable and different as I am pretty spontaneous and pretty much down for adventure any time. I could have no plans when I wake up and end up dancing to Big Bang's live concert on YouTube with a friend by the end of the day.
The closest thing to a regime I have is that I'm in the studio office by noon for appointments. Email after email, content creation, styling and photographing products in the studio, jewellery stamping work, administrative nonsense, endless thinking about marketing and constantly thinking about business development. It is so hard to step out of my own head when it comes to work but I really try to!
DO YOU THINK SINGAPORE IS A GOOD PLACE TO BE A CREATIVE?
Well, Singapore may not be the most conducive place for creatives at this point. Offering an ex-art school student perspective, I find that creative expression here can often feel very contrived and borrowed, what with the struggle for identity, need to be practical, etc.
You have to be really, really good to get somewhere and even so it would very likely be milked commercially.
My personal struggle was identity and feeling a sense of uprootedness when searching for depth and meaning in my work. Our worldview is also very much painted by a myriad of western influences. It can be very frustrating to find your creative voice amidst all of these.
Nevertheless, I understand that our nation's young history required a different focus at the beginning, where creativity was secondary to diligence and other nation-building traits. While it can still feel like you're swimming against the current, we have to learn to swim upstream and work with what we have.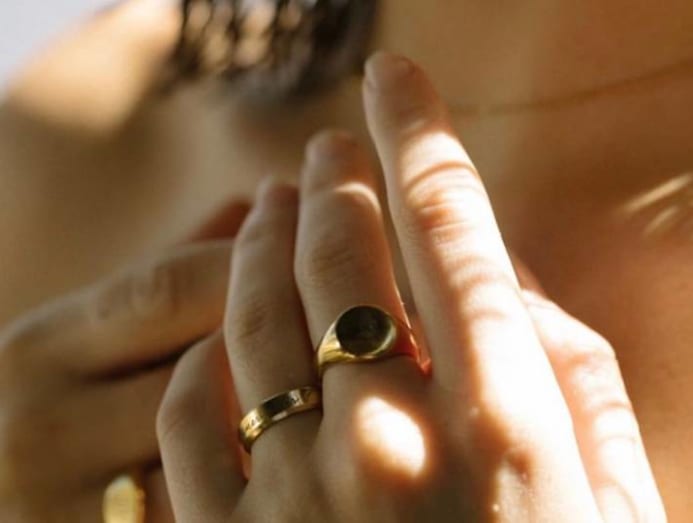 DO YOU THINK THE AVERAGE SINGAPOREAN ENJOYS SUPPORTING LOCAL BRANDS OR DO THEY PREFER TO ACQUIRE BRANDS FROM OVERSEAS DESIGNERS?
Singaporeans are generally more accepting of buying from local brands now, but it also really depends on the product in question and the budget and lifestyle of the individual.
Compared to decades ago, local brands these days have shown impeccable branding and quality at competitive prices. Singaporeans definitely appreciate that. I hear a lot of "I didn't know Brand X was a local brand, their branding is so impressive!" exclaimed with a sense of local SG pride.
I have come across many who can see past the veneer of an exquisite overseas label that has a certain regality tagged to it and prioritise the functionality instead, and others who would still prefer their trusted European artisans and years of perfected craftsmanship for certain things. Great branding and clever marketing plays a big part in courting consumers and making them fall in love with a brand.
Instagram and many other platforms have also jumped on board with the Support Local movement. Sticker taps and hashtags featuring local businesses really help.
I'm excited that we – consumers, fellow business owners, organisations like the Singapore Tourism Board – are channelling more support towards locally-owned businesses and that people are increasingly seeing more value in local businesses. Being a brand in Design Orchard Singapore, I'm truly encouraged to see the increased support and spotlight on local brands.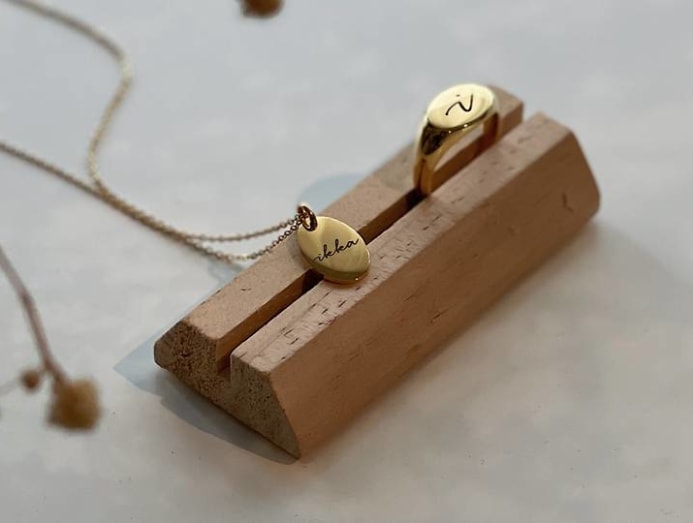 HOW HAS THE PANDEMIC AFFECTED YOUR BUSINESS?
Operating the business in such unprecedented, uncertain times, the digital advertising sphere is highly saturated as businesses vie for the spotlight. This has driven up the costs of digital marketing and advertising.
The absence of physical pop-ups, workshops and events has pushed the business into the online sphere, mainly.
That said, it has been interesting to learn to navigate through this along with fellow business owner friends by finding new ways to engage and switching up our perspectives and methods.
WHAT IS YOUR VISION FOR SOAMI?
Our vision is to encourage intentional living and boldness through simple, timeless jewellery and other exquisite creations.
I want to build an empire out of SOAMI that goes beyond jewellery. I hope everything we create will be centred on love, based on real stories and drenched in meaning.
ANY COOL PLANS FOR THE REST OF THE YEAR YOU WOULD WANT TO SHARE?
We have a pretty cool collaboration coming up with a local shoe brand that we're excited about.
We are also working on our bridal and bespoke fine jewellery line called Dion by SOAMI – it's named after my younger brother.