Watch JJ Lin surprise singer Hong Junyang with a guitar for his birthday
It was a yellow Fender Telecaster.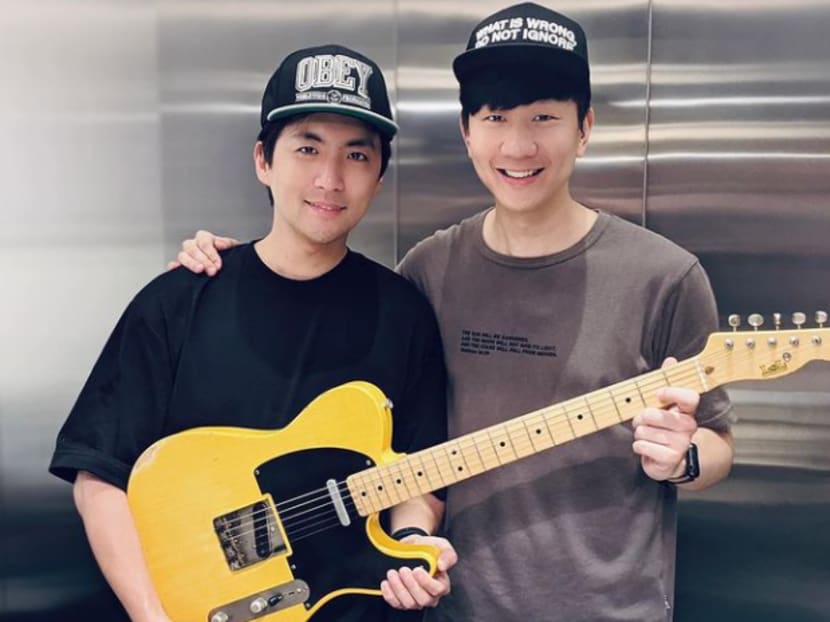 On Tuesday (Aug 17), JJ Lin surprised his buddy, singer Hong Junyang, with a special gift for the latter's birthday. And everyone got to share in the joyous occasion as he posted a clip of the moment on Instagram. 
JJ first shared a photo of the duo holding a bright yellow Fender Telecaster guitar. He captioned it: "To 22 years of brotherhood and music making! Happy birthday." He also added a hashtag to say that a video surprise was coming up.
It was revealed in the subsequent post that JJ had surprised Junyang with the guitar as a gift. The newly turned 40-year-old was cutting his cake when JJ came in with the present and started singing Happy Birthday.
Upon seeing the guitar, Junyang covered his mouth with his hands in disbelief. "Bro, really ah?" he asked after JJ finished singing.
The exchange was followed by JJ's infectious laughter, while the pair hugged.
According to JJ, Junyang had tried the Telecaster at the shop and couldn't stop playing it so the Sanctuary singer just had to get it for him.
He joked that the birthday boy now has to add a guitar segment in his future concerts just to be able to showcase this guitar, to which Junyang replied, "I will add 10 more!"
JJ also quipped that Junyang will need to match his costumes with the guitar, and later referred to the instrument as Junyang's "new marriage".
Junyang married wife Candyce in 2010 – both of them were contestants on the singing competition Project SuperStar 2005 – and JJ flew back from overseas to surprise them at their wedding.
Junyang explained in a comment on JJ's post that he had always been looking for a Telecaster that spoke to him, and that when he first played this guitar, "memories of the songs that we used to listen (and) play to back in the days suddenly came back".
The pair were schoolmates in junior college. 
He also said that he will write and record more songs with the guitar and he hoped to "jam (and) rock out a song on stage with this guitar" with JJ one day.