Watch JJ Lin's surprise performance with Jay Chou for an online fundraising show
Lin was not in the International Nurses Day show lineup that also included Andy Lau, Jam Hsiao, Stefanie Sun, Karen Mok and more.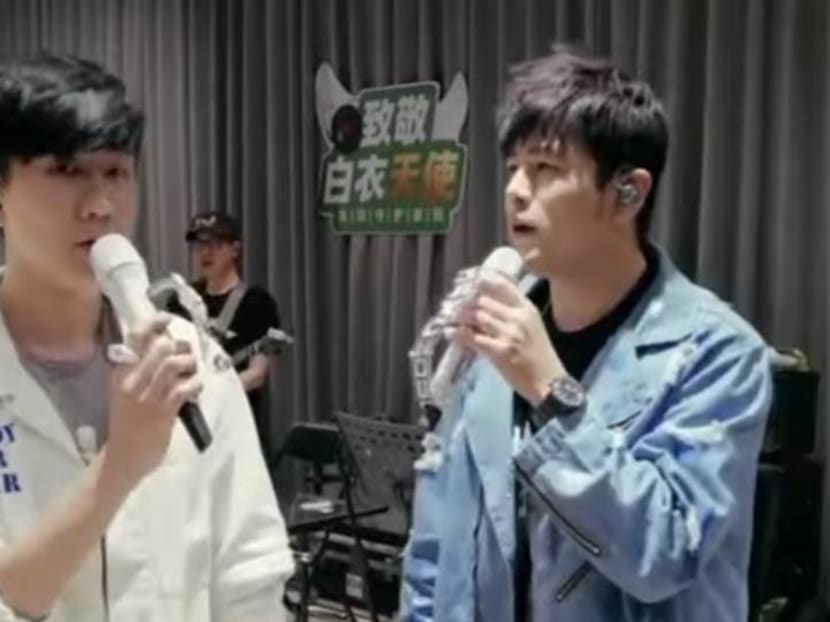 The Mandopop online charity concert hosted on Monday (May 11) was a massive undertaking that featured the scene's biggest stars, but what made it even better was a surprise performance from our very own JJ Lin.
Lin, who performed together with Jay Chou, was originally not listed as part of the show that had a lineup that included the likes of Andy Lau, Jam Hsiao, Stefanie Sun, Fish Leong, Gigi Leung, Karen Mok and many more.

Held in conjunction with International Nurses Day yesterday (May 12), the online concert honoured frontline workers and was done to raise funds for them in the fight against COVID-19.
The marathon concert, which last more than four-and-a-half hours, saw Lin appear around the three hour and 42 minute mark.
Chou began his segment singing Rice Field, before getting up and opening up a door to a studio revealing Lin, who continued with the song together with Chou.
After the beautiful duet, Lin said: "We are here to pay tribute to the angels in white and say to them, 'You've worked hard!'."
Chou then suggested that they sing a song that he had composed for Jacky Cheung called Waiting For The Wind And Rain To Pass, which was dedicated to frontline medical workers.
However, Lin said that there it a lot of pressure to cover a Jacky Cheung song, and Chou brought up Lin's own COVID-19 song called Stay With You, which he composed with Stefanie Sun earlier this year.