JJ Lin on his Miracle Coffee pop-up at MBS: 'I will make the coffee but I'm not allowed to serve'
You have slightly less than 90 days to catch a glimpse of the Mandopop star who says he will be at the store making coffee.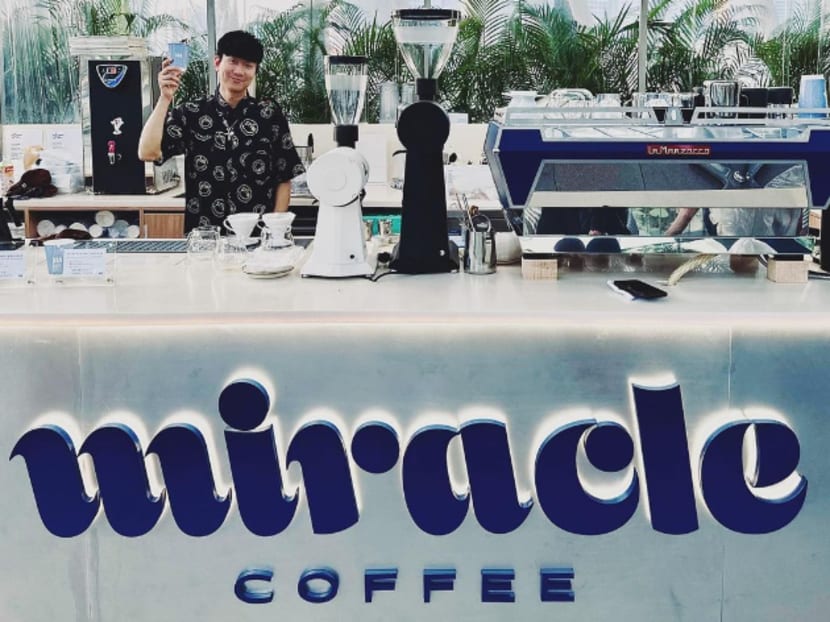 Singaporean singer-songwriter JJ Lin's Miracle Coffee pop-up experience opened yesterday (Sep 30) at the ArtScience Museum's outdoor Rain Oculus. The Mandopop singer was in attendance for the opening ceremony.
To Lin, coffee is the best way to connect with people and serve the community. Through his coffee shop, he also hopes to help people become appreciative of the little things in life. "Miracles in life needn't be big events, being able to catch the sunrise, or even cycle to MBS, everyday can be a miracle."
When asked why Singapore is the fifth city on Miracle Coffee's expansion plans, the star shared, "Being Singaporean, you always want to bring the best back home. Ever since I started Miracle Coffee, I've always wanted to bring it back home. Whenever I'm in Singapore, I would be looking for spaces. I would ask Jun Yang (fellow Singaporean singer) for suitable spots to open a coffee shop."
Why MBS? "I'm always at MBS. Whenever we cycle by MBS, I would be looking for coffee," said Lin. "I did a charity show here during the pandemic and we started talking (about Miracle Coffee). And now we have Miracle Coffee at MBS. It's destiny."
Will Lin be at the pop-up? "I have no other activities. Whenever I have pockets of free time, I would think 'what should I do' and eventually end up at my store, it's the best hangout spot."
Will he be serving coffee? "I wish I can literally make coffee and serve everyone," joked the singer. "I will make the coffee but I'm not allowed to serve."
Fans started queuing at the pop-up from 5:40am on Friday, ahead of the cafe's opening at 12pm. The physical queue is limited to 200 people at any one time. The queue system requires one to register for a slot via a QR code before getting notified when it's your turn.
The pop-up will serve 10 signature coffee options, as well as a Singapore-exclusive beverage, the Kaya Cloud, an Americano-style coffee topped with fresh cream cap flavoured with kaya, and shaved gula melaka.