'I helped her write Harry Potter': JK Rowling's ex-husband blasts writer's abusive marriage claims
Former TV reporter Jorge Arantes has claimed he helped her write the first book in the wake of her claims she feared he would have burned the manuscript if she had tried to walk out on their turbulent marriage.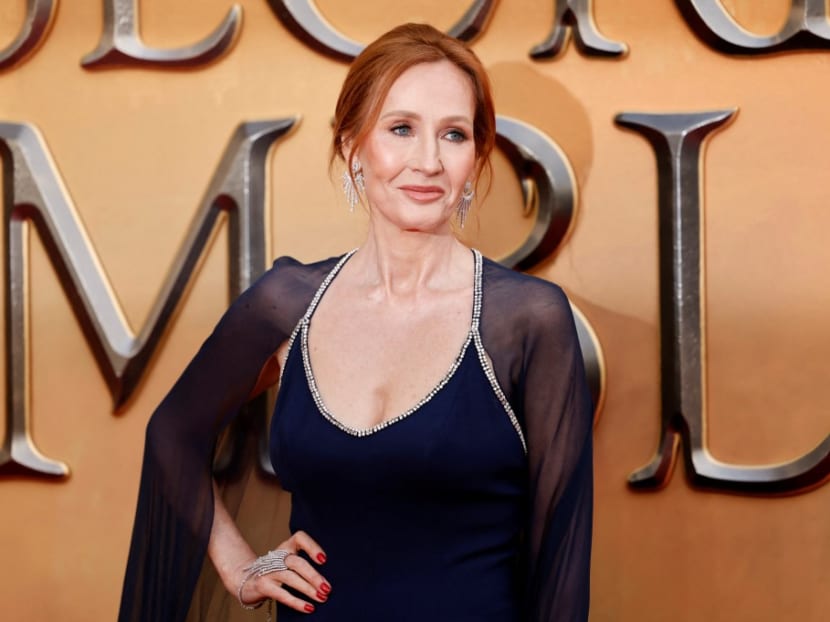 JK Rowling's husband has branded her "delirious" over claims he would have burned her Harry Potter manuscript – and claimed he helped her write it.
Former Portuguese TV reporter Jorge Arantes, 56, spoke out after the author claimed during a podcast he was so controlling she had to photocopy her Harry Potter novel at work as she wrote it as she thought he would have held its pages "hostage" if she tried to walk out on their marriage.
Arantes, who has admitted slapping Rowling once during a row in their stormy relationship, told Mail Online on Monday (Feb 27): "I don't know why she is saying what she is now, maybe she is delirious from three years of COVID lockdown.
"I was surprised when I read about this. I deny it. It doesn't make any sense. Why would I do something like that? Maybe you should ask her."
Adding he helped create the book, Arantes said: "When she was writing the book, I was participating in it, she was reading it out to me, and I was reading it to her.
"The first book was fascinating; the writing was wonderful, and I always liked it because we shared a passion for literature, and especially literature for children.
"The project was for seven books, and I was very involved with the first one and she knows that. She started writing it when we were together."
Multi-millionaire Rowling was married to Arantes from 1992 to 1995 and they had daughter Jessica, 27.
The author said she was forced to sneak notes on her future hit novel out of the house a few pages at a time so she could photocopy at them at work as she was petrified he would burn them up if she left them in their house.
She told The Witch Trials Of JK Rowling podcast about her marriage that Jorge knew what her first manuscript meant to her "because at a point he took the manuscript and hid it".
Rowling – now worth an estimated £850 million (S$1.38 billion) thanks to the Harry Potter book and film franchise – added: "That was his hostage."
Telling how she started taking her manuscript out of the house after she decided to walk out on Arantes, the author said: "When I realised I was definitely going to go I would take a few pages of the manuscript into work every day, just a few pages so he wouldn't realise anything was missing, and I would photocopy it.
"Gradually in a cupboard in the staff room, bit by bit, a photocopied manuscript grew and grew because I suspected that if I wasn't able to get out with everything, he would burn it or take it and hold it hostage.
"That manuscript meant so much to me and it was the thing that I prioritised saving.
"The only thing I prioritised beyond that was my daughter but at that point she was still inside me so she is as safe as she can be in that situation."
Rowling has previously spoken about her stormy marriage to Arantes, who she met at a bar when she was teaching in his native Portugal, and she published details of their relationship in a personal essay published in 2020.
After it was released, Arantes admitted he slapped the writer – but insisted he was not consistently abusive.
He told The Sun: "I slapped Joanne – but there was not sustained abuse. I'm not sorry for slapping her."
Rowling added about how she left the former TV presenter: "There came a night where he became very angry with me and I cracked and I said, 'I want to leave.' "He became very violent and he said, 'You can leave but you're not getting Jessica, I'm keeping her, I will hide her.'
"So I put up a fight and I paid the price. There was a violent scene which terminated with me lying in the street."
The author – who has been married since 2001 to doctor Neil Murray, with whom she has son David, 19, and 18-year-old daughter Mackenzie – also said she was later forced to leave the home she bought with the money she earned from her first Harry Potter book, published in 1997, after Arantes broke into the home after media coverage on her.
Source: Others/Bang Showbiz