Joanne Peh: Live your own lives, mums – your children need you to be happy
The actress discusses what it means to juggle being mother, wife and daughter-in-law – and still be true to herself in CNA Lifestyle's podcast series, House Party For 2.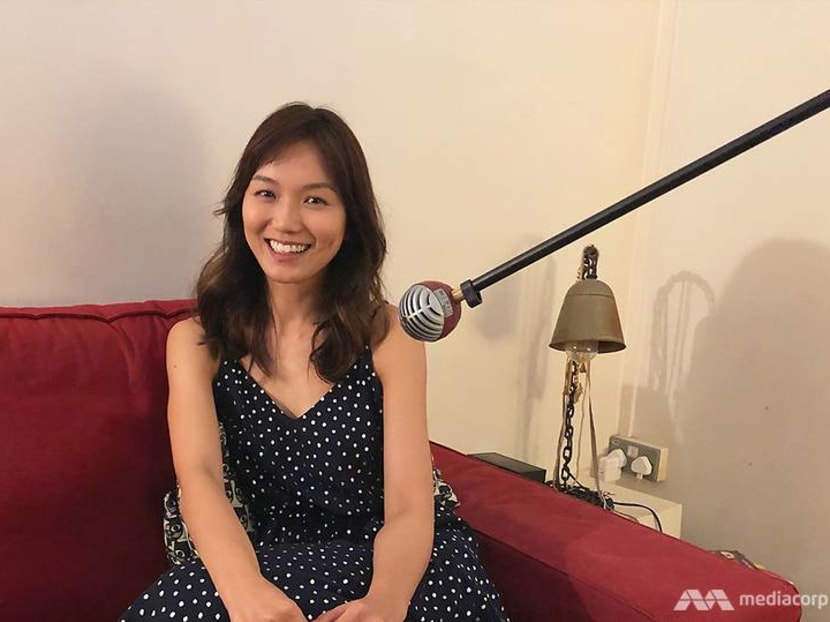 Joanne Peh – one of Singapore's biggest stars in television – feels the way a lot of people with children do, when scrolling through an Instagram feed that makes you feel like you're about three connecting flights and a ride at the back of a donkey carriage away from Parent Of The Year.
"We have all this information and all these picture-perfect social media things going on. We start to compare ourselves to the perfect lives of people who are on social media and think, 'Oh, I want to be like that, why am I not like that?'"
"How is the playroom so tidy and neat? And how is it that their kids can play independently by themselves? I'm like, 'Man, my house is a mess," she said. "The playroom is never tidy, and I think I'm bad at organising and I need a better storage system… That makes me feel bad."
I wasn't prepared for this. I've always wanted to be a mother, but no one ever told me it was going to be a double-edged sword.
It's a familiar sentiment of self-doubt and parental insecurity – at least I think it is, with knowledge gleaned from conversations with friends owning offspring of their own.
Full disclaimer: I do not have children, and I am male so therefore not a woman and will never be a mother. I thought it wise not to share any parental tips, learnt from a lifetime of having cats, with Joanne during our unfiltered conversation over croissants and tarts for CNA Lifestyle's podcast series, House Party For 2.
A project so magnificently professional, it takes the full cooperation of my neighbours in Clementi to pull off just 10 minutes of uninterrupted audio recording in my living room. (This podcast was recorded in early March, so there is no reason to report us to the authorities for breaking circuit breaker protocol.)
"And then I realised that maybe that's not my strength. Maybe we all have our strengths and we have our weaknesses," continued Joanne. "And being aware of that helps me to be kinder to myself. It's something that I can improve on and learn to be better at it – but not beat myself up over."
Joanne Peh first appeared on our screens in 2002 as a Miss Universe Singapore contestant, and then shortly after as a fresh-faced ingenue on Channel 8 dramas – famous for speaking her mind and providing an opinion regardless of its potential reception. After 18 years in an industry that specialises in constructing fictional realities, one would think she should be immune to the effects of a well-lit social media account.
"That's not true, you know?" she said, laughing. "If I watch a fried chicken ad, I'm like, 'Okay, I want to eat fried chicken.'"
I giggled at the contradiction.
Later that night, I ordered an extraordinarily large box of KFC.
Children and parenting were on Joanne's mind during our podcast chat. But being a mother isn't the only part the actress plays in real life. We discussed what it means to juggle the roles of mother, wife, daughter and daughter-in-law – and still be true to herself. Is it possible, I asked, to do it all at the same time and succeed at it?
"By your own standards? Yeah, I think that's possible," replied Joanne. "You're not going to be perfect at everything you do. But even allowing yourself to make mistakes, allowing yourself to fall short and learning from that – that's what is important."
"I think it's very important for a mum to be happy. I wasn't prepared for this. I've always wanted to be a mother, but no one ever told me it was going to be a double-edged sword. Children bring you a lot of joy – but they can also bring you a lot of stress and a lot of not-so-nice emotions as well," she said, smiling. "So, it's very important that we are healthy emotionally and physically. Keeping up with children is one thing, but I think if you're a happy person, it affects the whole family."
Navigating through those multiple roles begins, said Joanne, with mums taking care of themselves – and not being shy to ask for help when needed.
"I think it's very important to have a network of help," she said. "I'm one of those people who think it's important to have my own interests and my own life – so it's not just all about the kids. Because who I am outside will affect how I parent and how I am to my kids."
"I want to be a role model for them… That's why I think it's important that I have my own life and I'm doing the things that I love, so they can see that energy and positivity in what I do," she continued.
"If we are a wreck, the house is going to be a wreck. And that's why I think it's really, really important that women learn to take care of themselves."
And part of learning to care for yourself is to stop punishing yourself when things don't go swimmingly according to plan. "There's no such thing as the perfect balance. I am perfectly imperfect – and I'm happy with that. And that gives me room to improve," said Joanne. "Our lives are not stagnant. It's not the same at every stage – it evolves."
She provided a personal example of growing with the ever-changing narrative, so to speak: Her mother-in-law.
Joanne grew up in a family that isn't exactly touchy-feely and chatty about their feelings. Her husband, actor Qi Yuwu, however, comes from the exact opposite kinda folk. His family in Guangzhou, China, where he is originally from, is very close – she's even envious of their bond, and how everyone can come together for no reason whatsoever besides wanting to have dim sum together.
"It's really nice. And if anyone has a problem, the whole kampong comes down," said Joanne. "If someone is hospitalised for some reason, everyone takes turns to make soup and bring it down."
"I witnessed it just recently. When I was back in China, my mother-in-law wasn't too well and she had to go see the doctor. And every day, her sister would call her and ask her, 'How are you doing?' But you know, for us, we don't have that kind of culture in my family. I was never brought up like that."
"My husband would tell me things like, 'You know, when my mum is sick, you don't ask about her.' And that made me feel like, 'Oh, I'm not doing my duty as a daughter-in-law.' And of course I didn't feel good. I could beat myself up but… it's just not what we do!"
I am perfectly imperfect – and I'm happy with that. And that gives me room to improve.
Joanne was brought up to be a doer. If someone needs help, you do something about it. But when she's not physically with her mother-in-law, bringing her soup is not on the menu. Perhaps she should she send flowers, she thought?
"But sometimes, it's just a phone call," said Joanne of the lesson she has now learnt. "Just simply asking [how someone is]. That is one way of showing concern. That is one way of showing them that you care."
"And that's allowing yourself to be imperfect and learning from it."
Learn what will make you better, and be okay with what you can't help. That's sound advice even for people without children, spouses or in-laws.
Listen to the full House Party For 2 podcast to find out Joanne's approach on her own social media, what Qi Yuwu first noticed about her personality, and how she may very well have defended her fellow Miss Universe Singapore contestants against the tyranny of a fashion stylist on the warpath. 
New episodes of House Party For 2 are published every Sunday at cna.asia/podcasts.