Joanne Peh reveals her first impressions of Qi Yuwu, says she never thought he would be her future husband
Yuwu, however, turned out to have all the qualities Joanne was looking for in a man.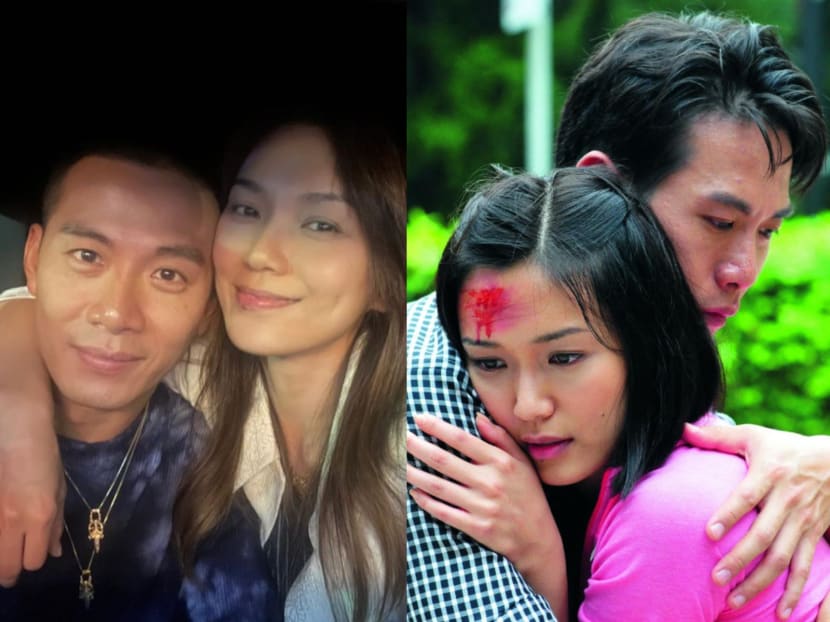 Joanne Peh recently celebrated her 20th year in showbiz with an emerald-themed party at the Van Gogh exhibition at Resorts World Sentosa.
In a recent episode of Mediacorp bite-sized series Just Swipe Lah!, Joanne, 41, and her husband Qi Yuwu, 46, looked back at her past two decades as one of Singapore's biggest stars.
For starters, did you know Joanne played Yuwu's girlfriend in her first drama Beautiful Connection in 2002?
Yuwu went on to recall his first impression of his future wife.
According to him, Joanne – who was a student at the Wee Kim Wee School of Communication then – was juggling both school and filming, and it led him to think that she "probably didn't take acting seriously" as her "main focus was still on her studies".
However, Yuwu also observed that Joanne was someone who is "straightforward" and who would "go all out" in her scenes, including when she had to give her first on-screen kiss.
And yes, it was to Yuwu. 
"She's a very forthright girl, and I think that's something about her that hasn't changed until now," he said.
Joanne and Yuwu would go on to play a couple in seven dramas from 2002 to 2013. They got married in 2014. 
While it would be easy to think that they were destined to be a couple from day one, according to Joanne, she "never thought that this person [Yuwu] was going to be [my] future husband".
That said, Yuwu ticked all the boxes for what Joanne was looking for in a life partner. 
"I never thought about his profession, or what he'd look like but I'd say Yuwu's character is quite similar to what I wanted [in a partner]. Someone who knows how to take care of me, who dotes on me, loves me and is romantic. He's all that," she gushed. 
This story was originally published in 8Days.