Ramsay Hunt syndrome caused Justin Bieber's facial paralysis; world tour dates affected
The Grammy-winning singer took to Instagram to explain why the Justice World shows would be paused.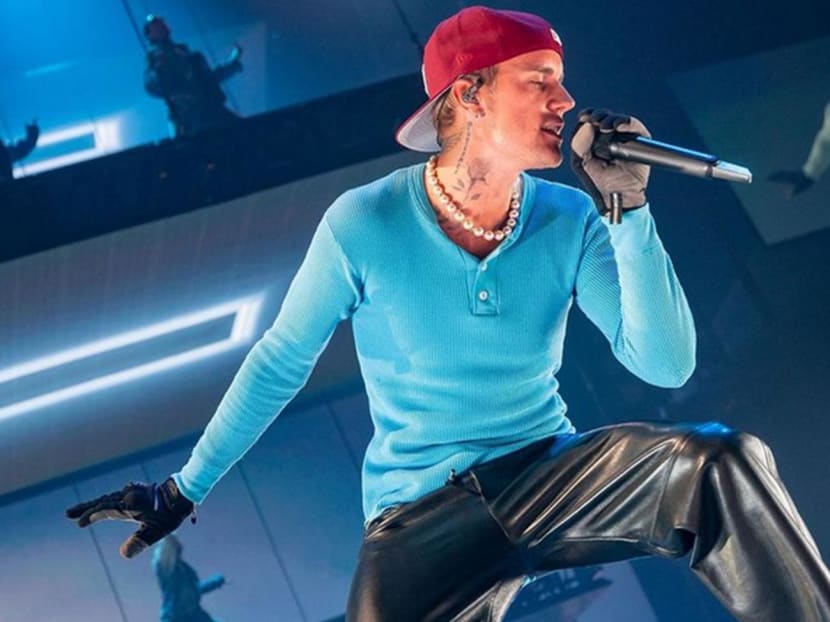 The Biebers aren't out of the woods yet when it comes to health scares. After wife Hailey's run-in with stroke-like symptoms in March (the episode was apparently caused by a blood clot in her brain), it's now Justin's turn.
In an Instagram video on Jun 10 (Friday), Justin shared his reason for pausing his Justice World Tour: He has been diagnosed with Ramsay Hunt syndrome.
"I wanted to update you guys on what's been going on," he said. "Obviously, as you can probably see from my face, I have this syndrome called Ramsay Hunt syndrome. And it is from this virus that attacks the nerve in my ear and my facial nerves and has caused my face to have paralysis."
Ramsay Hunter syndrome is indeed caused by a virus and it's the same one that causes chicken pox. It is a rare neurological disorder that is characterised by what the Grammy winner experiences – paralysis of the facial nerve – and in other cases, a painful, blistering rash affecting the ear as well as tinnitus or hearing loss, according to rarediseases.org.
"As you can see, this eye is not blinking, I can't smile on this side of my face," the Honest singer said, pointing to the right side of his face. "This nostril will not move. So full paralysis in this side of my face."
"So for those who are frustrated by the cancellations of my next shows, I'm just physically obviously not capable of doing them."
He continued: "This is pretty serious as you can see. I wish this wasn't the case, but obviously my body's telling me I gotta slow down".
"I'm gonna get better," he assured his followers. "I'm doing all these facial exercises to get my face back to normal and it will go back to normal. It's just time, and we don't know how much time it's gonna be. But it's gonna be OK, I hope. I trust God. I trust that this is all gonna … it's all for a reason, I'm not sure what that is right now. But in the meantime, I'm gonna rest, and I love you guys," he concluded. "Peace."
Before this announcement, Justin had posted an Instagram Story on Jun 7 that he was postponing some tour dates due to a health issue.
The Justice World Tour was originally scheduled to kick off in 2020 but was delayed twice – it was postponed to 2021, then to 2022 – by the COVID-19 pandemic.
No updates on the Singapore concert have been released at the time of writing.