5 things you should know about KAWS, the artist behind the sculpture at the heart of a dispute
Over the weekend, a 42m-long sculpture along Marina Bay became embroiled in a legal dispute. Here's what you need to know about the international artist behind KAWS, Brian Donnelly.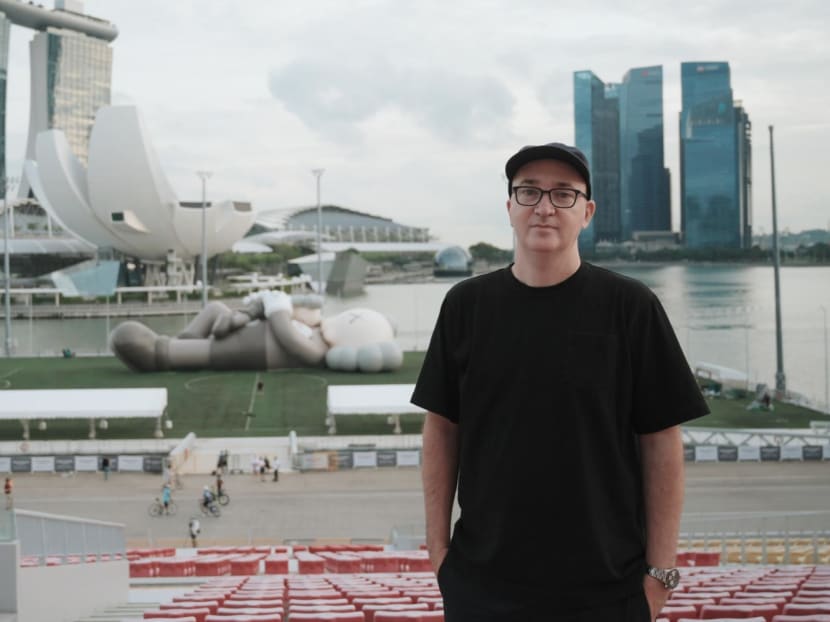 If you were in the Marina Bay area over the weekend, you may have caught a glimpse of a monumental sculpture lounging by the waterfront at the floating platform. 
Decked out in shades of white and grey, KAWS' 42m-long artwork depicts his signature character, COMPANION, embracing a miniature version of itself. Shortly after its launch, the exhibition came to an abrupt halt on Sunday (Nov 14) following a court order against its event organiser, AllRightsReserved. (Update: The exhibition was allowed to reopen on Nov 16.)
CNA Lifestyle earlier had a chance to chat with Mr KAWS himself, Brian Donnelly. From celebrity collectors to Fortnite videos, here's what you need to know about the cultural phenomenon.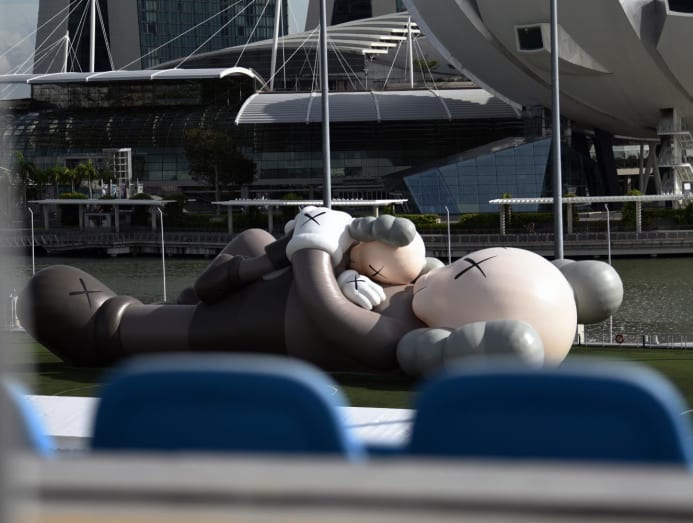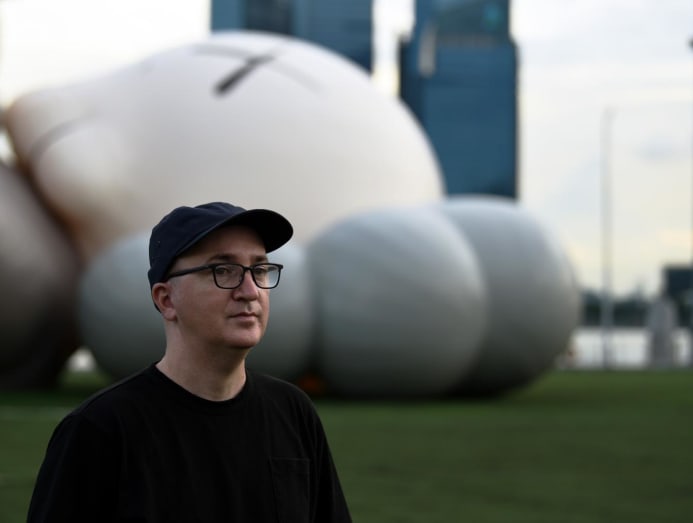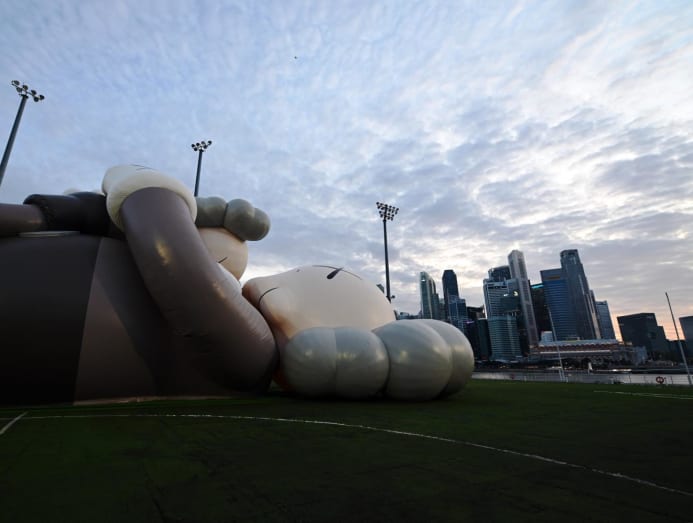 1. HIS WORK REIMAGINES POP CULTURE ICONS, FROM MICKEY MOUSE TO THE SIMPSONS
You're not seeing double if COMPANION reminds you of a certain famed rodent. 
Modelled after Disney's Mickey Mouse, KAWS' most iconic character originated from Donnelly's work as a Disney animator, and his fascination with advertising.
"I don't have anything against advertising. I just accept that it's everywhere. As I got into making sculptures, (it) led me more towards characters," the American artist said. "I just became fascinated by how there's this ageless actor who just is there as a communique for people. I think I use my sculpture the same way, I use it to get my observations and ideas out to the world. So as I get older, they still stay the same."
His series of larger-than-life characters draw inspiration from the likes of Peanuts, Sesame Street and even The Simpsons (playfully reimagined as "The Kimpsons").
Ask him which creation is his favourite, however, and you'd be hard-pressed to get an answer. "Each work is sort of just like a different chapter," Donnelly said. "They feel like children almost, where you're not supposed to favour them, you just appreciate how they all exist."
2. HIS COLLECTORS RANGE FROM BTS TO BIEBER
Donnelly's work has found resounding success in both the art and design world.
The artist's works are highly coveted among celebrity collectors such as Suga, J-Hope and RM from BTS, Justin Bieber and Pharrell Williams. On top of which, his work has adorned products from some of fashion's biggest names such as Dior, Comme des Garcons and Nike. 
Here in Singapore, the artist made waves with the launch of his KAWS x Sesame Street merchandise with Japanese retailer Uniqlo, which drew snaking queues along Orchard Road.
In spite of his prolific career, Donnelly believes in the value of keeping his art inclusive and reaching a broad audience with his work.
"As an artist, I enjoy communicating with a broader audience. I feel like art really should be for everyone," he told CNA Lifestyle. "A lot of people talk about inclusion and diversity, but nobody's really doing that. I want to think about areas that I haven't occupied."
3. HE HAS ROOTS IN GRAFFITI AND TOY DESIGN
Growing up in New Jersey, Donnelly cut his teeth on graffiti art – developing a name for himself by tagging bus stop advertisements with his characters and the tag "KAWS".
"When I was younger, I was doing graffiti and that led me into painting over advertisements," he recalled. "I just thought there were a lot of parallels between (advertising) and graffiti art – because as a young kid in graffiti, you'd want to put your work in high visibility spaces."
Later in his career, his interest in sculpture brought him to Japan to work with toy company Bounty Hunter. "For me, that was the start of making toys," he said. "Seeing my work in 3D immediately made me want to do a second and then third one… it just sort of grew within itself."
But considering the work he puts out now, it's little wonder that Donnelly doesn't seem keen on being referred to as a street artist anymore.
"I haven't done street art in 20 years but it seems like every article written about me mentions that in the first sentence of the first paragraph. And to me, (my current work) has nothing to do with street art," he laughed, gesturing to his sculpture along the platform. 
"I feel like there's a lot of smoke and mirrors in all worlds, whether it's fashion or the gallery system, and museums or institutions. And I always want to kind of navigate around those and mix those things."
4. HIS WORKS SPAN ACROSS GENRES AND UNCONVENTIONAL MEDIUMS
"I remember in the 90s it was really set: You could be a commercial artist, you could be a fine artist, but the two shall never meet," Donnelly said. "I've always ignored that, but now it's become accepted and common for people to do commercial projects."
Even now, the artist seeks to push the boundaries of his practice through new mediums - including those in the realm of video games. 
"Recently I did a project with Fortnite that brought the work to tens of millions of new kids," he said. "And in the last two or three years, I started doing a lot of augmented reality work with Acute. That allowed me to do a lot of work that I could never imagine doing."
Asked if there were any projects he would like to work on, he disclosed that he was recently inspired to make a building. "(A recent project) made me think about the combination of art and architecture. For instance, what if something suddenly became functional? What if (my sculpture) was a library?"
5. SINGAPORE IS HIS SEVENTH STOP FOR THE KAWS:HOLIDAY SERIES
HOLIDAY has toured Seoul, Taipei, Hong Kong, Japan, the United Kingdom and even outer space.
Donnelly admitted that he didn't imagine having all these different iterations in different places.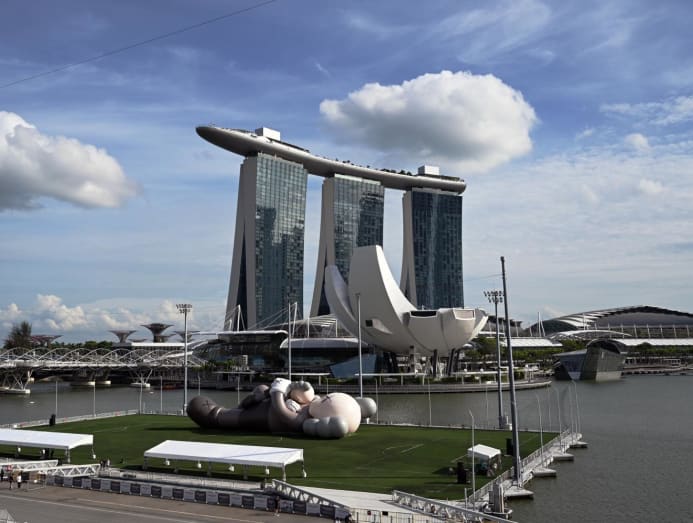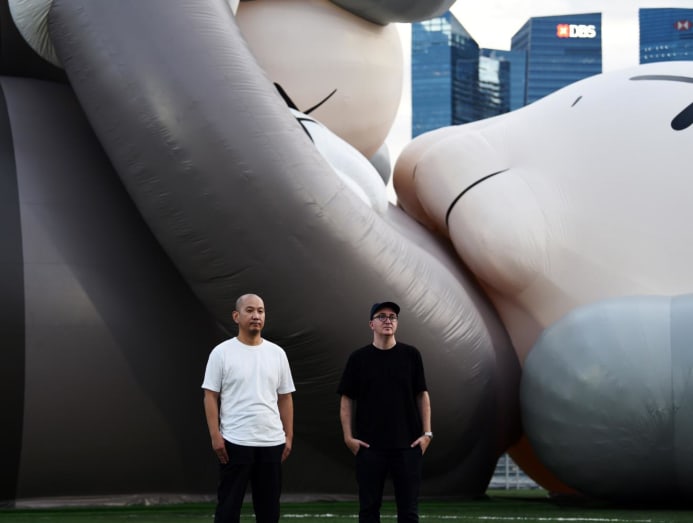 With the HOLIDAY series, the artist explained that he wanted his sculptures to evoke the feeling of relaxing in a pool, laying and looking up with nobody around.
"It's a calm feeling," he said, noting that the sculpture seemed apt at a time when people are emerging from the pandemic. "There's a lot going on in the world, and I think it's a good opportunity to just sort of space out and enjoy a piece of art."
In the context of Singapore, the artist told CNA Lifestyle, "I'm happy to have the opportunity to create a work that can invite people to come out. And I think having these works outdoors is a good way to sort of creep back into the art experience".