Keanu Reeves and Alex Winter confirm Bill & Ted Face The Music
A third part to the hit Bill & Ted films in the late-80's and early-90's is finally happening.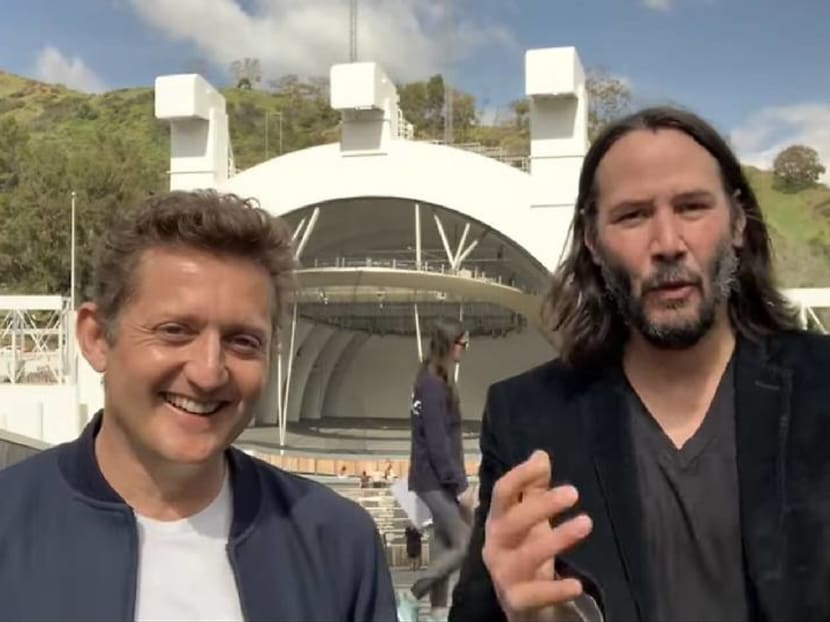 Orion Pictures released a YouTube video yesterday (Mar 20) showing stars Keanu Reeves and Alex Winter announcing the return of the Bill & Ted franchise, titled Bill And Ted Face The Music.
"Hi, I'm Alex Winters, and I'm Keanu Reeves," say the stars in the video. "And together, we are Wyld Stallyns," a reference to their characters' band.
The duo stand in front of the Hollywood Bowl, where Winter notes they will "never play". After thanking fans, the stars announce the film's title. The video description states the movie is set for release on August 21, 2020.
The 1989 sci-fi comedy movie Bill & Ted's Excellent Adventure follows two dim-witted teenagers who use a time machine to bring back famous figures for a high school history class presentation. 
In the 1991 sequel, Bill & Ted's Bogus Journey, a tyrant from the future creates evil android doubles of Bill and Ted and sends them back in time to eliminate the originals. Both films featured the late comedian George Carlin.
Films news site Deadline reported that Galaxy Quest director Dean Parisot will helm the project, with a screenplay by original Bill & Ted writers Chris Matheson and Ed Solomon.
"The stakes are higher than ever for William 'Bill' S. Preston Esq. (Winter) and Theodore 'Ted' Logan (Reeves). Yet to fulfill their rock and roll destiny, the now middle-aged best friends set out on a new adventure, when a visitor from the future warns them that only their song can save life as we know it and bring harmony to the universe. Along the way, they will be helped by their families, old friends and a few music legends," reads a plot synopsis by Deadline.