Style intervention: Making over the underdressed boy and overdressed girl
In this week's Chubby Hubby, Portly Papa column, Aun Koh finds ways to dress his children: One always looks like a slob while the other one thinks she's a sparkly unicorn.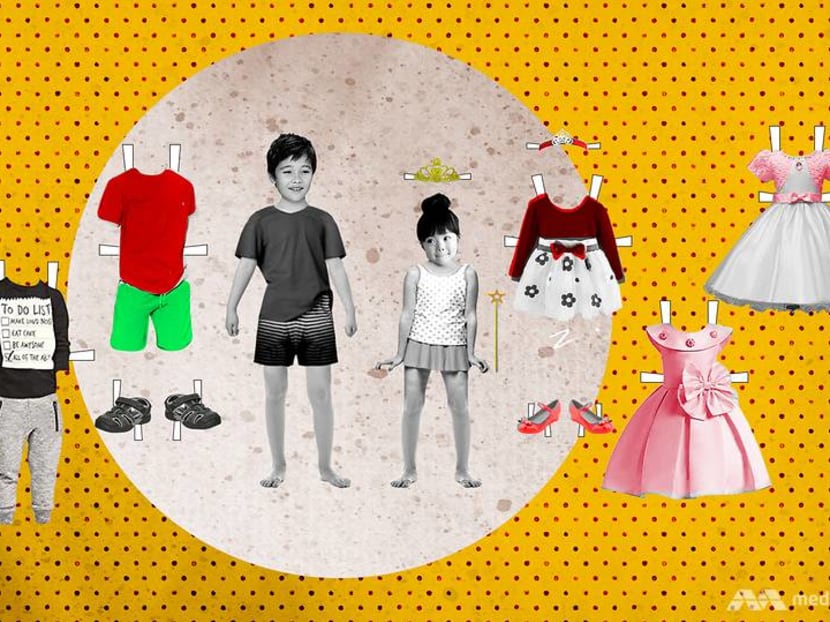 My kids get up way too early on most weekends. They are not innately morning people but they have been conditioned to get up before the sun comes up in order to get ready for school. What is forced upon them on weekdays has carried over into the weekends. 
On school days, we get T1 out of bed at 5.50am. On weekends, he'll enjoy a little lie-in until maybe 6.30am. After that, he can't contain himself and has to get out of bed and greet the day (and anyone else nearby in as loud a voice as possible). 
T2, who has to be yanked out of bed at 7am on school days, is actually happy to wake up earlier on weekends. That's because she knows she gets to play as opposed to being forced to bathe, brush her teeth and put on her school uniform.

He loves wearing red or pink with green shorts and exclaiming, 'I'm a watermelon!'

T2 loves that she gets to wear whatever she wants on weekends. For this little girl, every day is the perfect day to be over-dressed. T2 has a great preference for colourful, sparkly and flowy dresses. In fact, the only times I can get her into pants (outside of her school uniform) is when we're flying on a plane or she's going to a play gym.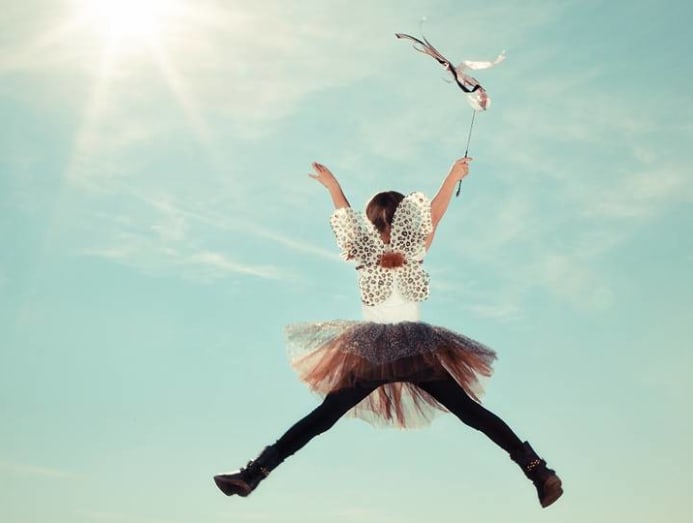 Other than these situations – for which I have been able to argue the necessity of covering one's butt and legs – she insists on wearing a dress. Extremist and royalist that she is, if she had her way, all of her dresses would be either gowns or princess costumes. 
We, of course, try to keep things real by constantly educating her on the appropriateness of her outfits for the occasion. But, and perhaps as a demonstration of her royal personage, T2 will often stick her nose up at us mid-explanation and walk away.

Our older son, on the other hand, has a very different sense of style. Like many Singaporean men and boys (I am told), comfort is first and foremost. A comfy T-shirt and a pair of shorts make his standard uniform. The softer the shorts and shirt, the better. 
T1 does have one quirk: Monochromatic outfits. He'll find shorts and shirts in similar shades of the same colour. I can't complain too much about that because I am guilty of the same thing. I am in all-navy-blue or all-black outfits 90 per cent of the time. 

But T1 is a big fan of bright colours. He's particularly fond of wearing pinks and reds. If he does mix things up, it's also usually for comic affect. He loves wearing red or pink with green shorts and exclaiming, "I'm a watermelon!"

Last Saturday morning, the kids and I were having breakfast when mama walked into the room. Looking us all over, she couldn't help but burst out laughing. T1 was wearing a ratty grey T-shirt with a pair of grey sweatshorts that was probably a size too small for him (I really need to weed out what doesn't fit him properly). 
She looked both overdressed and a little insane, sort of a mashup between Betsey Johnson, Cyndi Lauper and Grace Kelley.

T2 was in a beautiful all-white Ralph Lauren gown from my brother, a toy tiara with purple jewels on her head, a super colourful (dare I say gaudy?) necklace around her neck, and her favourite pink-and-gold Indian bangles around her wrist. Her hair was also super messy as she had decided it didn't need combing nor tying that day. She looked both overdressed and a little insane, sort of a mashup between Betsey Johnson, Cyndi Lauper and Grace Kelley.

The wife turned to me and exclaimed, "You need to take a photo of this. It's unbelievable that one is always grossly underdressed while the other is always overdressed".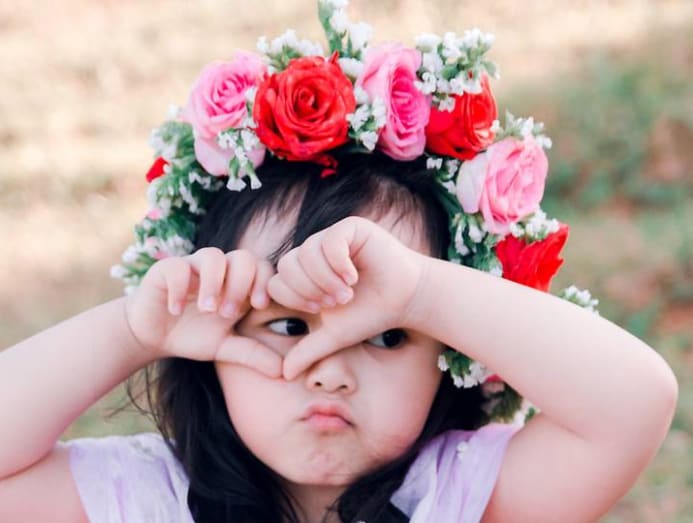 Amusingly (and tangentially), the overdressed girl and underdressed boy is not a phenomenon unique to children. It's something I've noticed is also common among young adult couples here.

So far, T1 has resisted most of our attempts to dress him up. The two times he capitulated in recent memory were in Hong Kong (and only because it was cold did he willingly put on the blazer I had brought for him) and for last year's family Christmas photo. 
In that picture, he stuck to his monochromatic style: Burgundy velvet blazer, red polo and pink pants. T2 has similarly resisted attempts to put her in T-shirts and shorts or really anything comfy other than a dress. They are only eight and four years old respectively but they are insistent on marching to their own style beats.

T1 is, of course, easier to shop for. We just need to go to Cotton On Kids, Uniqlo, H&M and Zara – the latter two for the slightly "hipper" and more expensive stuff. 
T2, on the other hand, is naturally drawn to glam, and has also unfortunately (for her mama and me) inherited both of our knacks for instinctively drifting towards items that are better made, and thus often more expensive. If this little Imelda Marcos wannabe had her way, she'd be wearing Le Petit Society dresses every day of the week. Other favourite brands include Chateau de Sable, Gingersnaps, Ralph Lauren, Bonpoint, COS and Velveteen (discovered during our winter holiday in Hong Kong last year).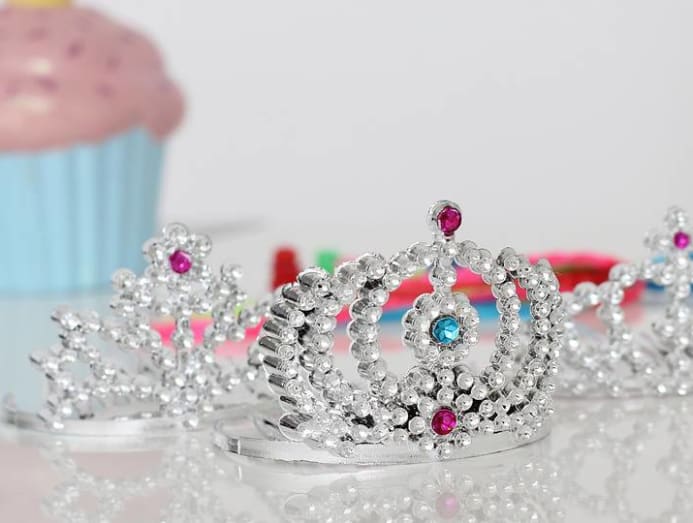 Thank heavens for generous relatives and godparents. If mama and I had to keep her dressed the way she wants, we'd be bankrupt. And don't even get me started on the Disney princess costumes.

Friends, however, tell me that kids will often sway from one extreme to the other. One year it's frilly dresses and the next, they'd rather eat a bowl of brussel sprouts than wear one. I just can't imagine the day T1 wants to be suited up constantly and T2 only wears jeans and T-shirts. 
But you never know.

Chubby Hubby, Portly Papa is a regular column about adventures in fatherhood from Aun Koh.