Kimberly Chia's angry neighbour calls her out for dumping rubbish at common space
The local actress, who was clearing her home in preparation for an upcoming renovation, has since apologised.
Local actress Kimberly Chia faced the wrath of angry neighbours early this week and was publicly called out on Instagram for dumping furniture and rubbish near the lift landing and at the common rubbish chute area.
Chia's neighbour, known as Stephanie Faith Lim, posted photos on Monday (Oct 19) on her IG Stories of garbage bags, pieces of furniture and what looked like a workstation that were placed on the floor near the lift landing. She wrote, "Dear @kimberlychia, I know you and your beloved family are busy packing for your upcoming renovation. But please be more considerate of your neighbors and the cleaner".

Another neighbour with the handle @daphneelim commented that she couldn't throw her thrash away because of the obstruction.
All that trash was cleared the next day, according to an update by Stephanie.
The 25-year-old Chia, who was in the process of clearing her home for an upcoming renovation, has replied to Stephanie's post with an apology.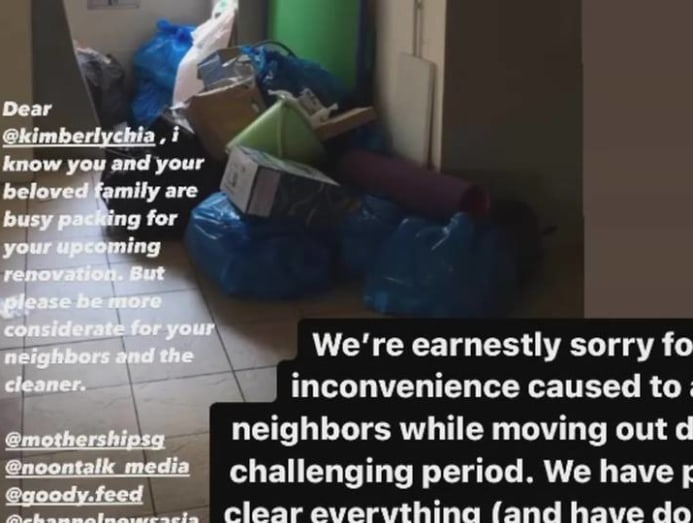 Chia wrote: "We're earnestly sorry for the inconvenience caused to all our neighbors while moving out during this challenging period. We have planned to clear everything (and have done so) and needed some time.
"Our town council is aware and have arranged to clear the big items that we are not able to do so on our own. We have also notified town council personnel that we will be clearing things at the refuse area (downstairs). We appreciate your kind understanding and apologise for any inconvenience caused." 
Netizens seem to be divided on the issue with some people commenting that the neighbours should have spoken to Chia in private without taking it to social media, while others decried Chia for being inconsiderate in the first place.
She told entertainment portal 8 DAYS: "I do understand that it is (an inconvenience to our neighbours), but if they weren't happy, they could have spoken to us first instead of just posting it on Instagram". 
However, she admitted that she could have handled the situation better, and sought her neighbours' understanding as her home would be undergoing renovation for the next three months.