Turning 50: Kit Chan looks back at her 29-year career and looks forward to playing Mrs Lee Kuan Yew
The Singapore songstress tells CNA Lifestyle all about her upcoming 50th birthday, contributing to Singapore's music and entertainment scene and stepping into the shoes of the late Kwa Geok Choo in The LKY Musical.
Why does an RGS (Raffles Girls' School) girl who can study want to become a singer? That was exactly what journalists asked a then 21-year-old Kit Chan at her very first press conference back in 1993 – a question that seems quite impudent or even appalling, especially in 2022.
But the ever-gracious Chan assured me that back then, it all came from a "well-meaning" place.
"Nobody was out there trying to be disrespectful – they were genuinely worried! And I remember we were there to announce the release of my debut album (Heartache), but (that was) what they really wanted to know!" recalled Chan.
"I also remember that my answer was very simple. 'Because I love singing! It's my dream!' And then you can sort of see this pitying look in their eyes like 'aw, poor girl, she does not know what she's getting herself into' and 'oh dear, you're making such a bad choice in your life'."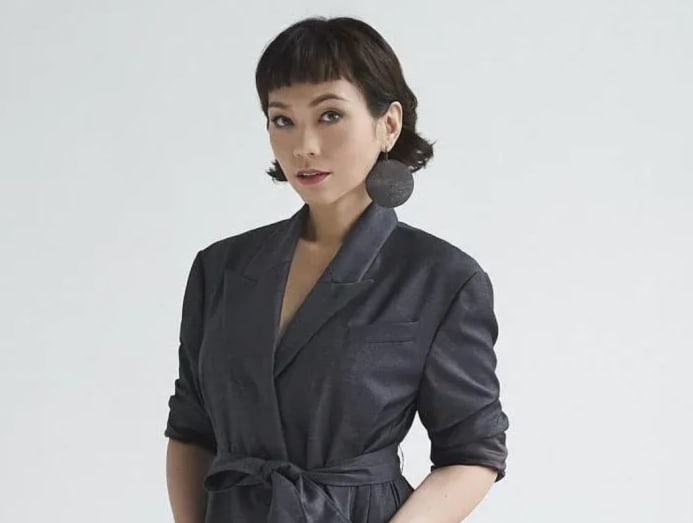 Twenty-nine years later, with an impressive 40 albums released in English, Cantonese and Mandarin under her belt, perhaps that young, wide-eyed but obviously talented ingenue knew exactly what she was getting herself into.
Because not only is Kit Chan now widely regarded as one of Singapore's highly exalted and OG Mandopop queens, she has also cemented her place as the beloved household name who performed arguably everyone's all-time favourite National Day song, Dick Lee's 1998 masterpiece Home.
And in case you've forgotten, Chan hasn't just performed large-scale concerts across Taiwan, Hong Kong and Singapore for her legions of fans, she's also a stage superstar, who has headlined original musicals like Snow Wolf Lake (alongside Hong Kong superstar Jacky Cheung no less) and Forbidden City: Portrait Of An Empress.
And now, she's finally stepping into the cheongsam of the iconic Madam Kwa Geok Choo, aka Mrs Lee Kuan Yew, for The LKY Musical, a role she was reportedly considered for seven years ago, when Aiwei and Singapore Repertory Theatre staged its inaugural run to more than 50,000 people in 2015 – but didn't. Actress and host Sharon Au ended up playing Mrs Lee that time. 
It's going to be an extra special production for the visibly excited Chan. And not just because she has became a bonafide fan and admirer of Kwa Geok Choo.
Chan will be celebrating her big 50th milestone birthday (even if her youthful looks belie the fact) on The LKY Musical stage come Sep 15.
"I can't think of a better way to celebrate the day itself than being on a stage doing my favourite thing!" she said with a laugh.
Ahead of her highly anticipated debut alongside Adrian Pang's Lee Kuan Yew at the Sands Theatre in Marina Bay Sands on Wednesday (Sep 7), CNA Lifestyle had a candid chat with Chan on her past, present and future.
EVERYONE IS SO EXCITED TO SEE YOU PLAY KWA GEOK CHOO. WHAT MADE YOU SAY 'YES' THIS TIME AROUND?
Seven years ago, when they were in the initial stages of preparing for The LKY Musical, I was very excited about it! Because it was the same team that did Forbidden City: Dick Lee (music), Steven Dexter (director), Stephen Clark (lyrics) and, of course, SRT.
However, when they were actually going to stage it that same year, I had my own concert, Spellbound, and it totally clashed with the opening night. My concert was on the exact same day so I couldn't do it.
Of course, I was filled with regrets, but I went to watch the show after my concert, and I felt it was a really great production. It was a bittersweet feeling for me. I was thinking, "Oh, why did I miss this show?" But I was pretty confident, even all the way back then, that they would do a rerun at some point because it was such a good show.
And having done shows like Forbidden City or Snow Wolf Lake, which were staged a few times, I'm fully aware that a show can only get better with each restaging.
SO IT SEEMED LIKE A NO-BRAINER? IT ALSO FEELS LIKE THIS ROLE WAS MEANT TO BE.
Yes, obviously this time around when they asked me, I was more than happy to say yes! What was very strange was that it felt as if I've been waiting for this role for a long time because they were initially going to restage it in 2020, but of course, COVID-19 happened. And then they thought of moving it to 2021. But when 2021 came around, we realised that we still couldn't do a full capacity. And this is a really big show and we need a full capacity audience for it to work. It's finally 2022 and here we are today. So yes, it was a long time coming but I've lived long enough to know that good things are worth waiting for.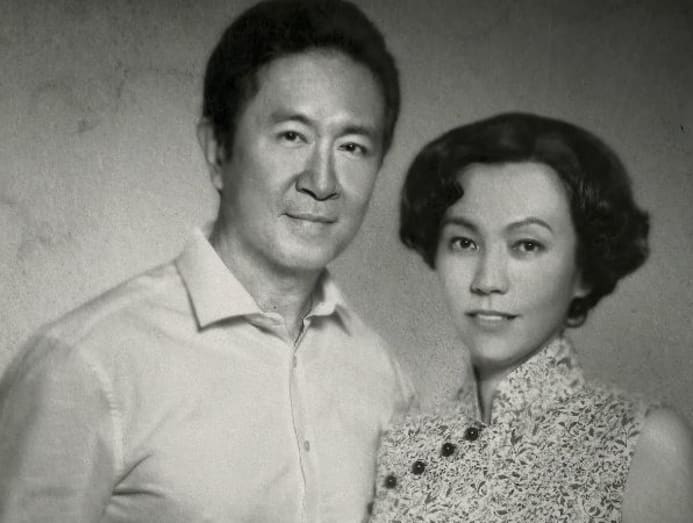 HOW DID YOU PREPARE FOR A ROLE AS ICONIC AS KWA GEOK CHOO?
Because both Mr and Mrs Lee were real people and not fictional, obviously, there was some research that went into it. But honestly, I didn't have to deliberately do a lot of research because I've always been a big fan of Mr Lee Kuan Yew himself.
I have read his biography and am extremely interested in his personal story alongside the nation-building story.
That said, this is a musical and (we) are also trying to portray some of the more personal moments between a couple and no one really knows what happens behind closed doors. So we imagine. And I believe we take some creative licence in a musical like this one.
And when you're preparing to do a musical, you have to take care of yourself physically, mentally and emotionally, to ensure you are in a really good place and you can have a lot of positive energy.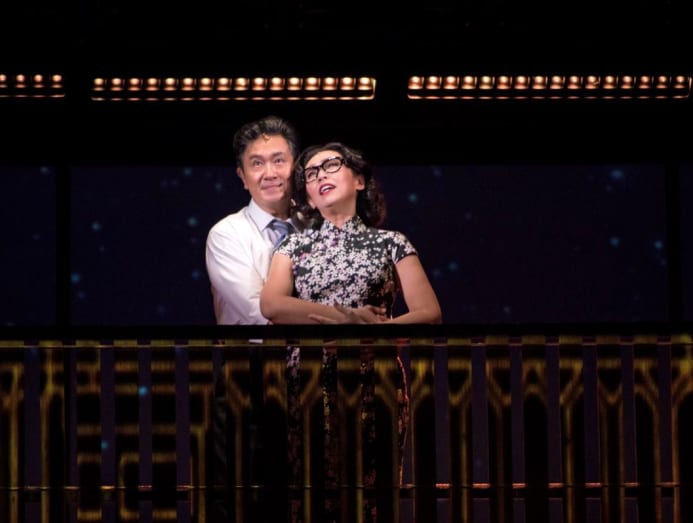 I DO LOVE THE FACT THAT YOU'RE THE ONLY FEMALE CHARACTER IN THE ENTIRE CAST.
Yes, I'm the only female (in the cast) of 20 men! So whenever Mrs Lee appears, I think there is always an opportunity for some feminine strength and presence.
And even though (Kwa Geok Choo) is strong, I think that there is tenderness. And we shouldn't lose the opportunity to portray these things.
I have also become a big fan of Mrs Lee, Madam Kwa Geok Choo, (in the process of) doing this musical, in trying to understand the role she played in his life and in the independence of Singapore. I think I have even more admiration for this amazing woman!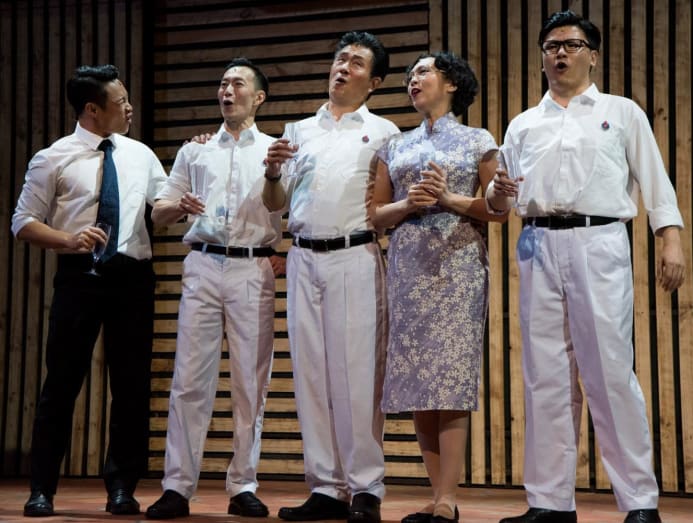 DID YOU DISCOVER ANY SIMILARITIES BETWEEN YOU AND MRS LEE?
I started out thinking we were quite different. But after we delved into the relationship (between Mr and Mrs Lee), I started to see that we were more similar than different.
I think my generation (and the ones after) tend to have this impression of her as this elegant and very understated, subtle older lady. But really, if you look into her youth, she was the only girl in a boys school and she was the first female lawyer! And then she got married in secret to Mr Lee when they went to Cambridge. This is definitely not an understated lady.
I think that she was very feisty, very spunky, definitely rebellious and radical. She had a mind of her own and she was not afraid to act on her convictions. So these are qualities that I can relate to.
LOOKING BACK AT YOUR CAREER, I THINK YOUR FANS WILL AGREE.
In a similar way, when I look back at when I first started in the industry, I was also often the only woman in a male-dominated environment.
I started going into the studios when I was 19 years old, and I was often the only woman because back then, and I guess even today, the producers, the arrangers, the sound engineers, the studio managers, the sound crew – they are all (mostly) men. So I think I've learned at a young age how to hold my own in a male-dominated environment.
And another thing I have in common with Mrs Lee? I think sometimes you don't need to act like a man in order to be taken seriously by the men in a male-dominated workplace. You can be a strong woman; it's about being in balance.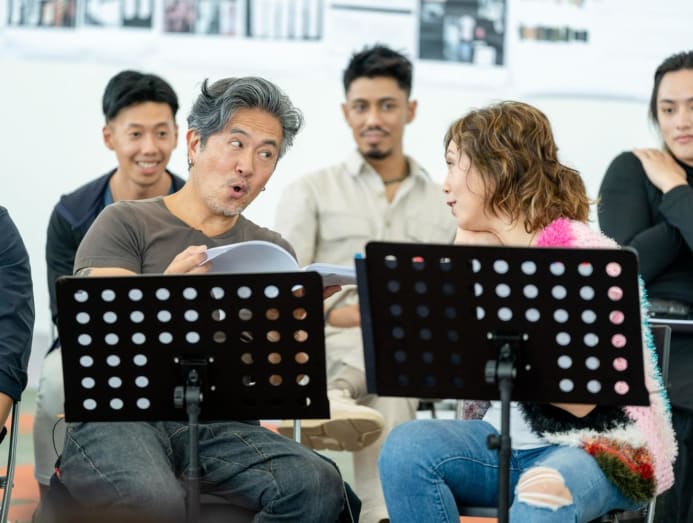 WHAT ABOUT DIFFERENCES?
I guess our differences would be that she's much more patient than I am! (laughs) I imagine she must be very patient and very self-sacrificial.
She had to take care of the law firm, the family and be the breadwinner while Mr Lee Kuan Yew was running his political party and trying to fight for independence. So I think she was really Superwoman and Wonder Woman!
I don't know if I could do that. I don't think I can multitask. So I think what she did was totally admirable.
HOW DO YOU FEEL ABOUT CELEBRATING YOUR 50TH BIRTHDAY IN THE MIDDLE OF THE RUN?
I'm so used to working on my birthday, for some reason! (laughs) Ever since I started my performing career, I always happen to be the most prolific in the month of September! So I'm very used to working during my birthday.
And actually, I can't think of a better way to celebrate the day itself than being on a stage doing my favourite thing – musicals!
FIFTY IS A HUGE MILESTONE BIRTHDAY. DO YOU HAVE ANY SPECIAL PLANS TO COMMEMORATE IT?
You know, I've never been one that's big on birthdays. So I'm never the one that needs to go out or have a major celebration. And when I'm in the middle of a run of a show, I am extremely disciplined. So even though it's my birthday, I don't think I'll be going out for a drink after.
As for big plans turning the big five-o? It's actually been a great year for me both on a personal and professional front this year. I just released an EP with six singles and I'm doing this musical.
I also knew I was going to be working right on my birthday, so I celebrated it early with a really great campervan trip in Sweden and Norway. And that was just amazing! I was playing quite a bit at the beginning of the year so I am very happy to come back and just work my ass off.
It's very nice when I can work very hard and play very hard. That's the way I like to live!
WHAT WOULD 50-YEAR-OLD KIT SAY TO YOUNG KIT WHO WAS JUST ABOUT TO TAKE THAT LEAP IN THE ENTERTAINMENT INDUSTRY ALL THOSE YEARS AGO?
I would tell her "You go, girl"! I would also tell her "You're in for an amazing ride! There will be ups and downs. And you're going to have to work very, very hard, but you're going to have an amazing life!"
I was just having this conversation with our director Steven Dexter, who just turned 60. And we were saying, "Aren't we are the luckiest people in the world?" Because we are being paid to do the things we always loved since we were kids.
How many older people can say that they got to live to their dream? I think that we're still living it, we're still loving it and that is amazing.
So I would tell that young kid, "Go for it! And don't, don't ever feel down because you know, it's going be good!"
LOOKING BACK AT ALMOST THREE DECADES IN SHOWBIZ, HOW WOULD YOU LIKE TO BE REMEMBERED FOR YOUR CONTRIBUTION TO SINGAPORE'S ENTERTAINMENT AND MUSIC INDUSTRY?
I dare not say how much I think I've contributed in terms of, like, artistic levels or commercial levels because I think everything is relative.
But I do think if there's anything, I would like to think that I've changed (the notion) that only useless people end up becoming an entertainer. Because believe me, that was the common thinking when I first started out. And I went to some good schools.
I remember this particular schoolmate of mine, she was very concerned for me. She told me, "Kit, what am I going to do with you? What are you doing with your life?"
Even back then, I always thought this (being an entertainer or artiste) is a serious job. This is a job for serious, determined, disciplined people. And being a singer or an actor or a performer requires intelligence, dedication and commitment. And I never understood why it was seen as such a lowly job.
I think one of the things I really wanted to do at that time was to demonstrate commitment, professionalism and excellence. That was something that drove me during these past 30 years and so yeah, if anything, I just hope that what I've managed to do is I've made the job a respectable one.
WHAT'S NEXT FOR KIT CHAN?
Well, I would like to be surprised, contrary to what people think! Perhaps it's because when I work I'm usually very focused and and almost militant in my approach. But actually, my approach to life is very spontaneous!
I always say I know the direction I'm going in, but I don't know exactly what path I will cross and what destinations I may arrive at.
So I would say I have no idea what the next big thing is for me but (I'm) filled with optimism and I can't wait for life to unfold.
FINALLY, WHAT DO YOU HOPE SINGAPOREANS WILL GLEAN FROM THE LKY MUSICAL?
I'm terribly excited and honoured that I am in this first big (Singaporean) production since the pandemic, and in a cast made up of really lovely people.
I hope Singaporeans can, on a more serious note, have a greater appreciation of the history of our country, where we came from, and all the hardships and sacrifices the people before us have had to make. And also be inspired and proud of our heritage.
On a more casual note, it is a show after all and I hope (people) will be entertained, moved and inspired. I have a whole new solo and there's also a new duet between me and Adrian Pang, so musically, it's going to be a lot richer!
At the end of the day, I hope Singaporeans leave the theatre feeling all these different feelings. And that they go back loving the songs and being wowed by the production value.
The LKY Musical runs from Sep 7 to Oct 2 at the Sands Theatre, Marina Bay Sands. Tickets and info available here.